There's only one day left to see Oscar de la Renta: The Retrospective, curated by André Leon Talley for the de Young Museum in San Francisco. (Show ends May 30, 2016). If you won't be able to make it, an exhibition catalogue is available in three formats, including a floral print-bound limited edition. For more on the show see Maghan McDowell, "First Look: Five Decades of Oscar de la Renta."
Oscar de la Renta (1932-2014) was born Óscar Aristides Ortiz de la Renta Fiallo in Santo Domingo, Dominican Republic, the only boy in a family of seven. After moving to Spain to study art at Madrid's Real Academía de Bellas Artes de San Fernando, in 1954 he began work as a sketcher at Balenciaga; by 1959 he was assisting Antonio del Castillo at Lanvin-Castillo in Paris.
In 1963 de la Renta moved to New York to pursue a career in ready-to-wear. He was soon hired as designer for Elizabeth Arden and, in 1965, became a partner at Jane Derby, the house he would take over for his own label. (For more see official site or The New York Times' timeline.)
De la Renta licensed his designs with Vogue Patterns from the 1960s to the 2000s. This week, a look at Oscar de la Renta patterns from the '60s to the '80s.
1960s
Oscar de la Renta was among the designers included in Vogue-Butterick's new Vogue Americana line, which was launched in 1967. From 1968, Vogue 1909 is a short-sleeved evening dress with standing collar and front-dart pockets:
This short evening dress has contrast bias cuffs and collar—flexible jewel trim optional:
Vogue 2219, an evening dress in two lengths, includes a wide, contrast cummerbund and pockets in the inverted side pleats:
1970s
Shown in a rich, metallic brocade, Vogue 2280 is a short, high-waisted evening dress accented with a jewel-trimmed belt (as seen in Vogue Pattern Book here):
A 1972 editorial by Helmut Newton shows Lauren Hutton in an early Oscar de la Renta caftan:
From 1973—the year of the 'Battle of Versailles' fashion show—this ruffled evening dress was shown in both solid colours and a floral border print: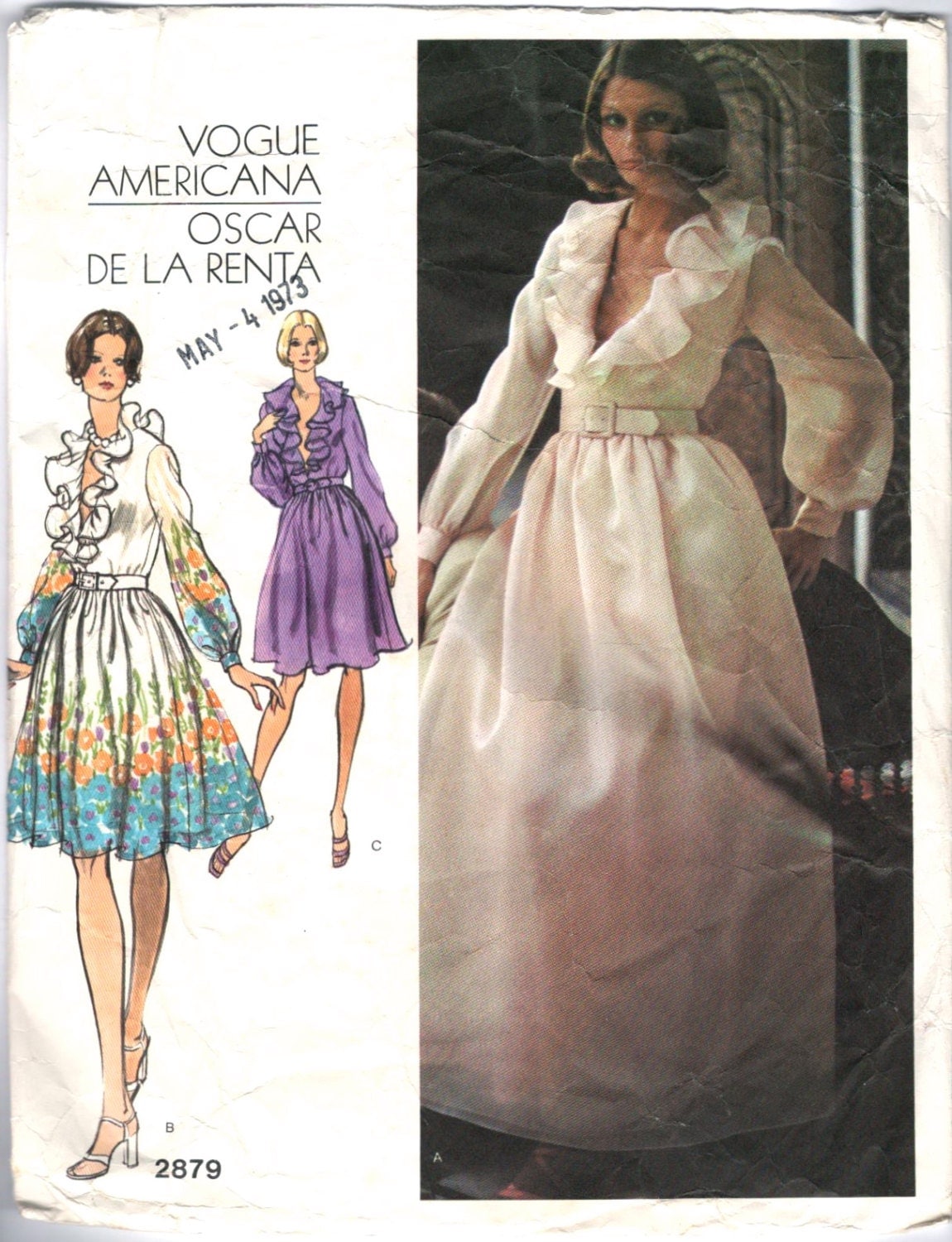 Christie Brinkley models Vogue 1667, a blouse for two layers of sheer fabric and dirndl maxi skirt with deep hemline ruffle:
Peasant blouse-and-skirt ensemble Vogue 1776 was featured on this winter catalogue cover:
In this photo by Deborah Turbeville—previously seen in a Patterns in Vogue post—the gold-pistachio lamé evening separates at far right were made using Oscar de la Renta pattern Vogue 2182:
1980s
Vogue 1027's caftan (previously seen in my caftans post) is featured in the San Francisco exhibit. The original is hand-painted silk crêpe de chine:
Vogue 1644 is a wrap-bodice dress with bias bands defining the waist: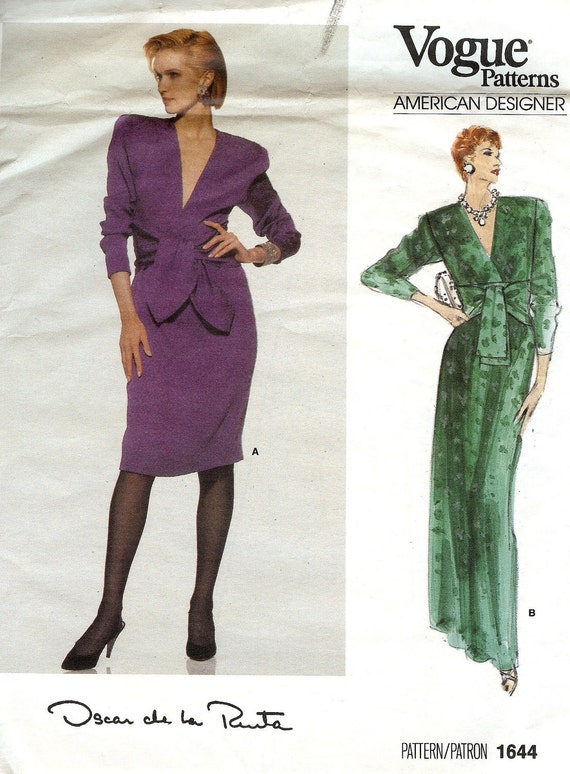 These fashion photos by Steven Meisel and Patrick Demarchelier show how well de la Renta was suited to the Eighties aesthetic:
Here, radiating pleats and a bias front godet add volume and interest:
Don't Vogue 2185's ruffles take the cake?