Caftans, long, loose-fitting tunics with origins in ancient Persia, have been gaining momentum as an alternative to more structured formal dress. With any luck, there will be some caftans among the goddess gowns at tomorrow's Academy Awards ceremony.
They say Tsarina Alexandra was the first westerner to make a fashion statement in a caftan, when she dressed as a seventeenth-century Tsarina for a costume ball in 1903. Paul Poiret also advanced the caftan cause, but it was not until the 1950s that the garment really began to influence western fashion. Here's a look at caftan patterns from the 1950s to now.
1950s
In the mid-1950s, Christian Dior and Cristóbal Balenciaga's experiments with silhouette were partly inspired by eastern traditional dress. Dior's Fall 1955 couture collection (Y line) included caftan-inspired ensembles—coats with high, side-front slits that reveal a slim dress underneath:
You can see echoes of the Dior caftan look in contemporary sewing patterns like McCall's 3525 and 3532, both from late 1955:
McCall's 3532, called a "slim caftan-and-dress ensemble," was featured on the cover of McCall's news leaflet and in the company's "Make the Clothes that Make the Woman" advertising campaign.  According to the ad, the design is ideal for the season's "Oriental" fabrics, such as silk twill and raw silk tussah:
A Vogue version of the Dior caftan ensemble, Vogue 8759, is available as a reproduction from EvaDress.
1960s
Caftans became popular in the 1960s in tandem with the increasing interest in eastern cultures. The Madame Grès version at the top of this post is cut on the bias, producing geometric seaming detail. The caption reads, "Coup of bias-work by Grès—because this piecing-together of bias angles is sinuous, stark, ravishingly Moroccan."
This dress from Jean Patou by Michel Goma, Vogue 1699, has what the envelope calls a "caftan neckline." The model is Beate Schulz:
This circa 1968 Vogue caftan pattern has optional flexible trim:
Other patterns from the late 1960s and early 1970s also reference eastern dress. From 1967, McCall's 9026 is labelled as an abba in two lengths. Abba is an alternate spelling of aba, commonly abaya: a traditional Arab garment, long, loose-fitting, sleeveless, and made from a single rectangle of fabric. (Today, caftans often function as abayat.) The model is Veronica Hamel:
Burnoose patterns were marketed as resort wear. A pompom-trimmed version of McCall's 2377 was photographed for the cover of McCall's Summer 1970 catalogue:
Marola Witt models Simplicity's burnoose in the July 1967 issue of Simplicity Fashion News. (Thanks to Mary of PatternGate for the reference.) The text promotes the design's 'Arabian' exoticism: "be exotic in a JIFFY: … the burnoose, born in Arabia, brought up to date here":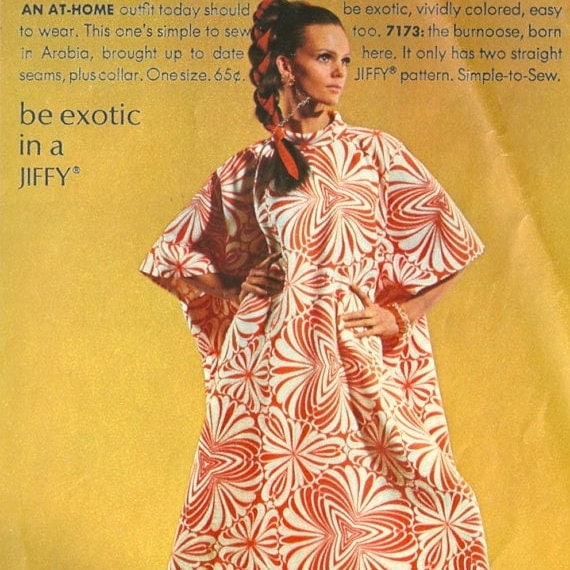 1970s
This Halston caftan pattern from McCall's also includes a top and pants (you can buy yourself a copy from the shop):
This flowing Dior caftan, modelled by Billie Blair, has lots of neckline detail, full-length sleeve openings, and pockets:
Vogue 1515 by Nina Ricci is a caftan that's open in front and attached at the neckline to a handkerchief-hemmed underdress:
1980s
It's harder to find post-1970s designer caftan patterns. This wide-sleeved, Oscar de la Renta caftan is trimmed with contrast bands. When worn, the side seams swing forward to raise the hemline in front:
1990s
From Issey Miyake, Vogue 2315 is a caftan-inspired summer dress:
2000s
Caftan patterns started making a comeback (of sorts) in 2009. Simplicity 2584, a caftan-inspired tunic by Cynthia Rowley, is out of print but still in demand: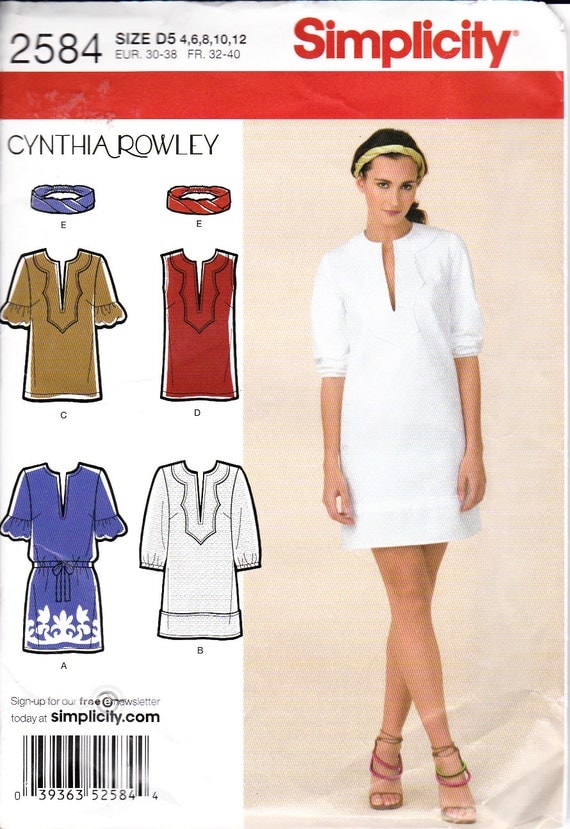 Ralph Rucci's floor-length caftan, Vogue 1181 (now out of print), has an abaya silhouette and interesting construction details—overarm darts, shaped lower sections, and a hook and eye above the low neckline:
The design is from Chado Ralph Rucci Resort 2009:
Matthew Williamson's short caftan, available as a free pattern from the Guardian, is also a 2009 design:
And Heather Lou's printed chiffon caftan is a Fashion Star pattern by Nikki Poulos, McCall's 6552 (now out of print):
Would you sew a caftan?