The early '90s are back—and so are sarouel, or harem pants. Here's a look at vintage patterns for this distinctive trouser style.
Like caftans, sarouel originated in ancient Persia. Persian sirwāl became Turkish şalvar, entering the Western fashion vocabulary via Ottoman culture and the early modern vogue for turquerie.
Şalvar were introduced to Western women's clothing in the 19th century as part of the Rational Dress movement: Amelia Bloomer conceived her eponymous trousers as "Turkish pants." (On cycling bloomers see Jonathan Walford, The 1890s Bicycle Bloomer Brouhaha.) Couturier Paul Poiret is usually credited with making "harem" pants fashionable in the period before World War 1.
1960s
In the mid-'60s, harem pants enjoyed renewed popularity as glam loungewear. (I Dream of Jeannie started airing in September, 1965.) This Vogue pyjama with matching, dolman-sleeved overblouse has a cuffed trouser option:
Pucci's interest in harem pants predates the jewelled version at the top of this post: a short, blue harem ensemble was part of his 1965 Braniff flight attendant uniform. These high-waisted palazzo pyjamas also have a cuffed, harem option, as worn by Editha Dussler:
Anne de Zogheb modelled these Pucci harem pyjamas, which feature an intriguing self-lined skirt with side openings:
1970s
Bouffant knickers are a variation on the harem pant. This gold brocade, coat-and-knickers ensemble from Yves Saint Laurent's Winter 1970 haute couture collection evokes the hippie trail. The model is Viviane Fauny:
From 1976, this Kenzo pattern includes a cuffed harem pant option. (A copy is available in the shop.)
Hot pink harem pants catch the eye on this Very Easy Vogue pattern, which also includes palazzo pants and a maxi skirt: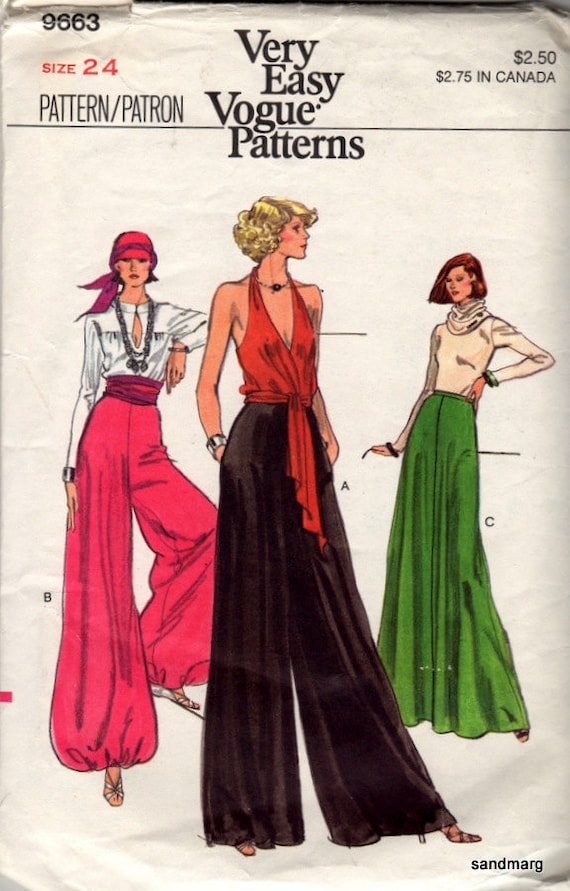 1980s
This gold satin pair, from Krizia, has no side seams: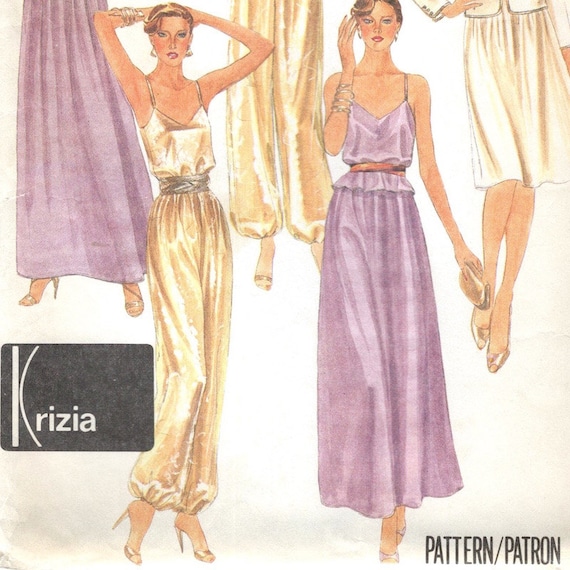 In the early '80s, the dropped-crotch, Zouave style of harem pant came to the fore. This Simplicity pattern includes Zouave pants in two lengths: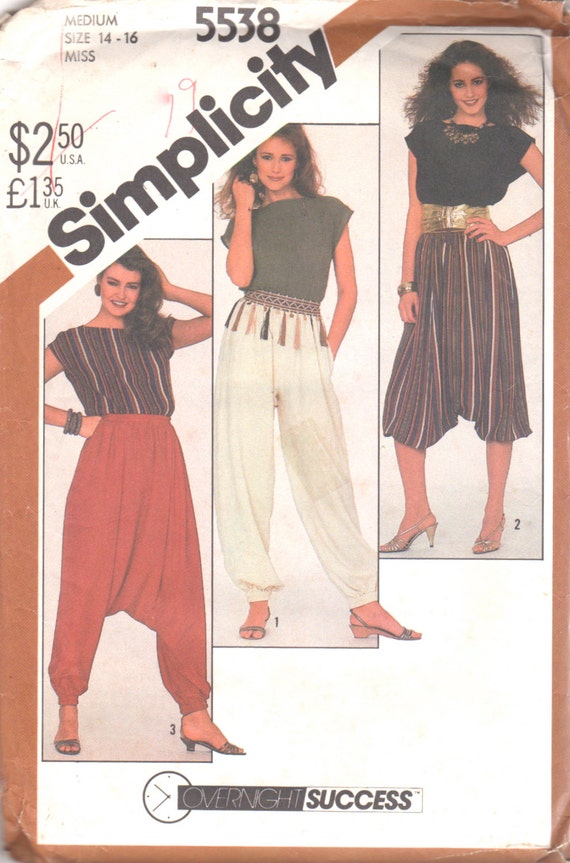 The trousers in this Versace ensemble evoke the harem silhouette, with draped volume tapering to a fitted ankle (see my Versace post for more photos):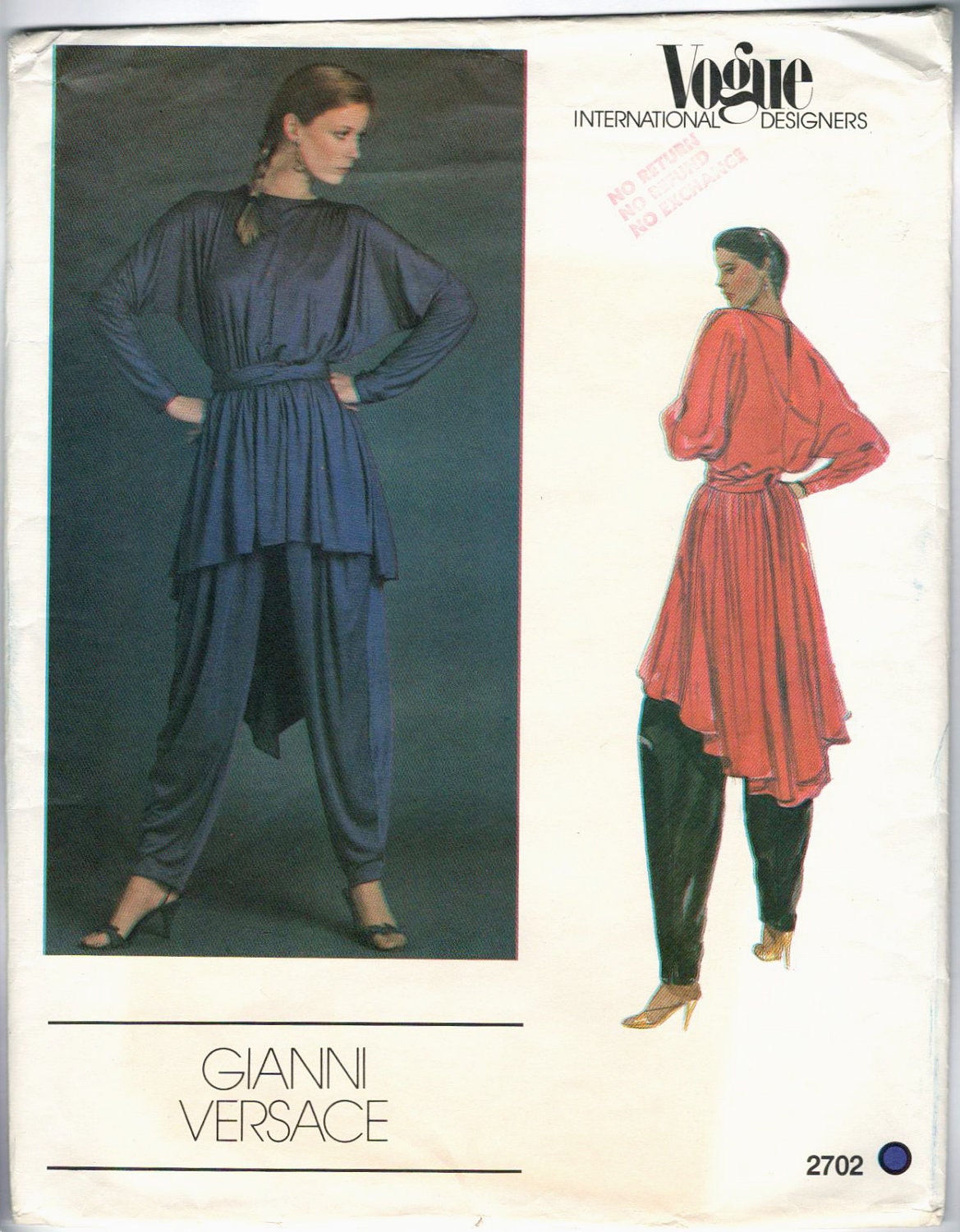 Very Easy Very Vogue got on the dropped crotch bandwagon with three styles of Zouave pants—view C with side drape:
1990s
By the early '90s, hip-hop musician MC Hammer had made so great an impact on popular culture that his characteristic trousers were known as "hammer pants." Simplicity's official MC Hammer unisex pants pattern came with not one but two iron-on transfers. (See envelope back here. There was even a doll clothes pattern for the MC Hammer action figure.) Drop-crotch pants could also be found as Butterick Classics and a unisex costume pattern.
Issey Miyake designed these lowest of the low dropped-crotch pants, as worn by Phina Oruche:
Recent patterns heralding the return of the sarouel include McCall's 5858, Kwik Sew 3701, and the unisex Burda 7546. If the trend continues, perhaps we'll see a pattern for Rachel Comey's Pollock trouser…