This is the second of two posts on Gianni Versace's Vogue patterns. (See the first post, on designs by Versace for Genny and Complice, here.)
Today, Gianni Versace may be best known for his flamboyant prints, colour, and embellishment, and designs that exploit the tactile qualities of materials like leather and metal mesh. Besides being celebrity-friendly, Versace was also a master technician and art connoisseur; his designs make myriad references to art history, especially the classical and baroque. His clothes flatter a woman's curves; indeed, disliking standard mannequins, he designed his own based on the Venus de Milo.
Vogue's Versace patterns were released from the late 1970s to the early 1980s. Here is a selection:
Vogue 2168 is a pantsuit and blouse modelled by Karen Bjornson and photographed by Patrick Demarchelier: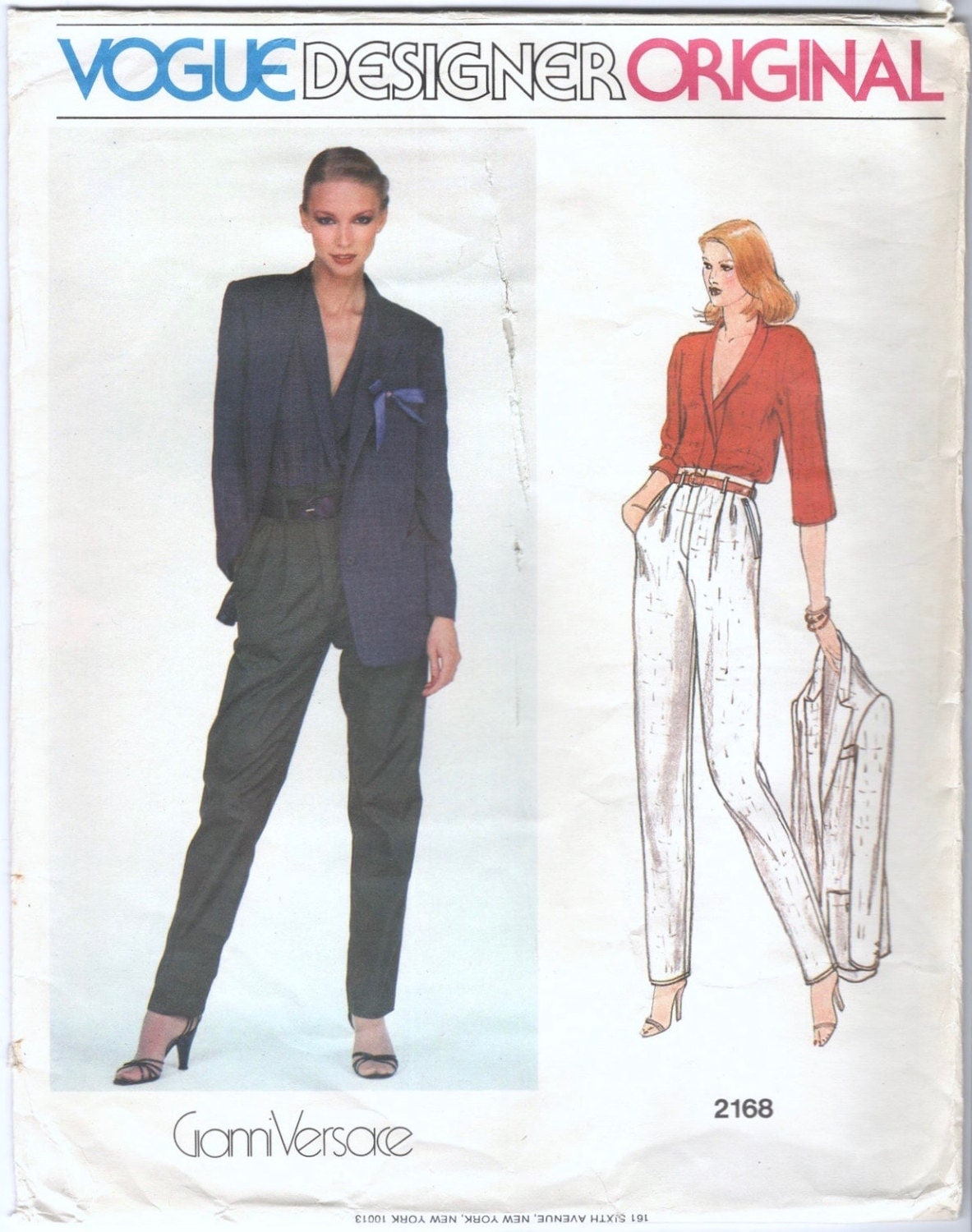 Clotilde models Vogue 2375, the draped trouser ensemble I featured in last year's disco best-of:
Vogue 2534 is a colour-blocked wrap dress with handkerchief hem. I love the hybrid cami/draped bodice, which ties at the left shoulder: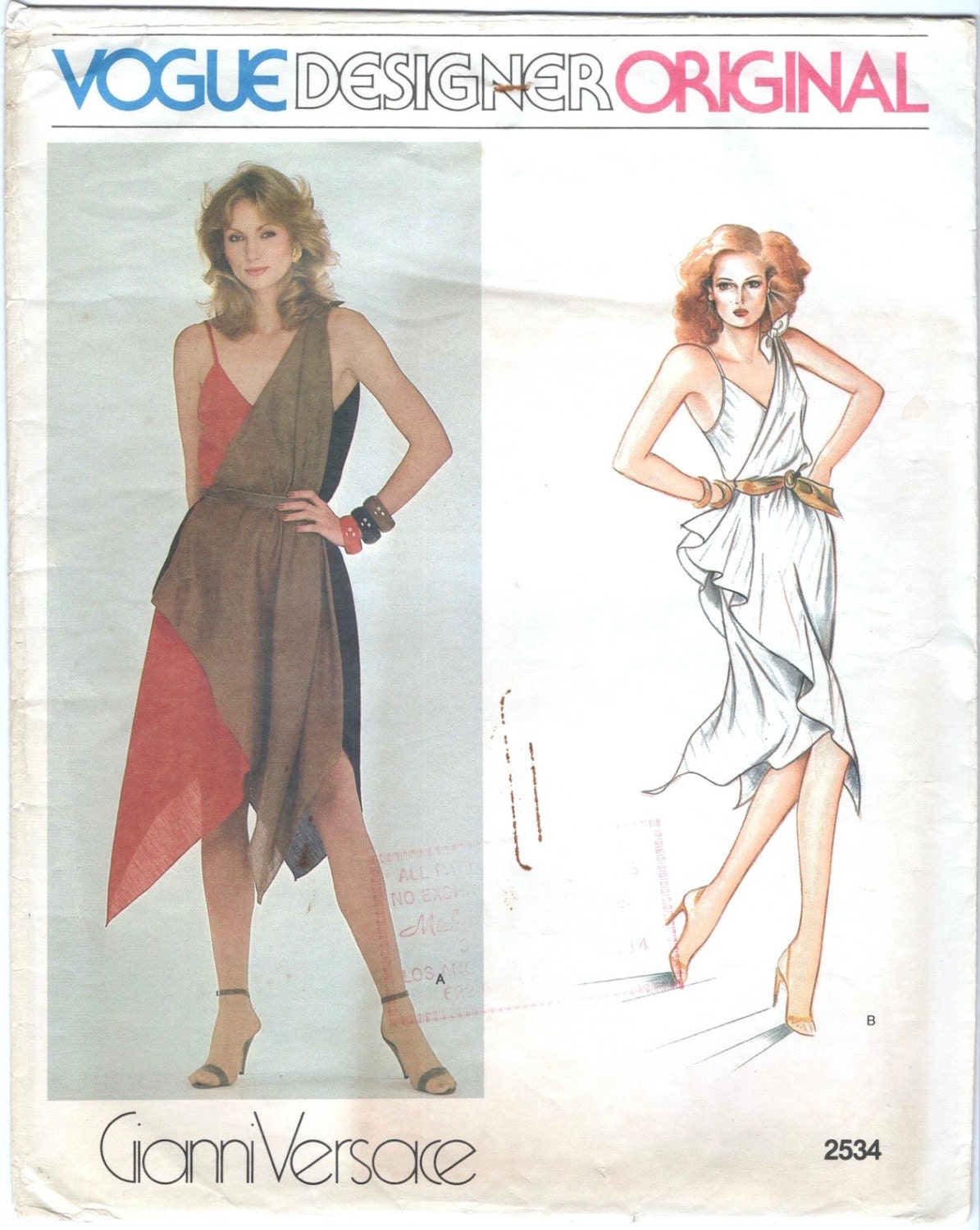 Here's the photo that was published in Vogue Patterns magazine; this shoot was also by Patrick Demarchelier:
(There's a small size available at Miscellanium on Etsy.) This later campaign image shows Iman in a dress with similar bodice construction:
Vogue 2702 is a design for harem pants and a lavishly draped tunic with batwing sleeves and pointed back hem: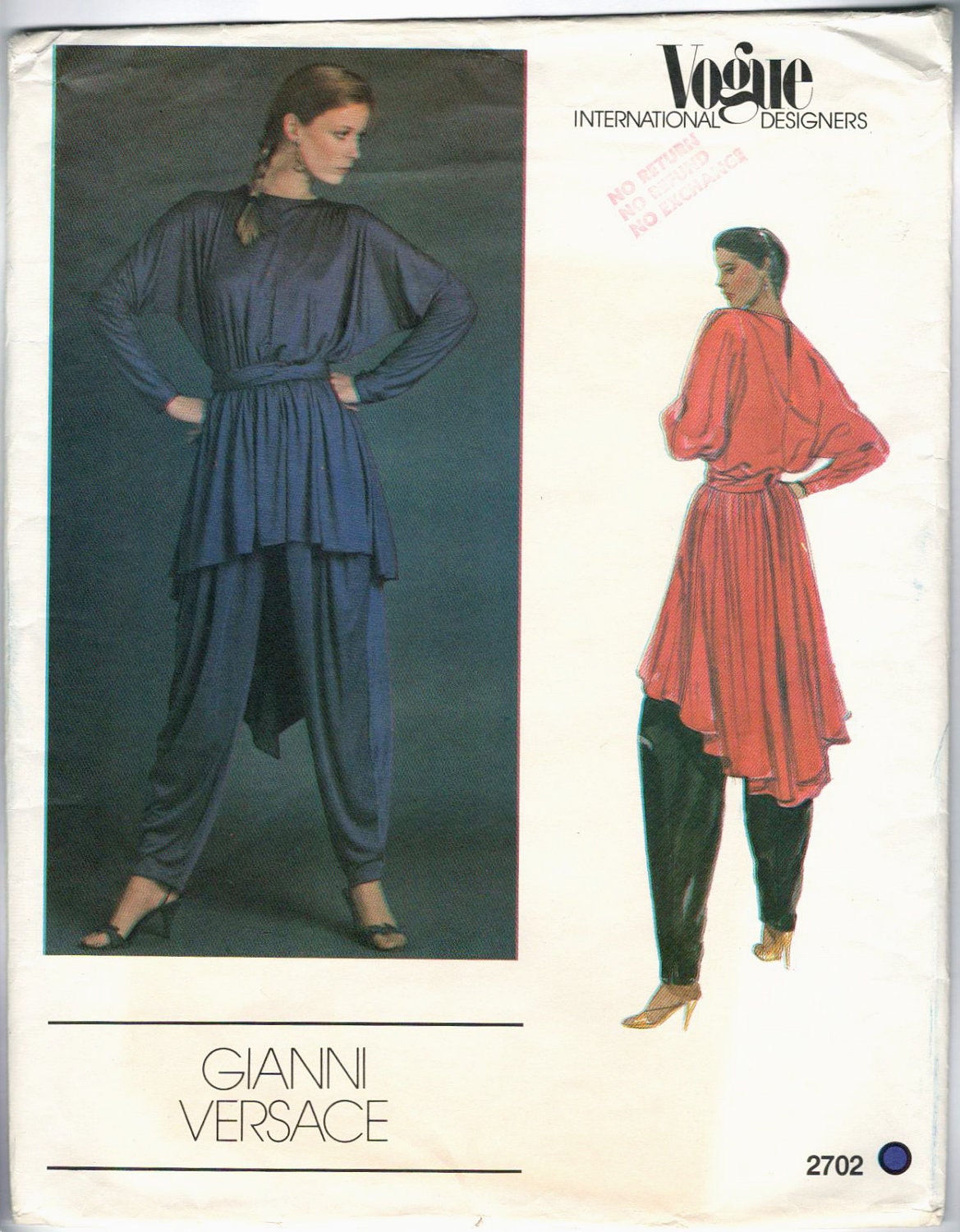 Here's an editorial photo of Vogue 2702 from the holiday issue of the magazine:
Vogue 2702's pleated harem pants make me think it could be from Versace's Spring 1981 collection, shown in this campaign image by Richard Avedon:
As even this small sample of sewing patterns shows, Gianni Versace's work was sui generis. It's a special treat that the general period of the designer's work covered by Vogue patterns yielded collaborations with prominent photographers including Guy Bourdin, Helmut Newton, Patrick Demarchelier, and Richard Avedon. (In 1986, Versace was the subject of a fashion photography exhibition at Paris' Musée Galliera; see Christopher Petkanas, "A Dialog with Gianni Versace," WWD, October 22, 1986.) Several of the Versace patterns give fresh takes on classical drapery, showing Versace's gift for reinterpretation and innovation through a keen engagement with culture—both high and popular.