Anticipation is high for Star Wars Episode VII: The Force Awakens, which opens in December. For fans of costume design, it helps that Michael Kaplan, who began his career with Bob Mackie and Blade Runner (1982), is designing the costumes for the new film. (Read Vanity Fair's post here.) Here's a look at Star Wars costume patterns.
Star Wars' costumes must be among the most discussed in cinema. In 2005, LA's Fashion Institute of Design & Merchandising (FIDM) organized the exhibit Dressing a Galaxy: The Costumes of Star Wars, accompanied by a book by Trisha Biggar, the costume designer for the prequel trilogy (Abrams, 2005; still in print). Last year saw the publication of Brandon Alinger's Star Wars Costumes: The Original Trilogy (Chronicle Books, 2014). And a new travelling exhibit, Rebel, Jedi, Princess, Queen: Star Wars and the Power of Costume, will open in New York next month.
John Mollo's costumes for Star Wars, which won an Academy Award in 1978, have immortalized a certain strand of '70s style. Compare Princess Leia's iconic hooded dress with a 1976 Dior evening gown available as a Vogue pattern; both were made in white silk crepe de chine:
(I've made the Dior in red; photos coming soon.)
The year after The Empire Strikes Back (1980), McCall's began releasing children's costume patterns licensed with Lucasfilm.
McCall's 7772 includes costumes for five characters from the first two films: Chewbacca, Princess Leia, Yoda, Jawa, and Lord Darth Vader. (Update: the young Jennifer Connelly played Leia for McCall's.) The Vader view calls for one single serving cereal box. I have several sizes available in the shop: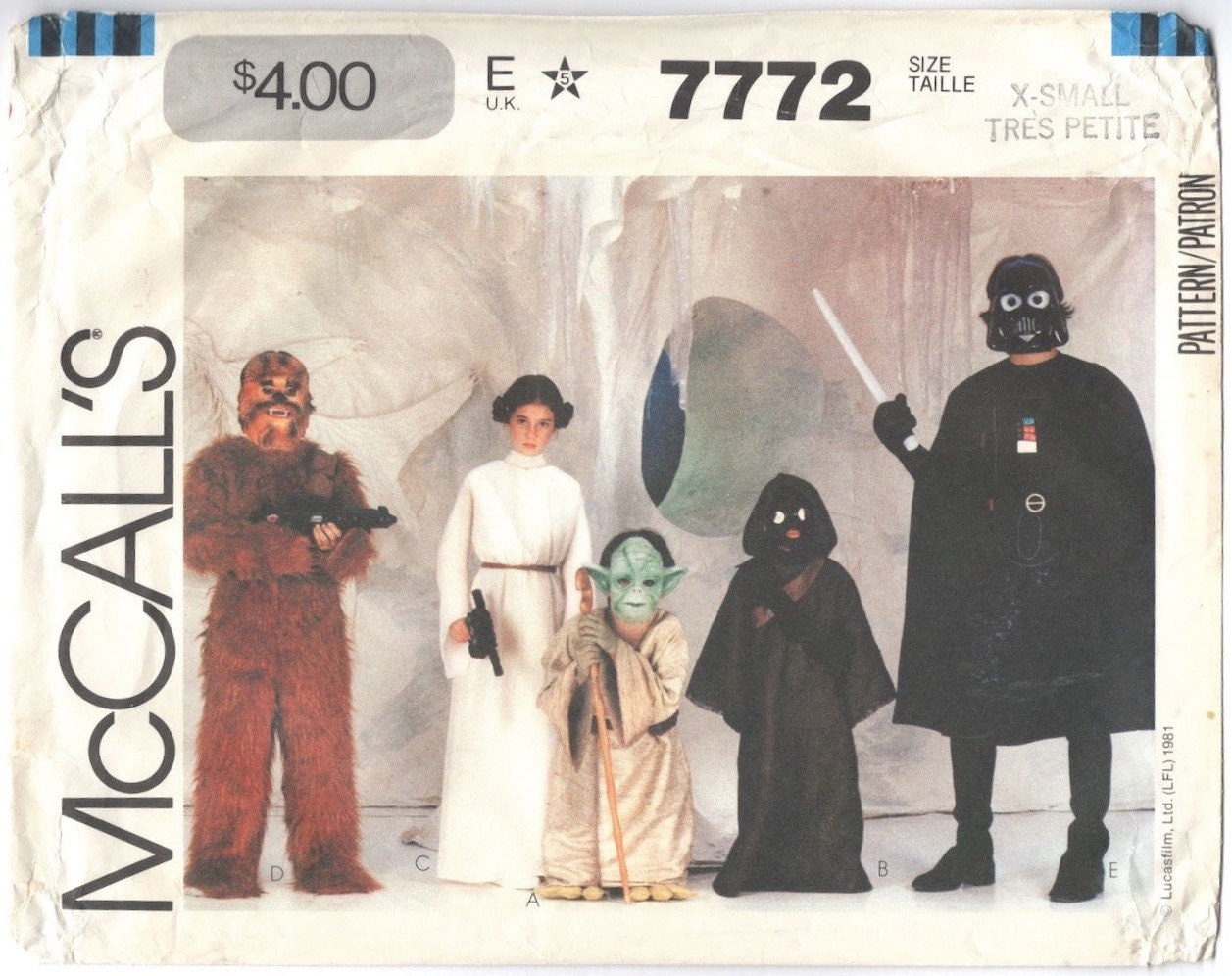 Update: a customer used McCall's 7772 to make these Jawa costumes: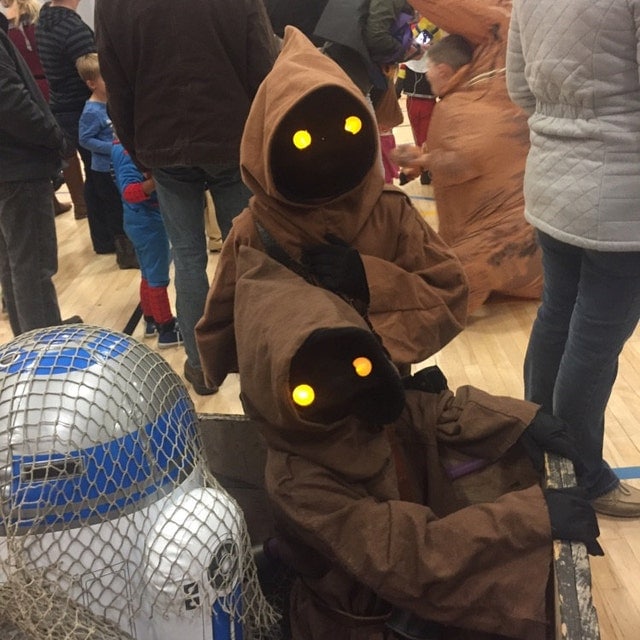 After Return of the Jedi (1983), McCall's released a children's pattern for Ewok costumes. And not just any Ewok: the envelope back names "Wicket the Ewok":
Update: A 1984 McCall's Crafts counter catalogue presents both patterns with Return of the Jedi backdrops. The Wicket costume is shown with the Ewok village celebration scene, and instead of a wampa cave, the earlier costumes have Jabba the Hutt:
In the 1990s, Butterick took over the Lucasfilm licensing. Butterick 5174 and 5175, official Princess Leia and Luke Skywalker costumes for adults and children, included an order form for the wig and light sabre:
Butterick also released two official Darth Vader costume patterns for children and adults. Butterick 5176 and 5186 included instructions for breastplate appliqués made from coloured, foam sheet remnants, and an order form for the helmet and light sabre: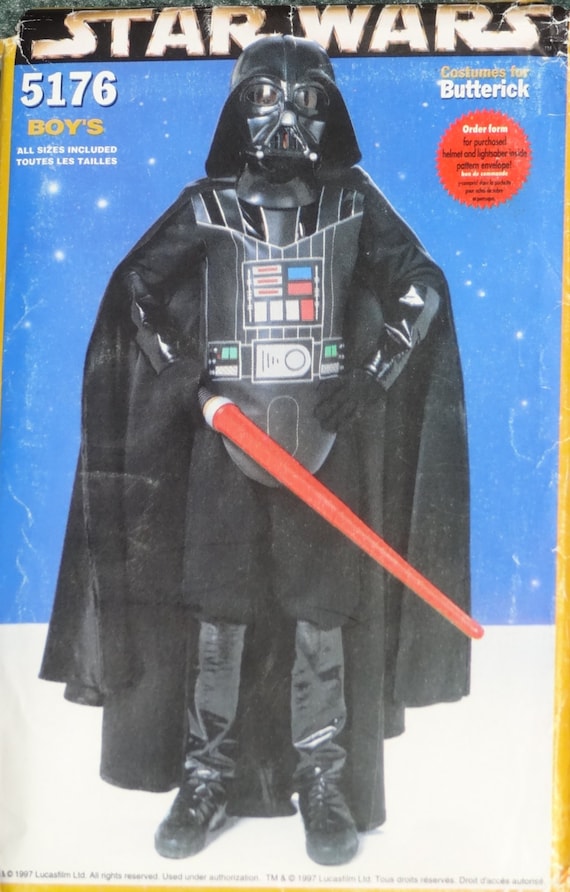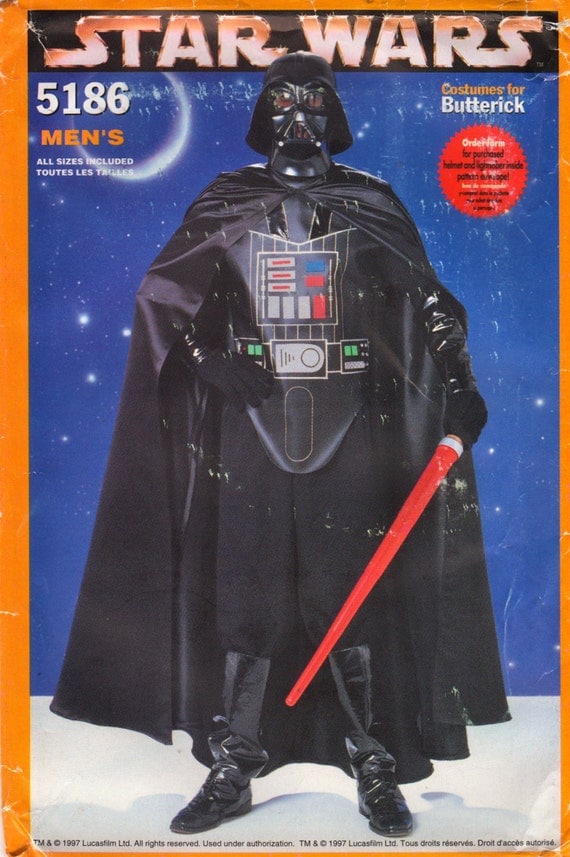 There were only unofficial costume patterns based on the prequel trilogy. The year of Episode I: The Phantom Menace (1999), McCall's released McCall's 2433, a "Space Nomads" pattern for adults and children with a version of Sith warrior Darth Maul:
Based on costumes from Episode II: Attack of the Clones (2002), Simplicity 4433 includes Padmé Amidala's combat suit, which doubles as an Aayla Secura costume (but two-sleeved and without the headpiece):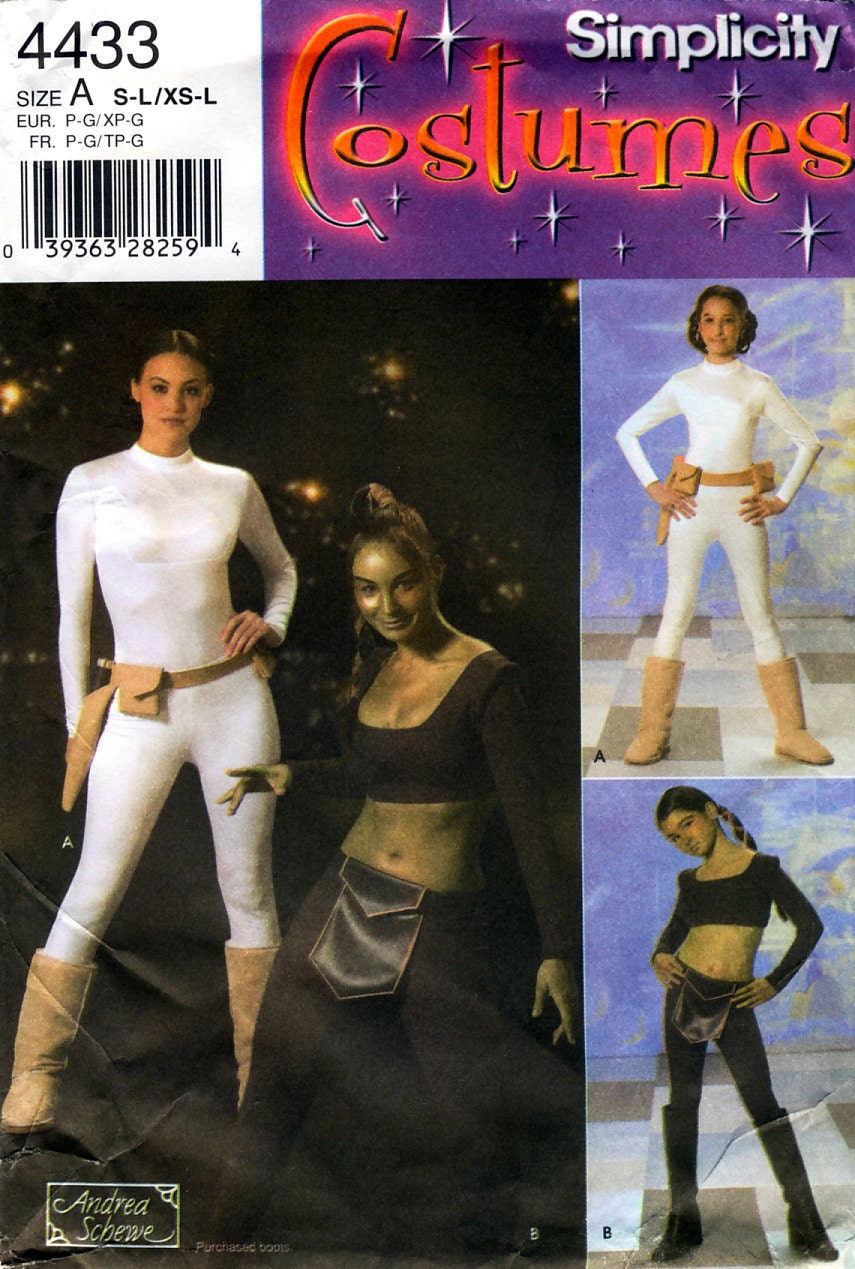 Although Padmé's Peacock dress was cut from Episode III: Revenge of the Sith (2005), it was widely seen in promotional materials for the film:
Andrea Schewe produced two versions of the Peacock dress and headdress for children and adults, Simplicity 4426 and Simplicity 4443. The adults' pattern includes both Padmé and Princess Leia, while the children's has Leia, Padmé, and young Anakin and Obi-Wan: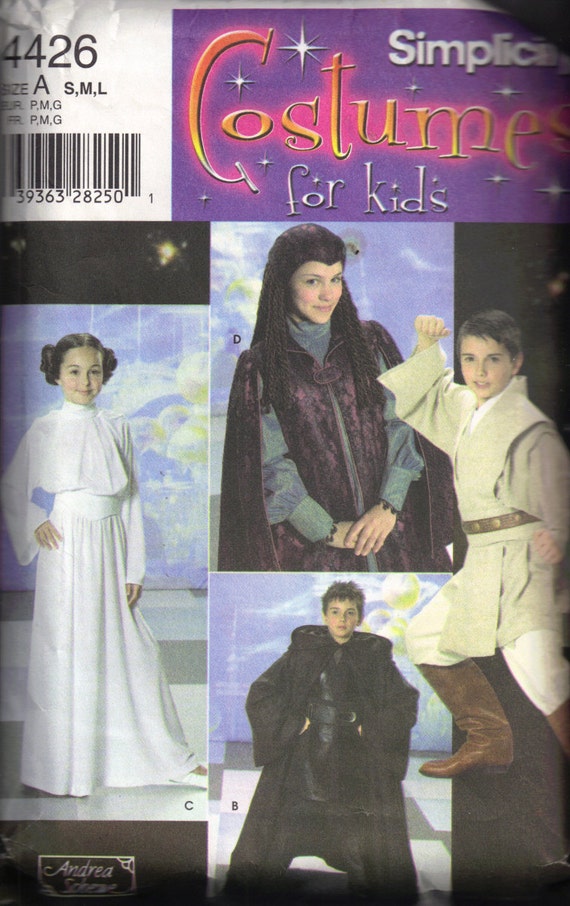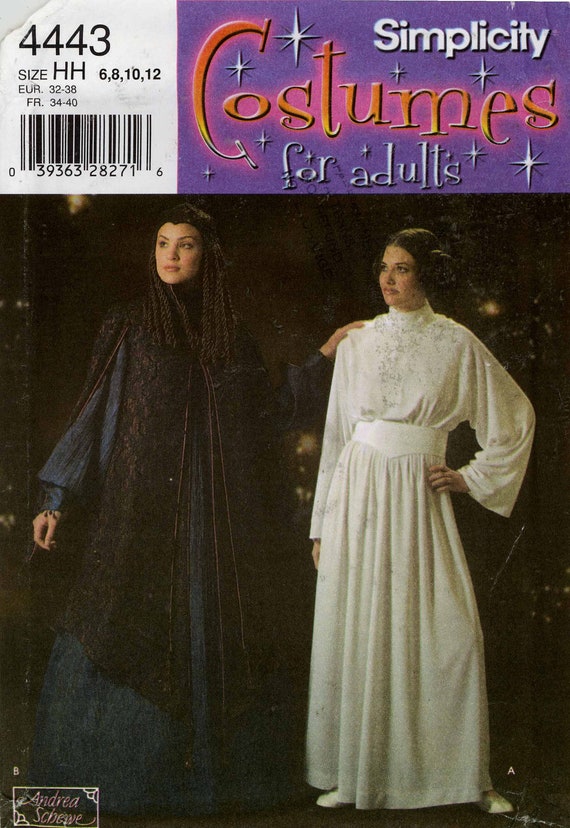 Men's costume pattern Simplicity 4450/059 includes Anakin and Obi-Wan Jedi costumes, together with an unidentifiable warlock Tion Medon: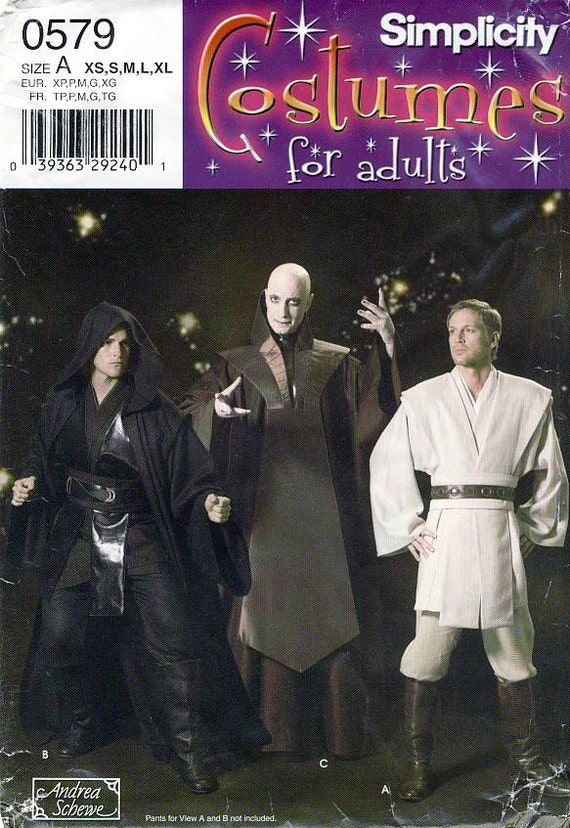 Based on Padmé Amidala's nightgown in Revenge of the Sith, McCall's 4995 is a dress with boned bodice, separate drape, chain or bead trim, and tassels made with three sizes of beads:
Now that Disney owns Lucasfilm, perhaps there will be more licensed Star Wars patterns…
Update: Irving Penn's 1999 editorial was not the first Star Wars-themed shoot in Vogue magazine: see Ishimuro's "The 'Force' of Fur" in Vogue, November 1977. (Thanks to Devorah Macdonald for the reference.) Vogue recently posted some outtakes and reminiscences.
Update 2: Simplicity 8074, a Game of Thrones / Star Wars costume pattern (Sand Snakes / Rey) adapted by Andrea Schewe, suggests that Disney hasn't licensed costumes from The Force Awakens (yet).
May 2016: McCall's has released two patterns based on costumes from The Force Awakens: Rey (M7421) and Kylo Ren (M7422).
December 2016: in memory of Carrie Fisher, the New York Times published a gallery of readers' Princess Leia costumes: see Amanda Hess, "Your Photos as Princess Leia, a Rebel and Role Model."
August 2017 (update Oct. 2020): S8480 pairs Jyn Erso from Rogue One (2016) with Zoë Washburne from Firefly — pictured in the catalogue with The Matrix / Kingdom Hearts pattern.
June 2018: Simplicity's Fall release includes a pattern for Arya Stark and Rey from Star Wars: The Last Jedi (S8718). There's also Rey's cape (S8721) and a children's version (S8724).
Unisex flight suit pattern S8722 doubles as a Ghostbusters boiler suit. Works for resistance mechanic Rose Tico or X-wing pilots like Poe Dameron: