Patty Jenkins' Wonder Woman isn't set to open until 2017, but audiences will get a glimpse of Gal Gadot as the Amazon princess in Zack Snyder's Batman v Superman: Dawn of Justice (2016). Marvel's feminist superhero, Captain Marvel (originally Ms. Marvel) will also get her own movie in 2018. (Guardian story here.)
Since the 1930s and '40s, when Superman, Batman, and Wonder Woman made their first comic strip appearances, superheroes have occupied a special place in popular culture. The 2008 Costume Institute exhibit, Superheroes: Fashion and Fantasy, explored the influence of superhero costumes on fashion.
With Halloween around the corner, here's a look at licensed superhero costume patterns from the 1960s to today, with a focus on the place of gender in children's costuming.
1960s
In 1966, the Batman television show premiered on ABC; just the year before, the 1950s television series Adventures of Superman, starring George Reeves as the Man of Steel, had returned to the airwaves in syndication.
From 1966, McCall's 8398 is a pattern for "Girls' or Boy's Batman, Robin and Superman Official Costumes." The pattern is copyright National Periodical Publications, Inc., an early version of DC Comics:
The Fall 1966 McCall's Home Catalog promoted McCall's 8398 with McCall's 8562 as "Magical Costumes for the Wonderful World of Make-Believe." The text reinforces the idea that these superhero costumes were intended for imaginative, active children, regardless of gender: "Now that active young lad or lass with the vivid imagination can be Batman, Robin or Superman at the switch of a colorful costume. Only McCall's has official patterns for the costumes of these swashbuckling heroes of comic books and TV…" (click to enlarge):
1970s
In 1978, the Wonder Woman TV series was still running, and December saw the release of the first Superman movie starring Christopher Reeve.
That year, Simplicity released two patterns for children's superhero costumes: Simplicity 8714, Batman, Robin, and Superman costumes for children and boys, and Simplicity 8720, Catwoman, Batgirl, and Wonder Woman costumes for girls. ('Child' often refers to unisex pattern sizing for younger children.) The introduction of female superhero costumes seems to have prompted a sex-division on the pattern envelopes—although the categories could always be subverted by individual children and their parents:
1980s
Later official superhero patterns tend to be movie or TV tie-ins. As in contemporary popular culture, the balance shifts toward male superheroes, but there's also an oscillation between strict gender categories and more inclusive costuming. The 1980s were the decade of Superman and Supergirl: Supergirl opened in 1984, and there were three more Superman movies ending with Superman IV: The Quest for Peace (1987).
In 1987, Butterick released two superhero patterns, both with iron-on transfers: a Superman and Supergirl play suit for small children (sizes 2 to 6X), and a Superman costume for men and boys. I couldn't find a corresponding women's and girls' Supergirl pattern. The small children's is a pyjama or jogging suit-style top and pants for stretch knits, with separate cape and skirt; the men's and boys' is a spandex stirrup jumpsuit and briefs: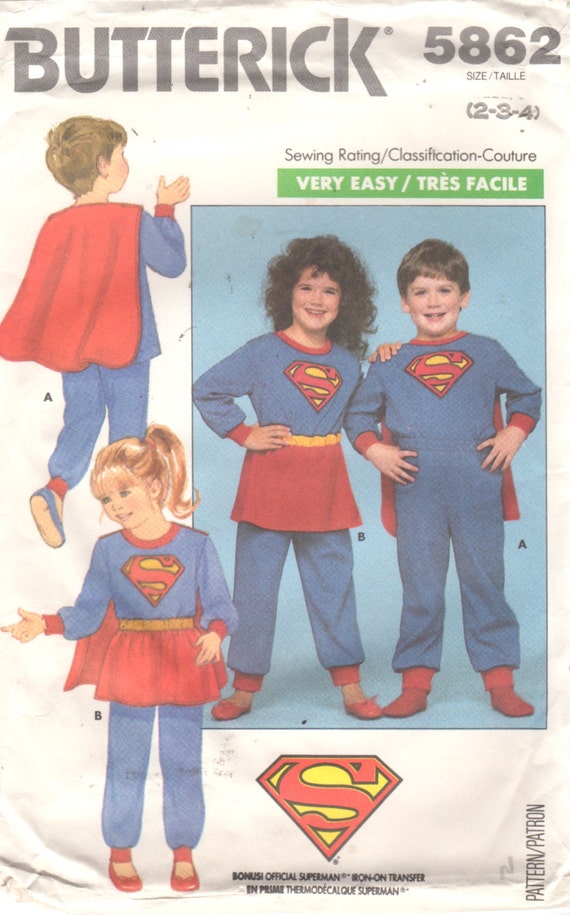 (With thanks to Jan Lamm.)
Tim Burton's Batman (1989) launched a new superhero franchise. Late 1980s Batman pattern Butterick 4201/6313, for men and boys, appears to have been timed to the Tim Burton film, but reflects the now-retro Batman. Like the Butterick Superman, it's also a stirrup jumpsuit and briefs for spandex blends:
1990s
Butterick licensed costumes from Batman Returns (1992) and Batman Forever (1995): Batman, Catwoman, and the Penguin, and Batman, Robin, and the Riddler. The Batman costumes reflect the movies' increasingly hypermasculine armour, while Catwoman's sexy, home-sewn catsuit is the only design for women and girls.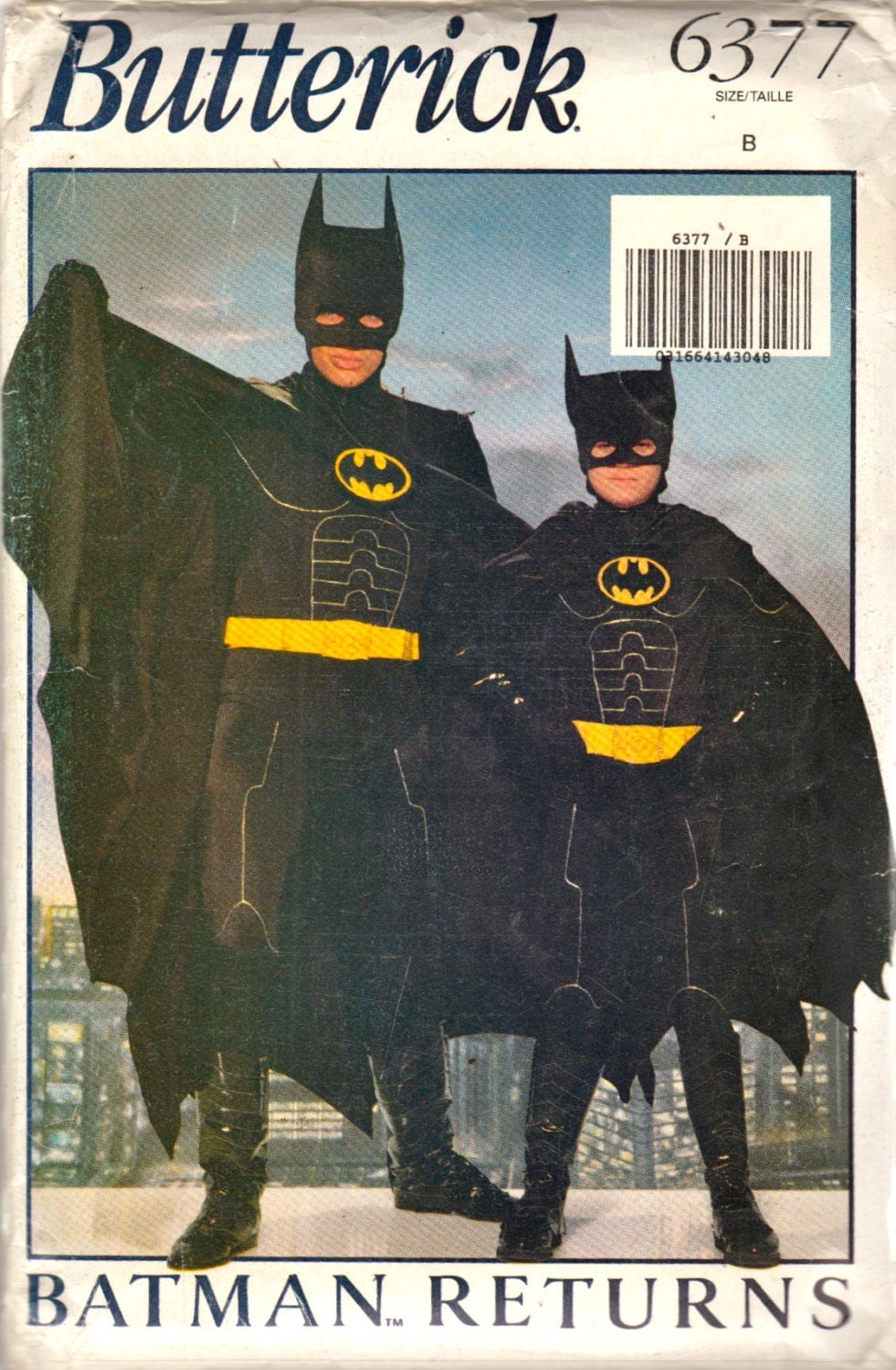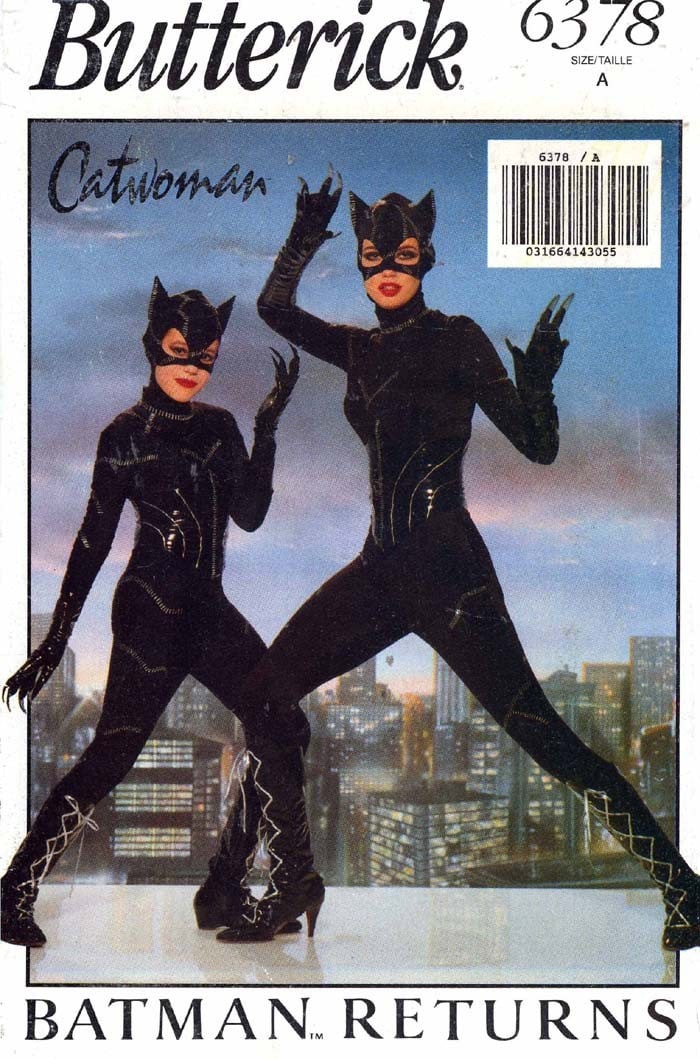 Maybe because the Teenage Mutant Ninja Turtles aren't human, this Ninja Turtles pattern is gender-inclusive, labelled as for both girls and boys. The design is called a playsuit, not a costume (click the image for envelope back, or see it made up on flickr):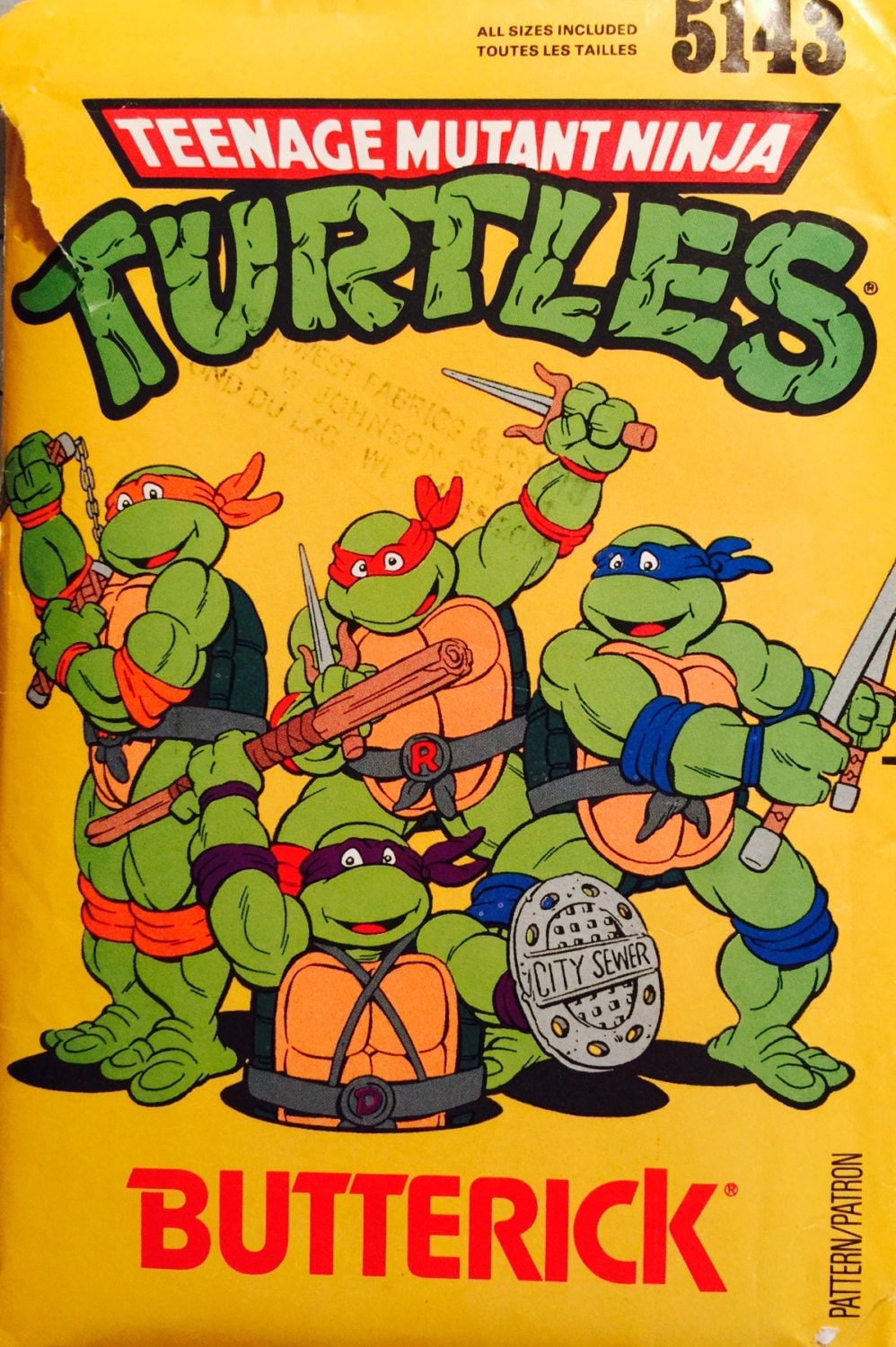 On the other hand, this Captain Planet pattern for children and boys includes a grotesque 'muscle' suit. The second character is called Verminous Skumm: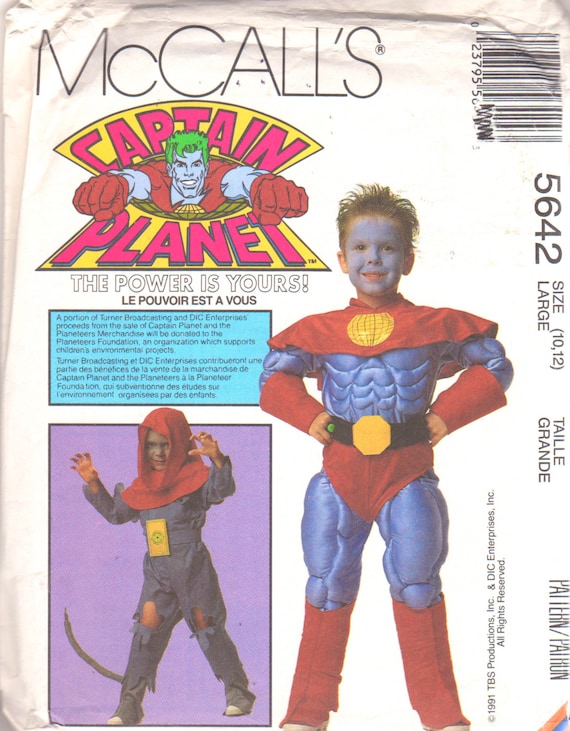 '90s costume patterns start to show the influence of Japanese television shows—Mighty Morphin Power Rangers, Masked Rider, and Sailor Moon. This Sailor Moon costume pattern came in children's and girls' sizes:
Marvel doesn't seem to have ventured into pattern licensing until the 1990s, when Simplicity's children's costume patterns were gender-inclusive. Simplicity 7543 is a child's Spiderman costume with sleeve webs made from fishnet:
Before the X-Men and Spider-Man movie franchises of the 2000s, there were '90s animated TV shows based on the comics: X-Men from 1992 and Spider-Man from 1994. In the mid-1990s, Simplicity released several more Marvel patterns, all labelled as unisex Child's costumes: Spider-Man and Venom (Simplicity 7241), Wolverine and Storm (Simplicity 7246), and Cyclops and Magneto (Simplicity 7251). Wolverine and Storm is my favourite:
Current patterns
This fall, Simplicity released five licensed costume patterns for Marvel and DC superheroes. The women's DC costumes are featured on the cover of the Halloween catalogue: Wonder Woman (Simplicity 1024) with Batgirl and Supergirl (Simplicity 1036):
The women's costumes match those of the comic-book characters, but for the corresponding children's pattern (Simplicity 1035), all three costumes have been altered to become knee-length, long-sleeved dresses. Batgirl loses her catsuit and Wonder Woman is virtually unrecognizable. What message does this send to children comparing the comic-book illustrations on the envelopes?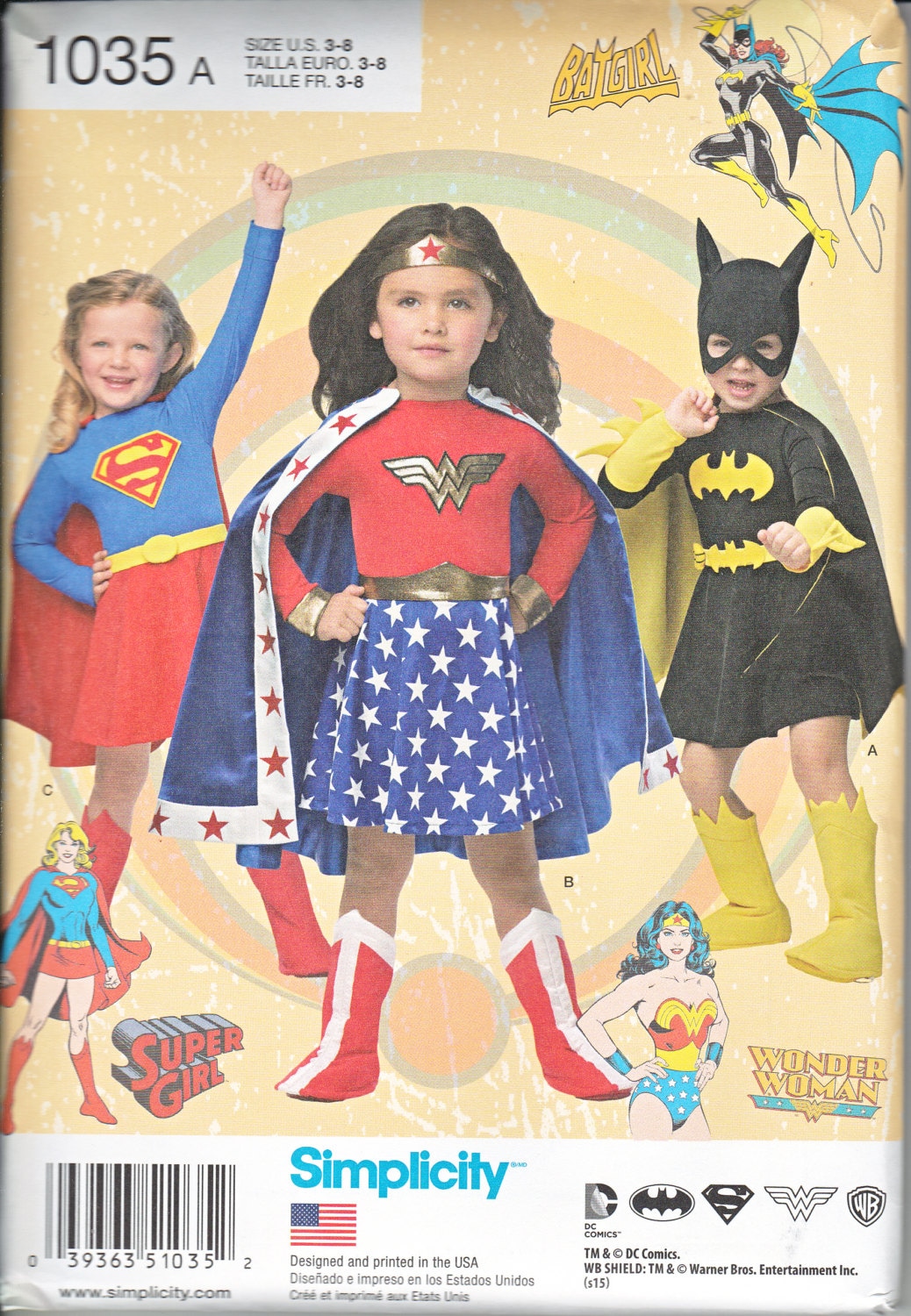 The two Marvel patterns, Captain America (Simplicity 1030) and Thor (Simplicity 1038), have a different format. Both from Marvel's Avengers, the adults' and children's sizes share the same envelope, which includes an illustration of the Hulk, Iron Man, Thor, and Captain America down the left-hand side and a superimposed image of the pattern pieces with the text Sew It Yourself. Both are labelled as boys' and men's. The Thor should really be unisex if he's now a woman:
(S0225 is the advance version; the S1030 envelope seems to have some strange retouching of the man's crotch.)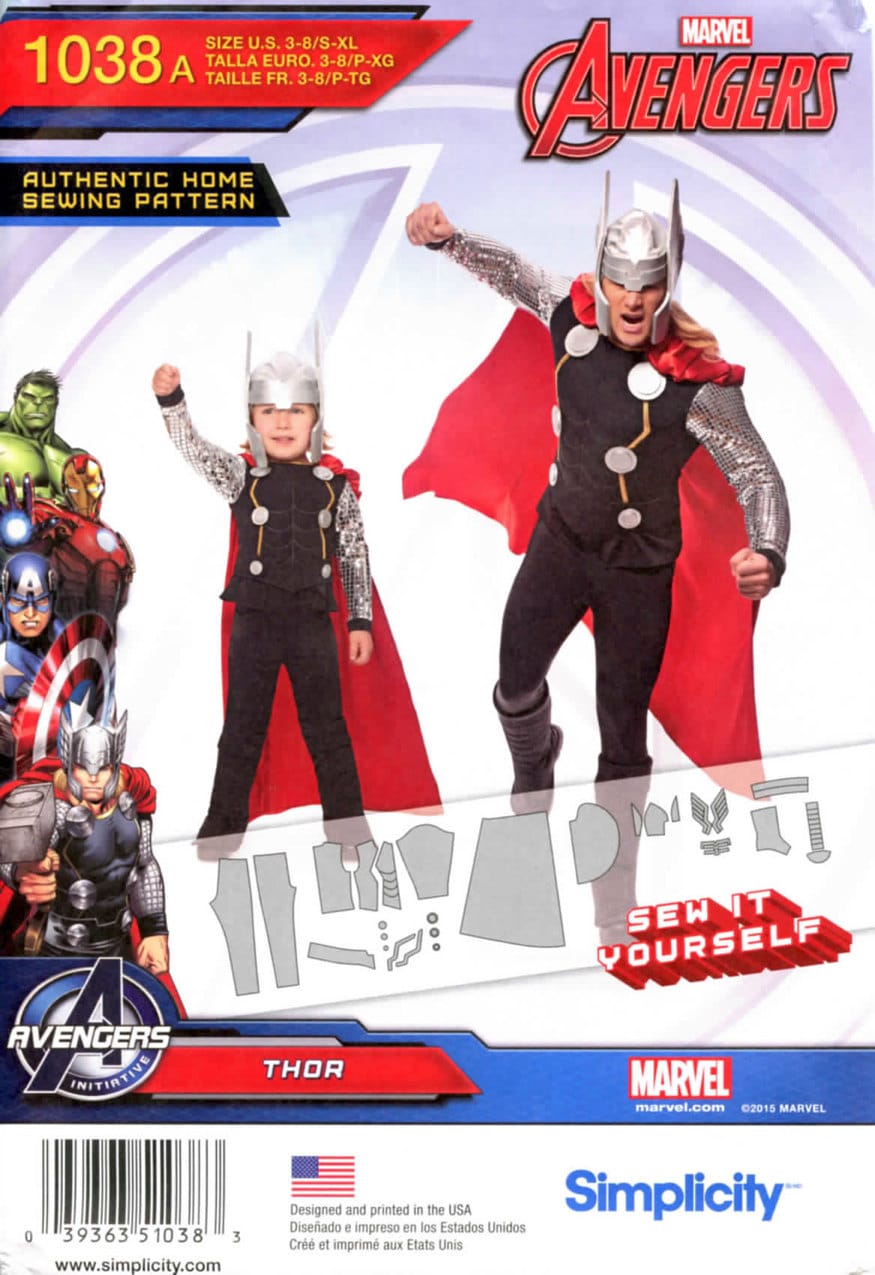 It's great to see Wonder Woman making a comeback, and the increasing popularity of costuming means we're likely to see more licensed superhero patterns in the near future. Here's hoping there will be a Black Widow or Mystique—and it's not a dress.
Update: Simplicity released several new DC patterns for Fall 2016, including an official Joker pattern and three DC Bombshells patterns—Wonder Woman, Batgirl, and Supergirl:
Update, summer 2017: Simplicity's Early Fall catalogue added more DC patterns: Harley Quinn and DC Bombshells Black Canary, Stargirl, and Batwoman.
Happy Halloween, everyone!
(For more see Dorian Lynskey, Kapow! Attack of the feminist superheroes, and Jill Lepore, The Last Amazon.)
* As I wrote this post, spellcheck failed to recognize the names of female superheroes. Please fix this, WordPress!