Ready for a cybergoth revival? The Matrix is celebrating its 20th anniversary this year, and Variety has just announced that there will be a Matrix 4, to be directed by Lana Wachowski and again starring Keanu Reeves and Carrie-Anne Moss.
The costumes in the first Matrix were hugely influential. Working within a tight budget, costume designer Kym Barrett (Romeo + Juliet, Us) placed the emphasis on texture and movement, using low-cost materials like PVC and a wool blend for Neo's coat. The rebels were also outfitted in custom accessories, with boots by Barrett and bespoke eyewear by Richard Walker.
The first Matrix film even inspired John Galliano's Fall 1999 couture collection for Dior. Presented at Versailles, the collection mixed futuristic raver-couture with more fanciful references like "Gainsborough in Persia." ("The dresses are evil, evil," Galliano was quoted saying. "But you have to have the Romantic. They die for that, my ladies.") As Vogue's Hamish Bowles wrote, the couture clients warmed more to the 18th-century looks than to "Matrix cybervixen."
It wasn't until 2003's big-budget sequel, The Matrix Reloaded, that Neo got his famous cassock coat.
The first Matrix-inspired costume patterns came out in 2003.
Simplicity's Neo and Morpheus / "Men's and Teen's Duster" must have sold well: the pattern was rereleased with an updated envelope in 2017. (See top of post.) Now backlisted, it's still available from the company website.
Thanks to the sequel's higher budget, Barrett designed Trinity's pieces for better-quality PVCs (then newly available), with patent leather used for closeups. For the women's pattern, Trinity's PVC bustier-coat ensemble effectively devolves into its separate elements: a princess-seamed duster, corset top, and pants. The pattern calls for stretch vinyl, leather-like fabrics, and synthetic patent leather.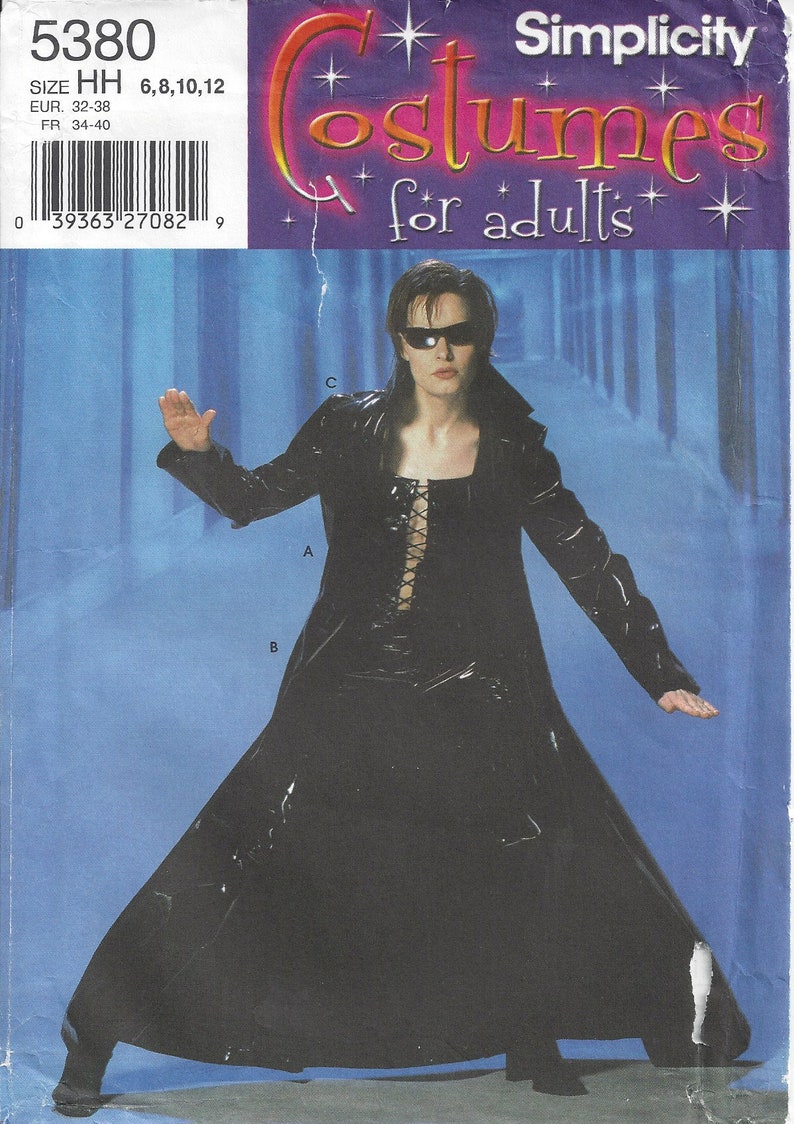 The following year, Butterick and McCall's released men's and children's Neo patterns, but none for Trinity. Both cassock coats share an authentic, if painstaking touch: lots of covered buttons.
It would be another decade before Andrea Schewe designed a more accurate Trinity duster. Released in Simplicity's 90th anniversary year, the PVC duster was paired with a Kingdom Hearts cosplay coat.
Here's S8482 with more sci-fi (Firefly and Rogue One) in the seasonal catalogue:
There's no word on the costume designer yet, but production on the new Matrix begins in 2020.