Versatile and contemporary, jumpsuits and their cousins, playsuits and rompers, have become increasingly popular in the last few years. Jumpsuits—or all-in-ones, if you're British—seem poised to move beyond a trend this summer.
The modern women's jumpsuit has origins in two different garments: beach pajamas and the boiler suit. These twin origins mean jumpsuit styles range from fluid loungewear to utility-inspired or tailored designs. (See Vogue Italia for a short history of the jumpsuit.) Here are some favourite all-in-one patterns from the 1930s to the 1990s.
1930s–1940s
Beach pajamas, often worn with a matching bolero, had become one-piece by the early 1930s. This McCall's design combines flowing trousers with geometric seaming details in the bodice and hip yoke. A reproduction is available from the Model A Ford Club of America:
(See my earlier beachwear post here; for more on beach pajamas, see the FIDM Museum blog and Amber Butchart's essay for British Pathé.)
The boiler suits of wartime utility wear are said to have made bifurcated clothing more acceptable for women. This Vogue pattern from ca. 1940 includes both a hooded mechanic suit with cuffed trousers and a more casual, short-sleeved version shown in a dotted print:
This early 1940s pajama ensemble with T-back halter bodice was not just for the beach—the envelope says it's for "beach, dinner or evening":
1950s
In the postwar period, more tailored jumpsuits emerged as a choice for casual sportswear. This early 1950s pedal-pusher coverall has cuffed sleeves and pants and a front zipper closure:
From the late 1950s, this trim, one-piece slack suit from Vogue came in two lengths and with a matching overskirt:
1960s
The jumpsuit—sometimes called a culotte or pantdress—truly comes into its own in the later 1960s. Here Birgitta af Klercker models Vogue 2249, a loungewear design by Emilio Pucci (previously featured in my goddess gown post):
In this late 1960s Butterick Young Designers pattern, Mary Quant combines a trim, zip-front jumpsuit with a low-waisted miniskirt for a sleek, futuristic look: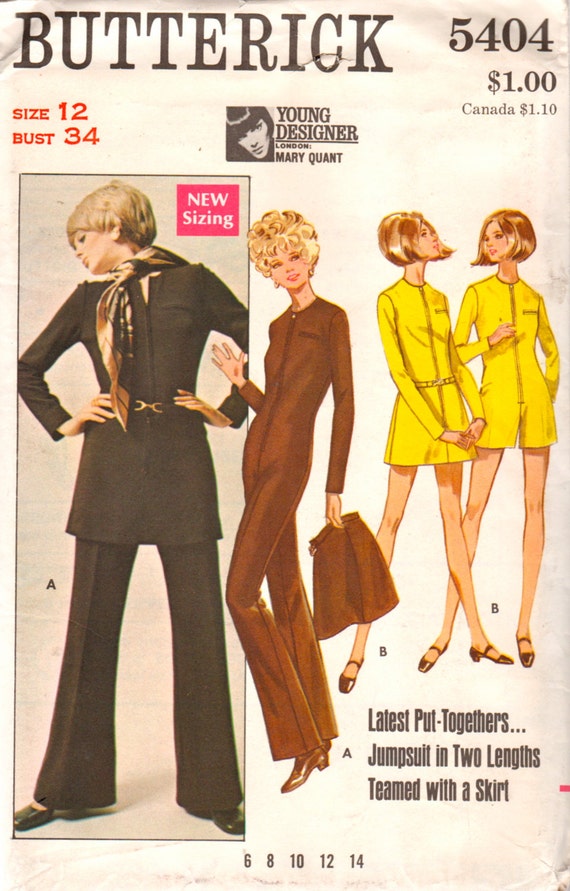 1970s
Both pajama and menswear-inspired styles continue into the 1970s. Famous for her palazzo pajamas, Galitzine designed this bi-coloured lounge pantdress with criss-cross halter bodice:
From Calvin Klein, Vogue 1453 marks a return to the boiler suit style. With cargo pockets, self belt, and wide, notched collar, the jumpsuit could be made long or short, with long or short sleeves:
1980s
This Bob Mackie disco jumpsuit or evening dress pattern for stretch knits dates to 1980. (See my earlier Bob Mackie post here.) The jumpsuit has a plunging neckline, waistline pleats, and tapered, bias pants designed to crush at the ankles:
An instance of the late 1980s jumpsuit trend, this shirtdress-style jumpsuit by Donna Karan has a notched collar, welt pockets, and cuffed or seven-eighths length kimono sleeves:
1990s
Also by Donna Karan, Vogue 2609, ca. 1990, is a long-sleeved, tapered jumpsuit for stretch knits with neckline variations, front pleats, and stirrups. View C has a contrast bodice with self-lined hood:
From 1996, Vogue 1821 by DKNY is almost vintage. It's a novel suit consisting of a single-breasted jacket and wide-legged, halter jumpsuit:
Finally, this pattern is not yet vintage, but a jumpsuit collection would be incomplete without Vogue 2343, Alexander McQueen's tailored, tuxedo jumpsuit for Givenchy haute couture Spring/Summer 1998 (earlier post here):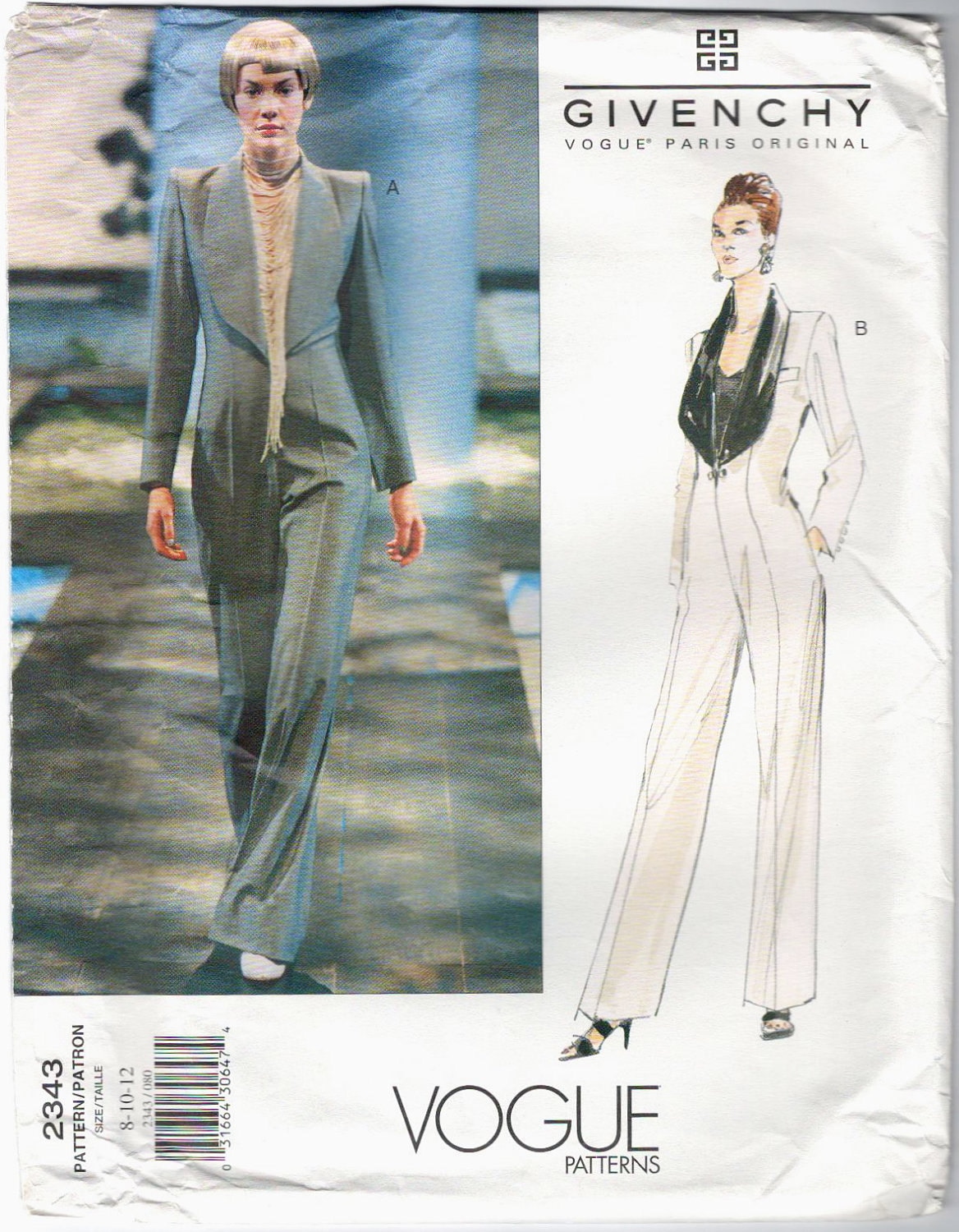 With their demanding fit, jumpsuits are ideal for home sewers. And they're not just for the tall and leggy: many of the later jumpsuit patterns are marked as suitable for petites.
If you'd like to try your hand at an early all-in-one, Wearing History has a repro pattern for 1930s beach pajamas, and Simplicity 9978 includes a 1940s boiler suit.