This week, the second instalment of my continuing three-part series on Alexander McQueen's Givenchy designs for Vogue Patterns. (Read Part 1 here.) Our next four patterns were drawn from three Givenchy collections presented in 1998: the Fall 1998 and Spring 1999 ready-to-wear, and the Spring 1998 couture.
3. Givenchy Haute Couture Spring/Summer 1998 (shown January 1998)
The January Givenchy haute couture collection was shown in a Japanese bonsai garden. The models, styled with kabuki makeup and lacquered hair, were silhouetted on a screen before they emerged onto the runway. Critics noted the collection's precision tailoring, especially the pagoda-shouldered jackets. (See Suzy Menkes, "Givenchy and McQueen Opt for Zen" and Constance C.R. White, "For Couture, New Ways to Seduce.")
(I wasn't able to find titles for any further Givenchy collections. If anyone knows of a resource for these I'd appreciate it if you could contact me. Thanks!)
Vogue Patterns' selection, Vogue 2343 (1999), is the only pattern in this series from an haute couture collection:
Here's the envelope description: Misses'/Misses' Petite Jumpsuit: Semi-fitted, lined, straight-legged jumpsuit (loose-fitting through hips) has collar, shoulder pads, welt/side pockets, side zipper, front button trim and long, two-piece sleeves with mock vent/button trim. B: contrast upper collar/front facing. Purchased top. Featured in the November/December 1999 issue of Vogue Patterns (Shop Vogue).
This design was easy to place, since the staging in the Vogue pattern photo matches the staging shown in L'Officiel's collection photos for the Givenchy Spring 1998 couture show:
Vogue Paris and L'Officiel both put this collection on the cover of their couture special. Could that be Michelle Behennah in the V2343 jumpsuit?
Just for fun, here's a Vogue Paris editorial photo of Guinevere Van Seenus in another look from the season's Givenchy couture:
The Vogue 2343 jumpsuit was promoted in the magazine's holiday issue. I'm fascinated by the fact that this pattern gives dressmakers and home sewers access to couture tailoring of this calibre. The design is probably my favourite of the series.
No parallel Alexander McQueen collection, since the designer didn't produce haute couture collections for his own label.
4. Givenchy Prêt-à-porter Fall/Winter 1998–99 (shown March 1998)
The Fall 1998-99 Givenchy ready-to-wear collection drew praise for its draped cowl necks, sleek tailoring, and its skilled use of leather and fur. (See Suzy Menkes, "McQueen Makes Peace With His Heritage" and Anne-Marie Schiro, "McQueen Pilots Givenchy Boldly Into the Late 90's.") In May, WWD announced the renewal of McQueen's contract with Givenchy, which had been due to expire with the Spring 1999 ready-to-wear (Bridget Foley, "McQueen Renews Givenchy Contract"). For the Fall runway show, the models were made up with vampy red lips, their hair in exaggerated 1940s-style rolls.
It seems the Fall collection's success led it to be chosen to open the supplement of L'Officiel devoted to the season's Paris ready-to-wear. Here are L'Officiel's collection images:
Vogue Patterns chose two designs from Givenchy's Fall 1998 ready-to-wear collection. The first, Vogue 2228 (1998), is a slim, fur-trimmed skirt suit:
The envelope description reads: Misses' Jacket & Skirt: Semi-fitted, interfaced, lined above hip jacket has contrast collar/hemband, shoulder pads, princess seams, no side seams and long, two-piece sleeves with mock vent and button/buttonhole trim. No provision for above waist adjustment. Semi-fitted, tapered, lined skirt, below mid-knee or mid-calf, has waistband, front hemline slit and side zipper. Featured in the January/February 1999 issue of Vogue Patterns magazine (Shop Vogue).
FirstVIEW runway images for this collection have been posted at The Fashion Spot. Here's the runway photo for the Vogue 2228 skirt suit:
The Fall 1998 campaign showcased a similar design, a fur-trimmed coatdress:
The second pattern, Vogue 2248 (1999), is a cowl neck dress:
Here's the envelope description: Misses' Dress: Fitted, tapered, lined dress, below mid-knee or mid-calf, has contrast cowl, front slit and back zipper. A: long sleeves. B: sleeveless. The pattern recommends chiffon for the contrast cowl.
This Corbis runway closeup shows the detail of the cowl neck, which was netting (not chiffon) fabric: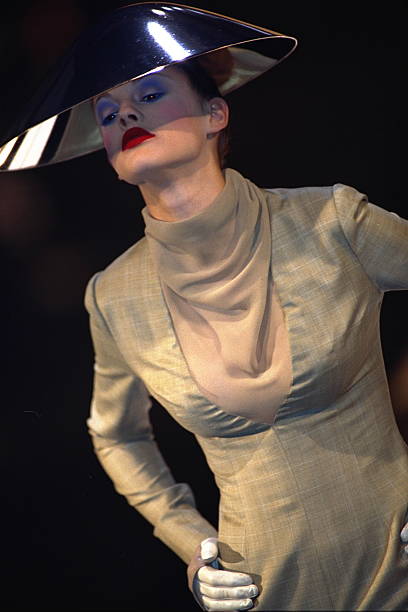 Although there are similar cowl neck looks in the collection, I couldn't find the sleeveless version shown in the Vogue 2248 pattern illustration (view B). It seems it wasn't a runway look. Update: The sleeveless version seems to have been worn under a jacket. See my post on making the dress.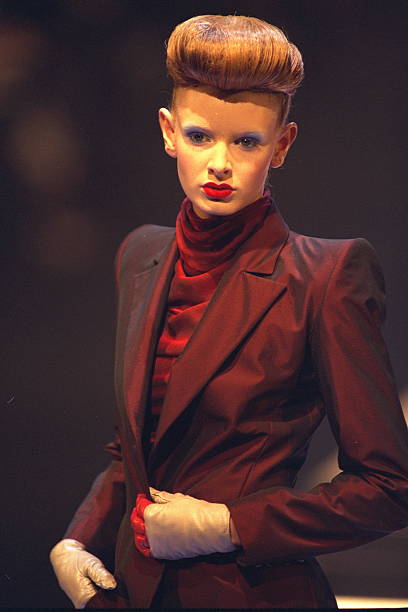 Parallel Alexander McQueen collection: Joan (FW 1998–99).
5. Givenchy Prêt-à-porter Spring/Summer 1999 (shown October 1998)
The Spring ready-to-wear collection represented a departure from Alexander McQueen's previous work for Givenchy: the softer silhouettes, neutral palette, and occasional, subtle sprinkling of sequins recalled the understated elegance for which Hubert de Givenchy was known. At the same time, McQueen played with his signature tailoring by using asymmetry and isolated tailoring motifs. (See Suzy Menkes, "Growing Up and Freshening Up at Givenchy and Chloe.")
Vogue Patterns' selection, Vogue 2628 (2002), is an asymmetrical, double-breasted coatdress:
The envelope description reads: Misses' Dress: Fitted, A-line, lined, double-breasted dress, above mid-knee, has collar, shoulder pads, seam detail (no side seams), welt pockets, flaps, shaped hemline and two-piece, above-elbow sleeves with mock vent/button/buttonhole trim. A: button tab. B: contrast collar. Featured in the April/May 2002 issue of Vogue Patterns magazine (Shop Vogue).
As you can see from the copyright date, Vogue 2628 was released several years after the collection was presented in Paris. Despite its runway photo, I had more difficulty placing the design until I found this Corbis photo, which shows the same dark, glossy runway, palette, hair, makeup, and even shoes:
In fact, this look was shown just before ours: the back of this model is visible behind the model in the Vogue pattern photo. I thought I recognized the shoes with moulded toes from the Savage Beauty exhibit, but I see from the catalogue that those ones are from Natural Dis-tinction Un-natural Selection (Alexander McQueen Spring/Summer 2009).
Here are L'Officiel's photos, showing the Spring 1999 collection's softness and neutrals:
The same strapless Givenchy dress appeared in the Spring campaign and on the cover of British Vogue.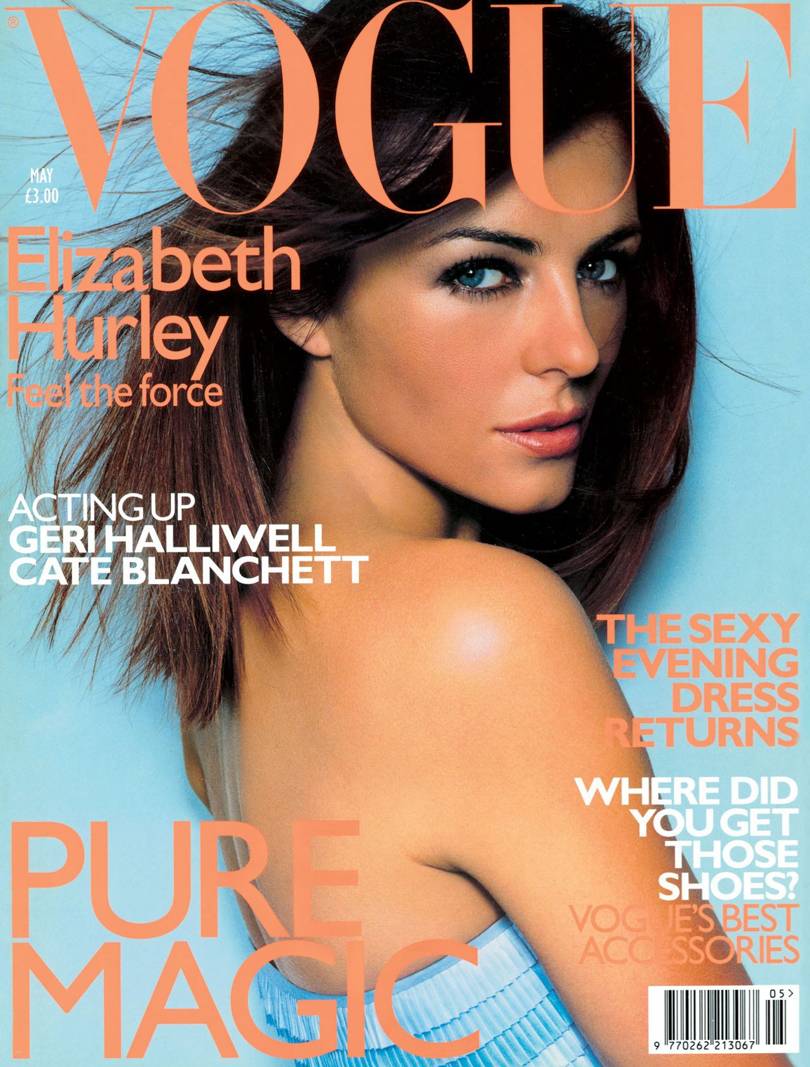 The asymmetrical motif in Vogue 2628 was carried over into McQueen's next collection for Givenchy, the Spring/Summer 1999 Haute Couture, as may be seen in this editorial photo in the Vogue Italia couture supplement (with Małgosia Bela on the right):
Parallel Alexander McQueen collection: No. 13 (SS 1999).
I would love to see photos of these patterns made up. Across the series of McQueen/Givenchy Vogue Patterns, though, the difficulty level ranges from Average to Advanced, so you could say they're restricted to more experienced sewers. Which would you make first?
Next: Part 3: McQueen's tailoring for the millennium at Givenchy.