John Galliano's designs for Givenchy were the first to alert me to the fact that Vogue designer patterns can replicate high fashion designs. When I saw this dress—on Shalom Harlow on the runway and later on Linda Evangelista in Vogue—
and this Vogue Paris Original in my mother's subscription copy of Vogue Patterns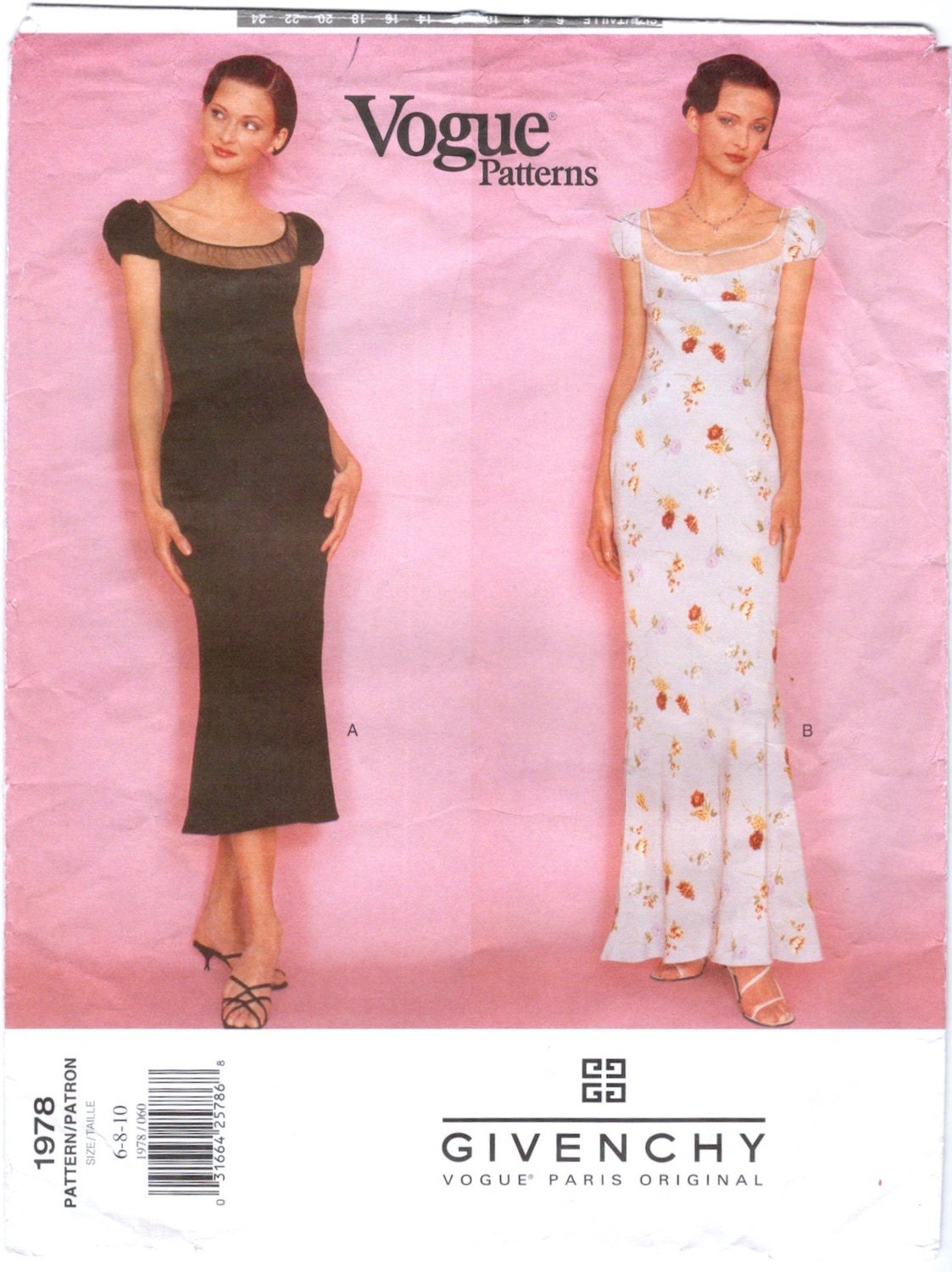 I felt the thrill of discovery and rushed off to buy the sewing pattern. I still have it, and still plan to make it up. At the time, I thought Vogue Patterns had altered the design by adding the bodice inset, but it's actually from a different collection.
John Galliano produced only four collections for the house of Givenchy before he left for Dior in late 1996. He was replaced at Givenchy by Alexander McQueen, who shared the British Designer of the Year award with him in 1997. (Read my Alexander McQueen series here.) Because of Vogue Patterns' production schedule, Galliano was already leaving the house by the time the first Galliano/Givenchy pattern was ready. The January/February 1997 issue of Vogue Patterns magazine included an article on the Galliano-McQueen transition ("Givenchy's Fashion Illusions") that actually notes the collectability of the Galliano/Givenchy patterns.
During 1996 Galliano presented a full cycle of collections for Givenchy: two couture and two ready-to-wear. Vogue Patterns' Galliano/Givenchy designs seem to be drawn from three different collections for the house. In this post I'll review the patterns in their sequence of release.
Update, 2019: Collection titles added from Kerry Taylor's forthcoming book, Galliano: Spectacular Fashion.
1. Givenchy Prêt-à-porter Fall/Winter 1996–97 (Toreador, shown March 1996)
Galliano's first ready-to-wear collection for Givenchy reinterpreted motifs from his first, couture show for the house, which included gray flannel and bow pockets. (See Suzy Menkes, "A Neat, Cool Take on Couture for the Fall" [The Princess and the Pea] and Amy M. Spindler, "Givenchy in the Galliano Era: Clean Looks, Few Surprises" [Toreador].) Vogue Patterns' first selection is a skirt suit with bow pockets (called a top and skirt on the envelope):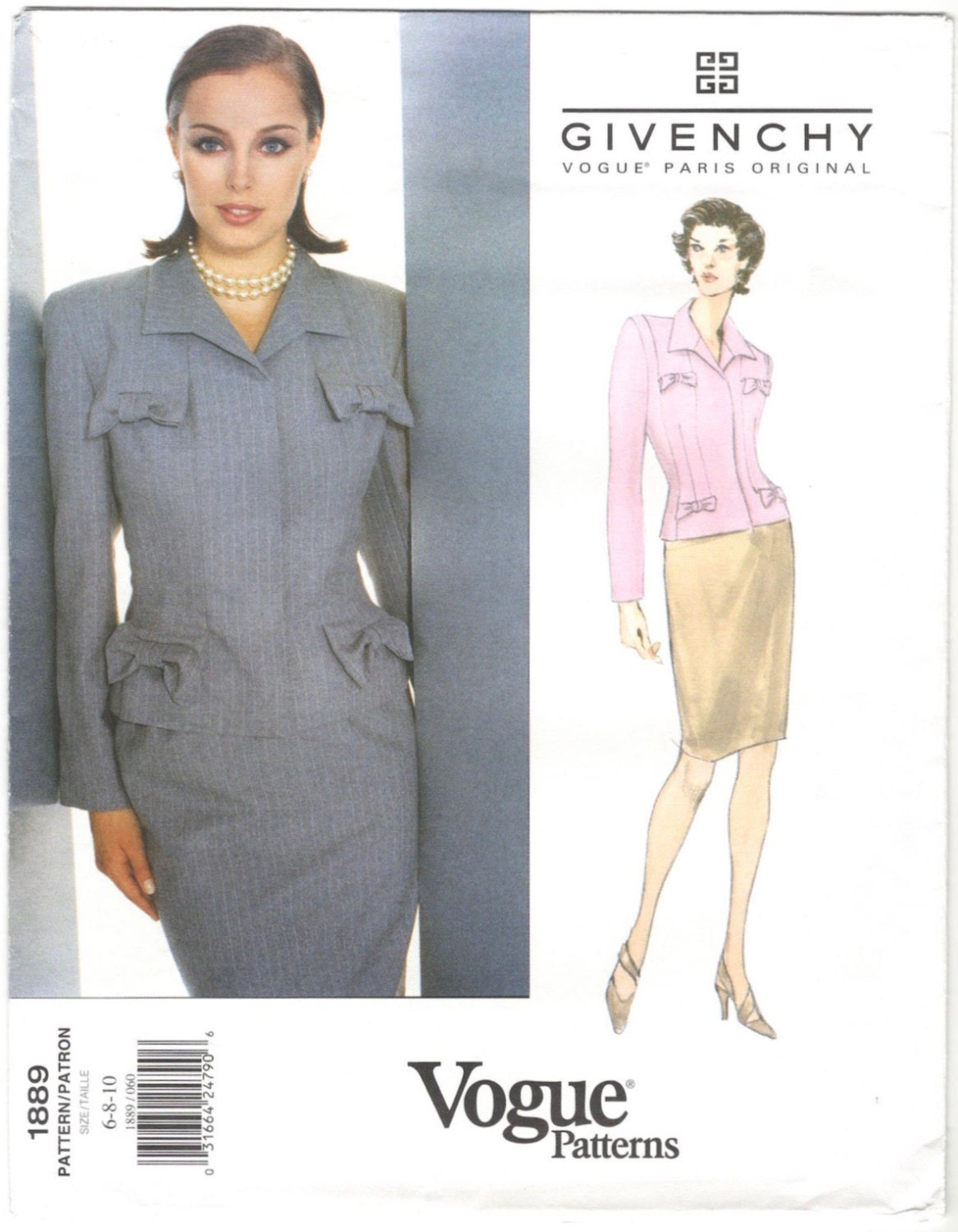 Here's the envelope description: Misses' Top & Skirt. Semi-fitted, partially interfaced, lined top has collar, slightly extended shoulders, shoulder pads, side panels, no side seams, middle front extending into bows with pleated knot, button fly closing and long, two-piece sleeves with mock vent. Semi-fitted, straight, lined skirt, above mid-knee, has waistband and back zipper/slit. Featured in the January/February 1997 issue of Vogue Patterns magazine.
Vogue 1889 was featured in the Vogue Patterns article mentioned above with the matching runway photo from the Fall 1996 ready-to-wear show.
These Corbis photos show Karen Mulder and Amber Valetta in Givenchy dresses with bow pockets; the first is couture, the second ready-to-wear: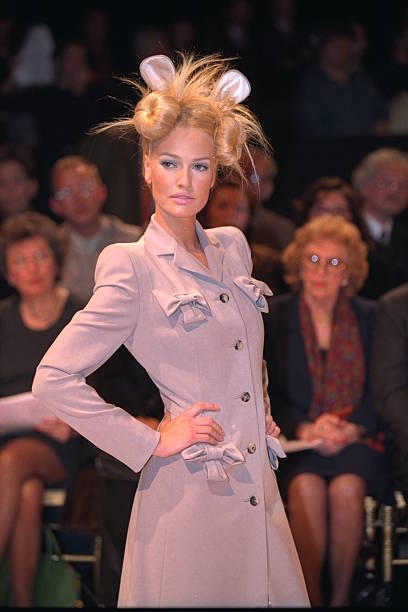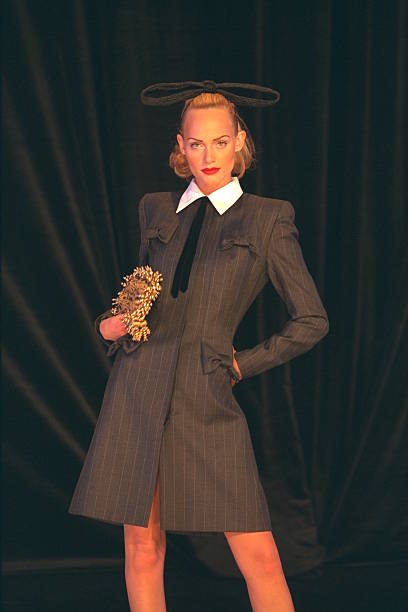 Bow pockets also reappeared in the Fall couture, as may be seen in this WWD runway image of Guinevere Van Seenus:
As Amy Spindler observed, these "tidy little suits with bow pockets" seemed designed to meet expectations of what an established Paris house should produce. Compare the bow pockets on McCall's 5550, an early '60s design by Pierre Cardin: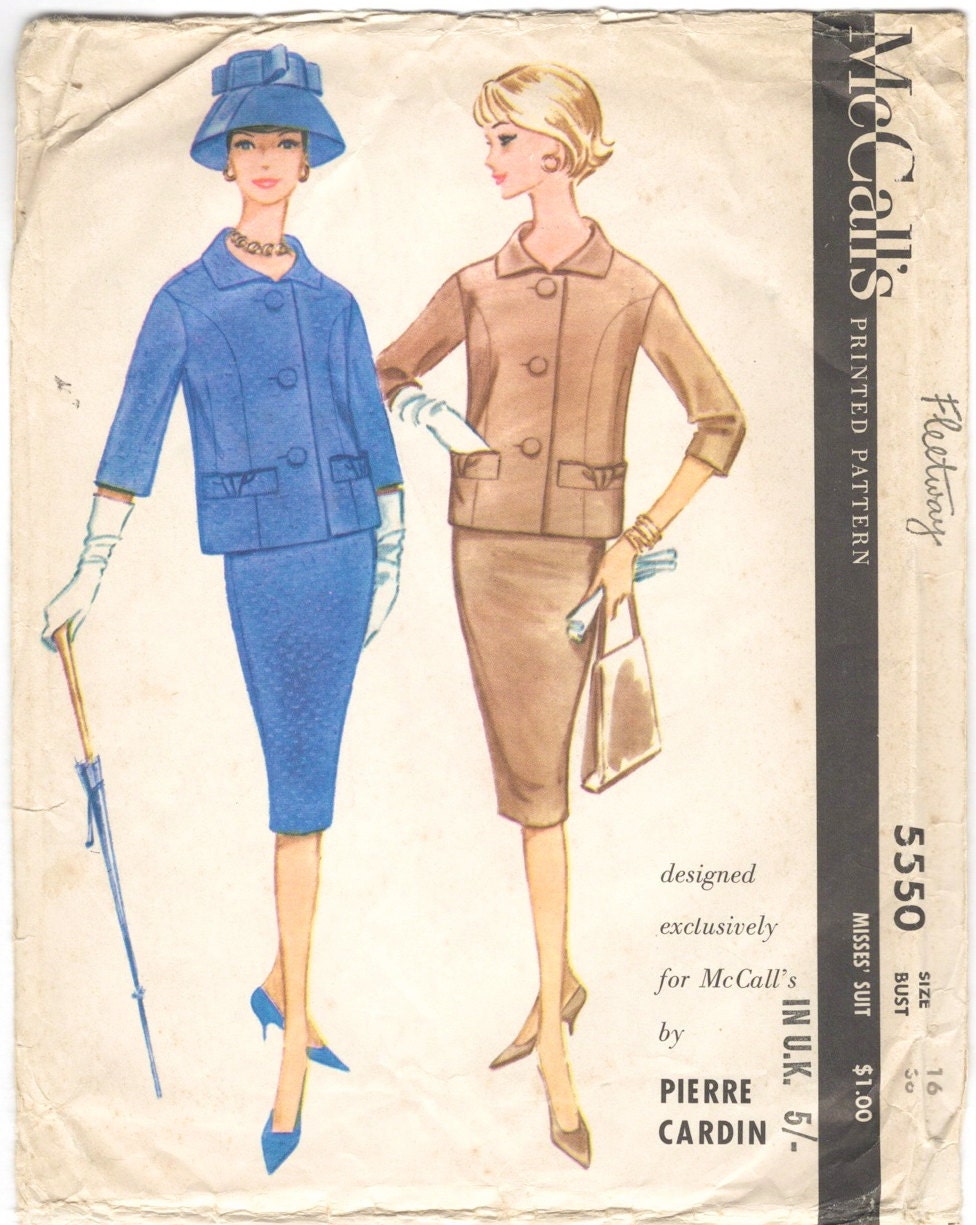 2. Givenchy Prêt-à-porter Spring/Summer 1997 (Jane Austen goes to Marrakech, shown October 1996)
Vogue 1978 (1997), the Empire gown pictured at the beginning of this post, is a ready-to-wear version of an Empire gown from Galliano's Fall couture collection for Givenchy, Empress Josephine. Here's the technical drawing for Vogue 1978:
The envelope description reads: Misses'/Misses' Petite Dress. Lined dress, mid-calf or floor length, has neckbinding, contrast yokes, close-fitting bodice, raised waist, semi-fitted, bias, A-line skirt, back zipper and short sleeves. Featured in the July/August 1997 issue of Vogue Patterns.
Collection images from L'Officiel show Nadja Auermann in the black version of the Vogue 1978 design and Eva Herzigová (who was the face for two Givenchy fragrances) in the floral print version: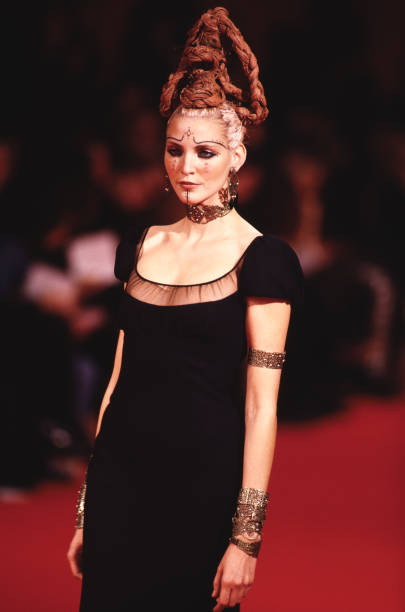 A more casual variation, photographed for L'Officiel, has pockets, self belt, and the bodice inset in the main dress fabric:
The Vogue 1978 dress was even featured in the summer advertising campaign:
Suzy Menkes noted the echoes of Galliano's first, couture collection for the house in the Spring ready-to-wear collection's "empire dresses with puff sleeves, high waists and a sweet flower print, inspired from the Empress Josephine look in Givenchy's January haute couture show" (Suzy Menkes, "Yamamoto Steals Couture Crown: Galliano Strikes Out"). Of course, Galliano's second couture collection had also featured Empire silhouettes, the most photographed of which seems to have been the white pleated gown at the top of this post. Here are a couple L'Officiel images from the Fall 1996 couture collection; the dress on Naomi Campbell in the first image (with stole: bottom, centre right) seems closest to the Vogue 1978 design:
Just for fun, here are a couple editorial images of Fall 1996 Givenchy Couture. The first, from W magazine, features Esther De Jong (slightly cropped by my scanner), the second is from an editorial in L'Officiel showcasing the season's Givenchy couture:
As seen in Vogue Italia:
3. Givenchy Haute Couture Fall/Winter 1996 (Empress Josephine, shown July 1996)
Vogue Patterns' third selection, a blue velvet evening dress with bow bodice and bias back, was featured in their holiday issue: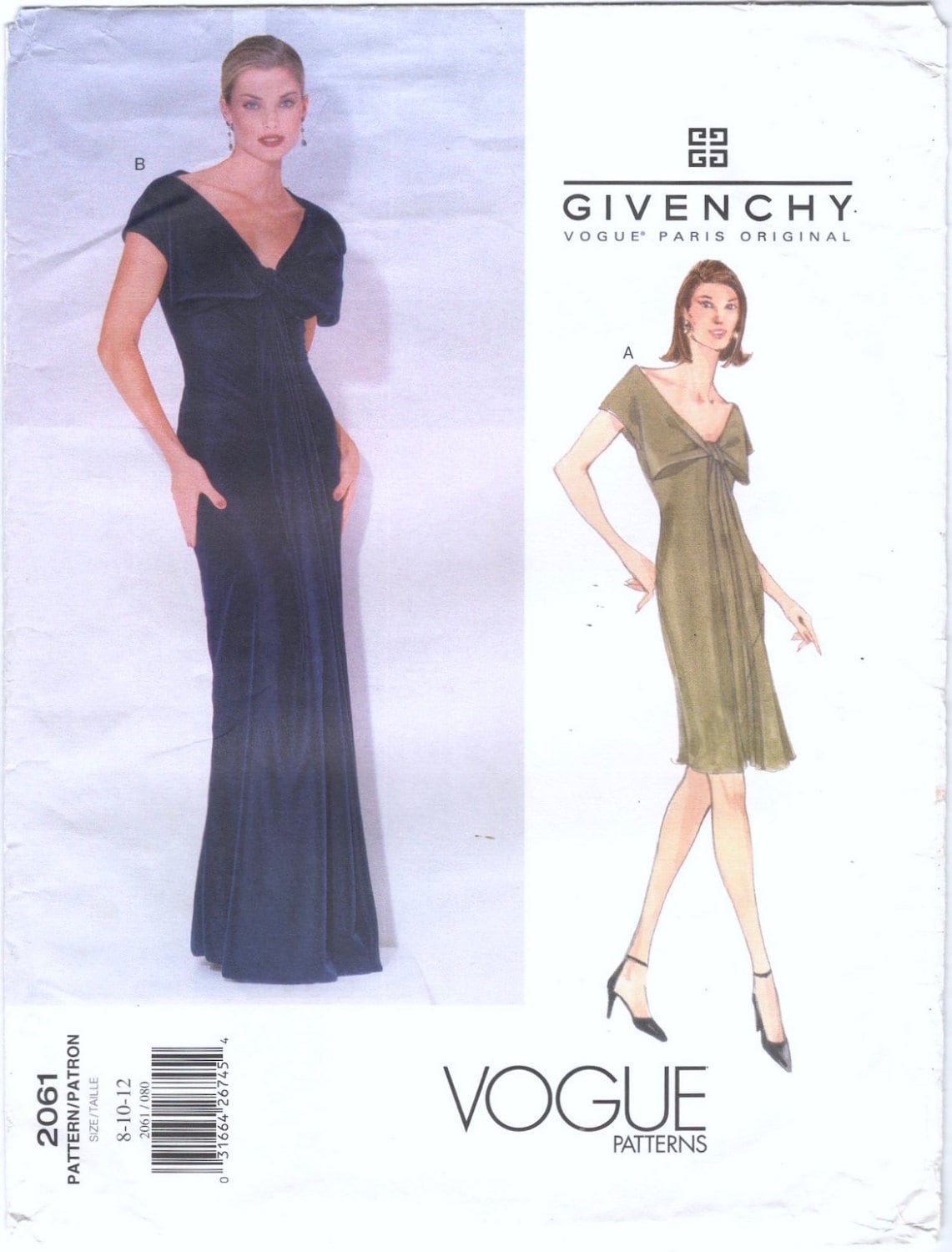 Here's the envelope description: Misses' dress. Fitted and flared, lined dress, above mid-knee or floor length, has front pleated bodice forming bow effect, center front pleated skirt with asymmetrical seam, bias back and side zipper. B: back seam detail. No provision for above-waist adjustment. Featured in the November/December 1997 issue of Vogue Patterns.
Update: the design was also featured on the back cover of the retail catalogue:
I'm not certain, but Vogue 2061's bow bodice and velvet fabric make me think it's from the Fall/Winter 1996-97 couture collection. The bow bodice is very similar to that on a dress shown on Kirsty Hume in the Fall 1996 couture:
Update: Collection confirmed — as worn on the runway by Suzanne von Aichinger.
* * *
One other Givenchy pattern appeared during the time frame matching Galliano's tenure at the house, but it is not by John Galliano. It's from Hubert de Givenchy's final collection, Givenchy Prêt-à-porter Spring/Summer 1996: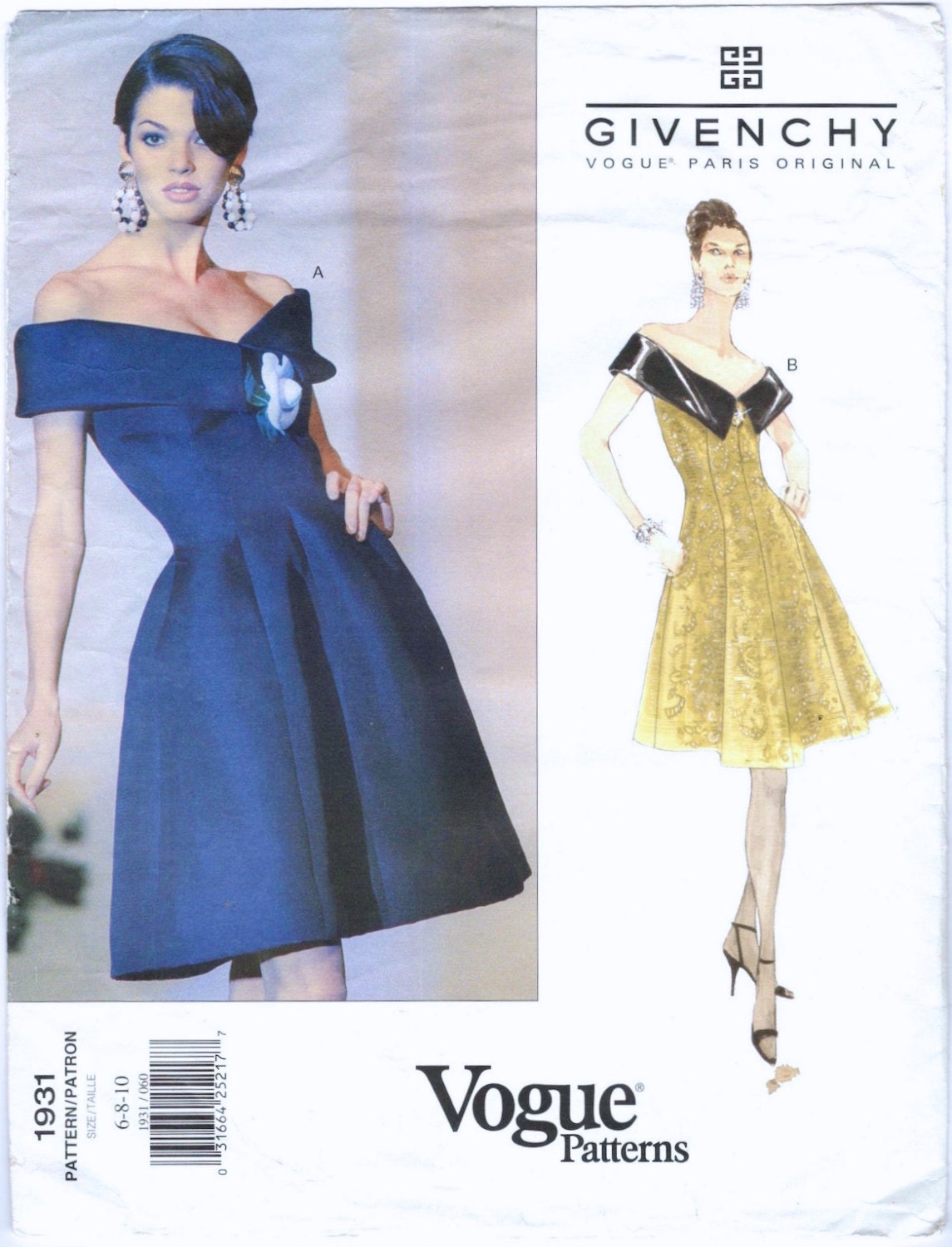 Vogue 1931 was featured in the May/June 1997 issue of Vogue Patterns (Shop Vogue). Details of the pattern's runway photo match images from the Spring 1996 ready-to-wear show, including this Corbis image by Laszlo Veres of the models with Hubert de Givenchy. Update: Getty image here.
Although Galliano produced only a handful of collections for Givenchy, with a correspondingly small number of licensed designs for Vogue Patterns, his Givenchy designs are clearly consistent with his other work—both for his own label and for the house of Dior. It's interesting to see Galliano's trademark bias dresses and Directoire references in designs available to home sewers.
Update: I've identified a fourth Galliano/Givenchy pattern—see my post here.
Bonus: SHOWstudio also has a free Galliano pattern download, an intricate jacket from Techno Romance (FW RTW 2001-2).