Whether you call it fake or faux, this season's fur trend is only fashion's latest take on synthetic fur.
Many vintage sewing patterns call for fur banding and fur cloth. The reversible coat shown above, Vogue 1019 by Jacques Griffe, is fully lined with the latest black, synthetic fox fur. (Hover for full caption.) More recently there's Donna Karan's coat for low-pile fake fur, Vogue 1365, from the Fall 2012 collection:
Here's a look at vintage patterns that call for fur trim or fur cloth, with an emphasis on the trendy, unusual, and outrageous.
1920s
From Winter 1926, this dolman coat by Martial et Armand has a deep fur collar and narrow fur banding at the cuffs:
This opulent, late 1920s evening wrap calls for a length of 4.5″ fur banding. A reproduction is available from EvaDress:
1930s
Thirties patterns show many creative uses of fur trim. These two ca. 1933 coats both call for fur cloth accents. McCall 7206 has an attached scarf and contrast lower sleeves, shown in synthetic Persian lamb, while McCall 7207 has a deep fur collar and matching, triangular sleeve patches:
Simplicity 1541's dramatic, curving collar and pointed cuffs can be made in contrast fur cloth; the fur-trimmed version was illustrated on the cover of the holiday 1934 issue of Simplicity Pattern Magazine. A reproduction is available from the Vintage Pattern Lending Library:
From the autumn of 1939, McCall 3420 is a swagger coat with built-up neckline and optional, tapered lower sleeves and semi-circular shoulder insets. View A is shown in faux Astrakhan (matching hat unfortunately not included):
1940s
McCall 3875, a World War 2-era swing coat, can be made with elbow-deep fur cuffs: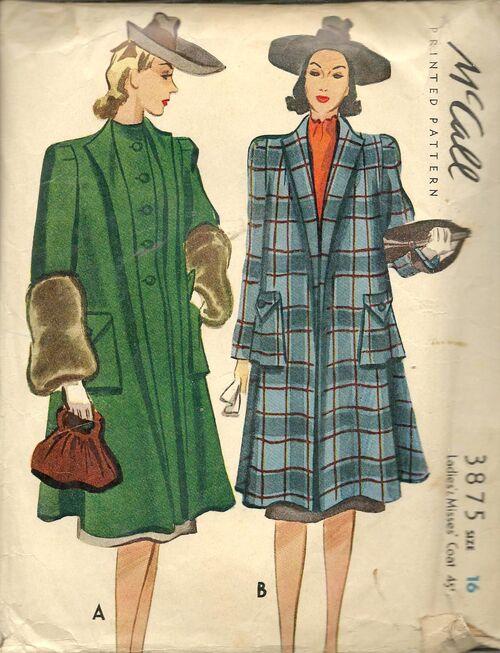 This wartime cape pattern, previously featured in my vintage capes post, includes an evening cape with stand-up fur collar:
1950s
High-end postwar sewing patterns sometimes assume natural fur will be used and direct the home dressmaker to a specialist. From November 1949, Vogue 1075 is one of the earliest Balmain patterns. The voluminous "melon" sleeves can be made in fur contrast; the envelope back says, "Note: Have fur sleeves made by furrier":
This Vogue Couturier design includes a wide-necked evening coat with big fur collar and elbow-length sleeves:
1960s
From Nina Ricci, Vogue 1217's cape has a broad shawl collar that can be made in faux fur: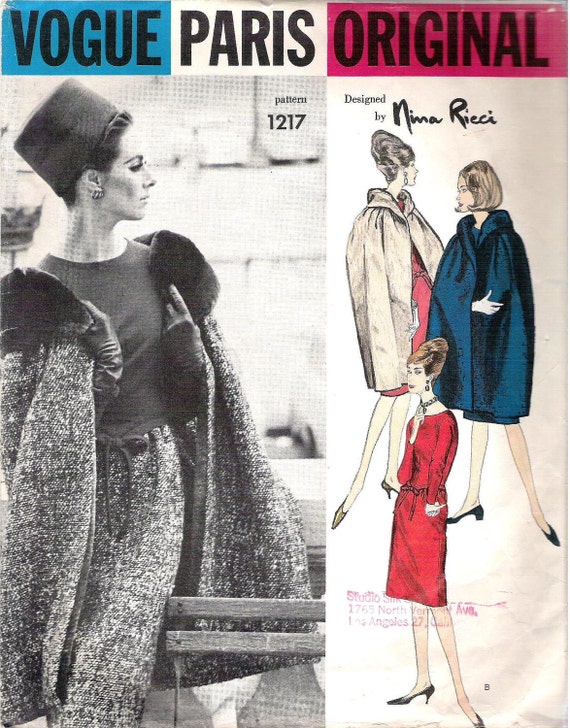 Vogue 1897 is a design from Yves Saint Laurent's Fall/Winter 1967-68 haute couture collection, inspired by Queen Christina (see Paco's post here). The fur-trimmed evening cape requires a taffeta stay for the fur trim unless made by a furrier:
1970s
David Lean's Doctor Zhivago (1965) seems to have prompted a fashion for Cossack coats and hats. Vogue-Butterick had Vogue 1983, and McCall's had this fur-trimmed coat pattern: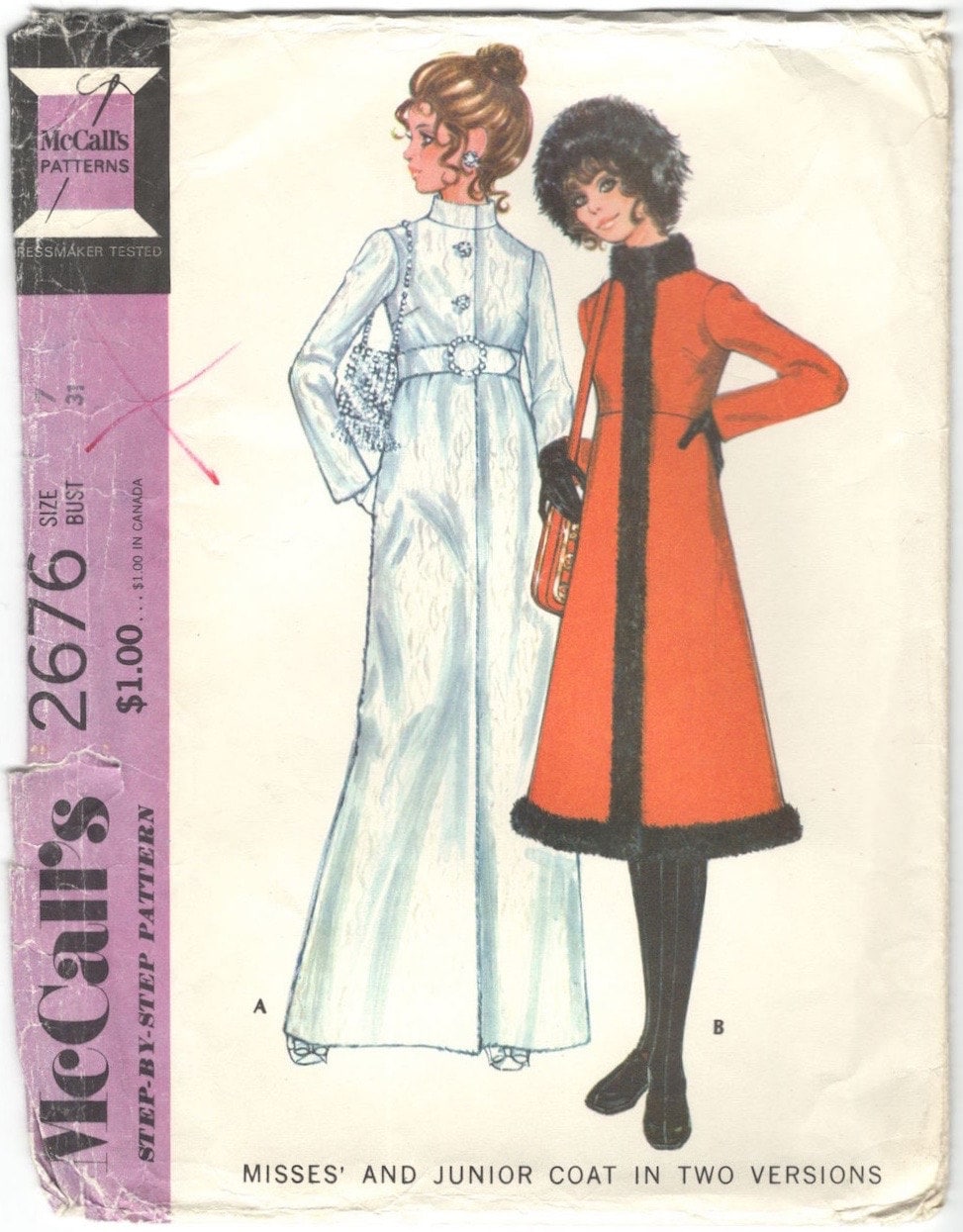 There was even a pattern for fur hats for men, women, and children, McCall's 2966:
1980s
Eighties excess brought the more-is-more aesthetic to designs for synthetic fur. McCall's 7736 is a raglan-sleeved jacket for lightweight fake fur or woolens: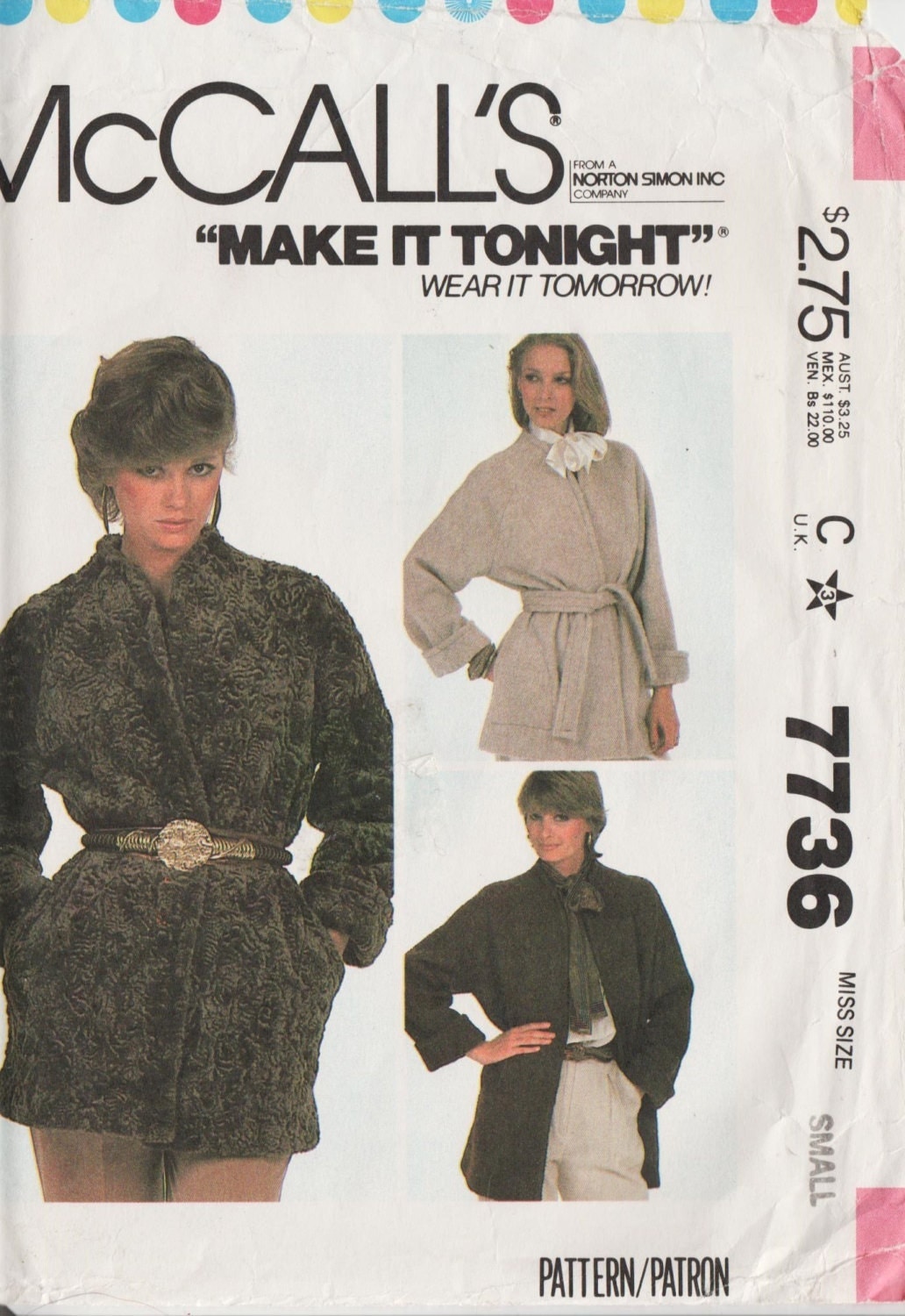 From the Connoisseur Collection, Simplicity 7078 is for fake fur only: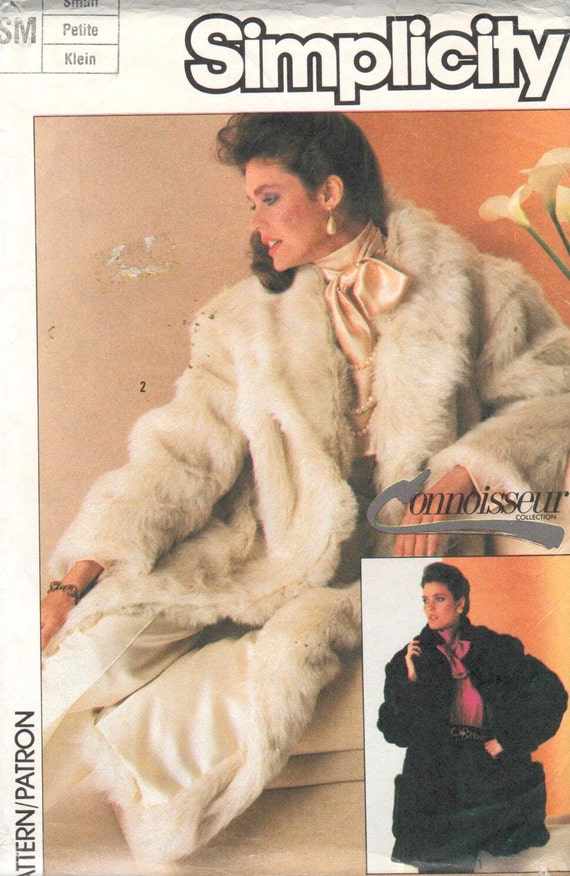 In addition to a hat and stole for fur-like fabrics, accessories pattern Vogue 9981 includes a muff with concealed pocket: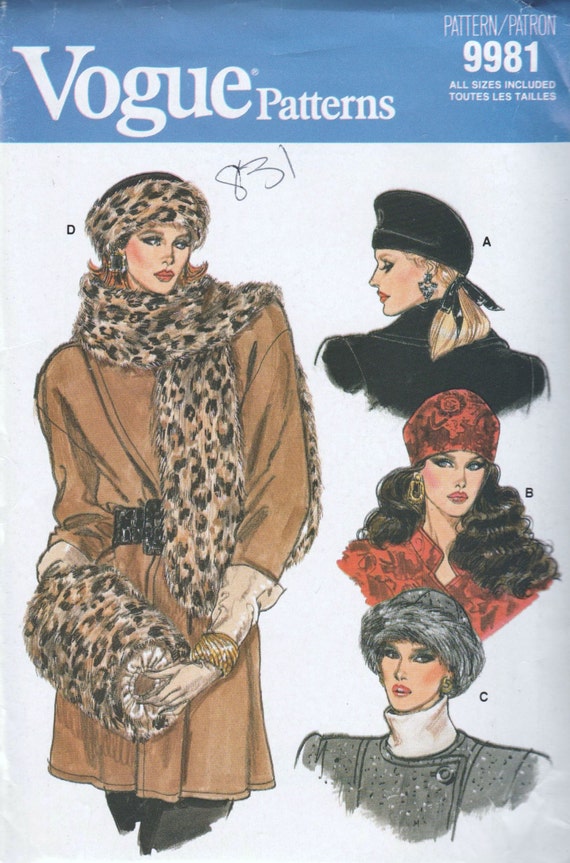 1990s
The 1990s were another good time for synthetic fur—so good that Vogue Patterns licensed a designer specializing in faux fur outerwear. Not quite vintage, this reversible coat pattern by Issey Miyake calls for high pile fake fur:
From Alexander McQueen's Fall 1998 ready-to-wear collection for Givenchy, Vogue 2228's jacket has a fur-trimmed hem and large, standing fur collar that recalls the 1940s evening cape shown above. (See my earlier McQueen post here.) I have one copy for sale in the shop: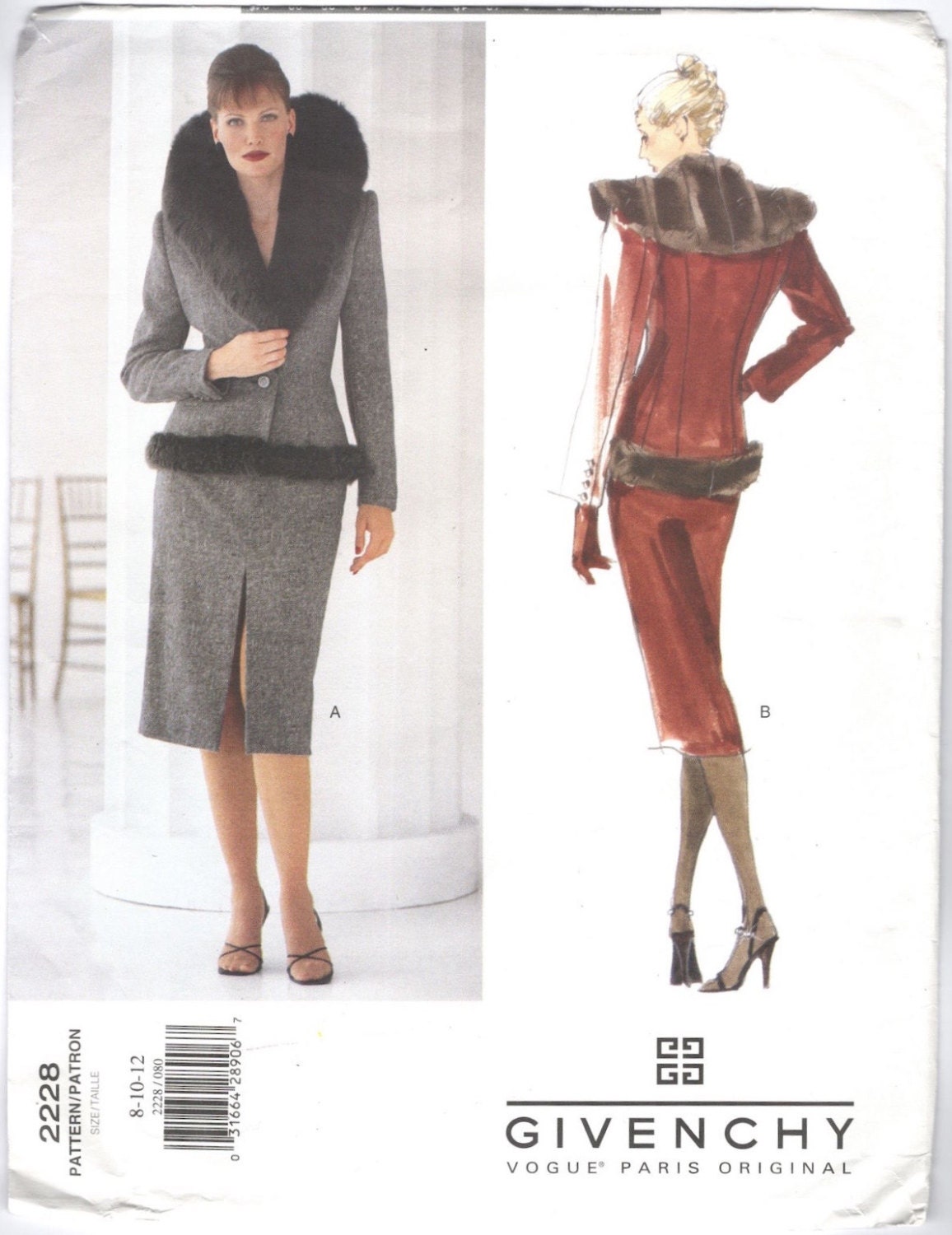 Vogue 2233's fur-trimmed dress and jacket are from Anna Sui's Fall/Winter 1998 collection (click to purchase from the shop):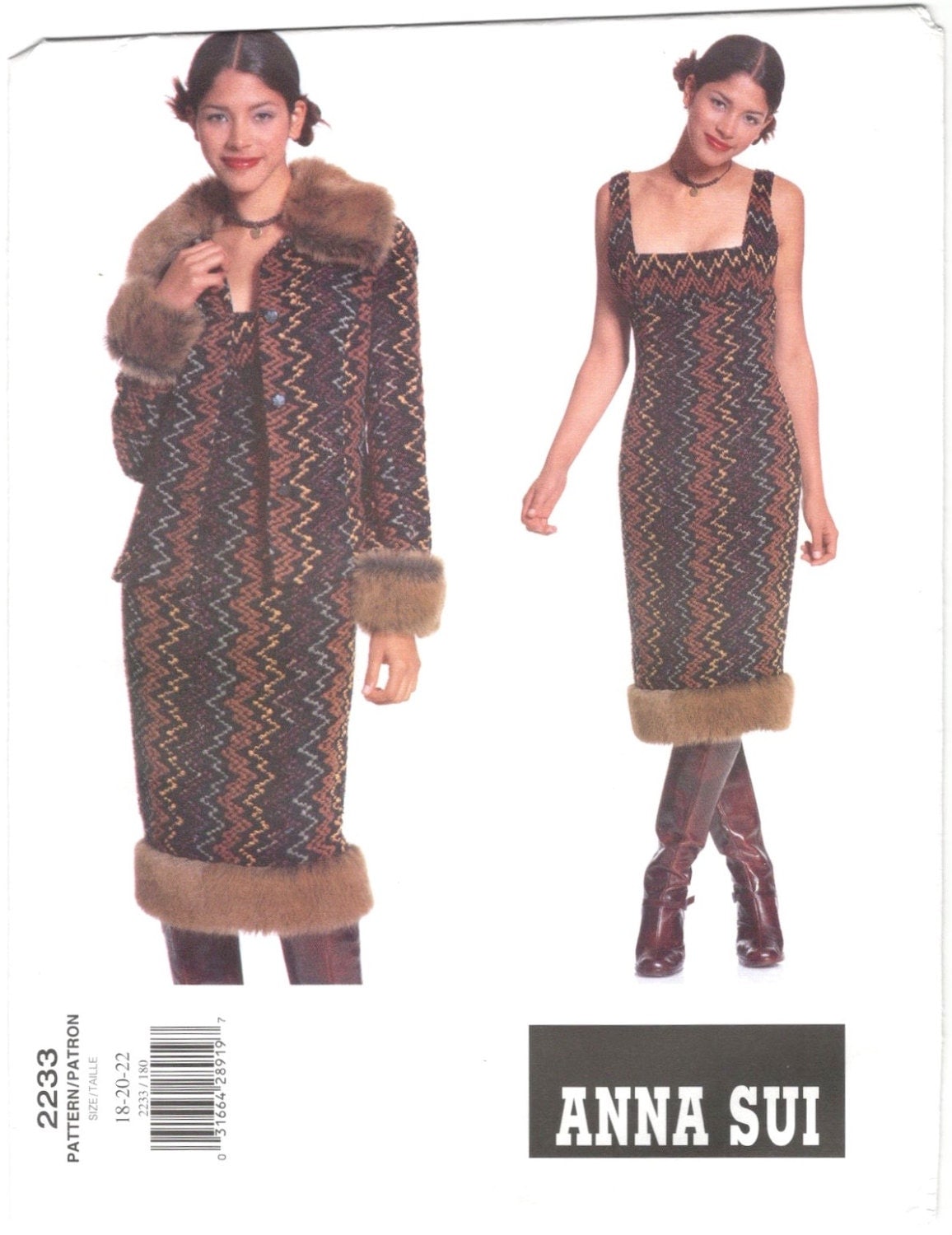 Vogue 2233 is one of the most '90s patterns ever: Björk meets Britpop. The jacket was worn on the runway by Kirsty Hume—hat by James Coviello:
There was also a pattern for Anna Sui faux-fur accessories, Vogue 7950 (see my earlier Anna Sui series).
Tips for sourcing synthetic fur

Tissavel: This luxury French faux fur mill is unfortunately now closed, but ends can be found on Etsy.
Faux Persian lamb/Astrakhan: Available as a special order from Emma One Sock.
Fur banding: Mokuba carries high-quality synthetic fur banding in various widths.
Working with vintage furs and synthetic fur
Vintage patterns often direct the home dressmaker to a furrier; old sewing books and magazines also provide tips for refashioning vintage furs. (Woman's Day 5045 came with a special instruction booklet and fur needle.) Claire Shaeffer's Fabric Sewing Guide includes a chapter on fur.
For tips on sewing with synthetic fur, see Claire Shaeffer's Fabric Sewing Guide, Fehr Trade's post, and Shannon Gifford's post for Emma One Sock.