Summer means weddings and infinity dresses—or, if a couple is particularly on-trend, infinity bridesmaid jumpsuits.
China Machado's summer 1973 resort set was a precursor to the infinity garments of the mid-1970s. Like the infinity dress and its cousins, Machado's pieces call for two-way stretch knits; but Grace Mirabella's Vogue featured the design in muslin, as worn by Beverly Johnson: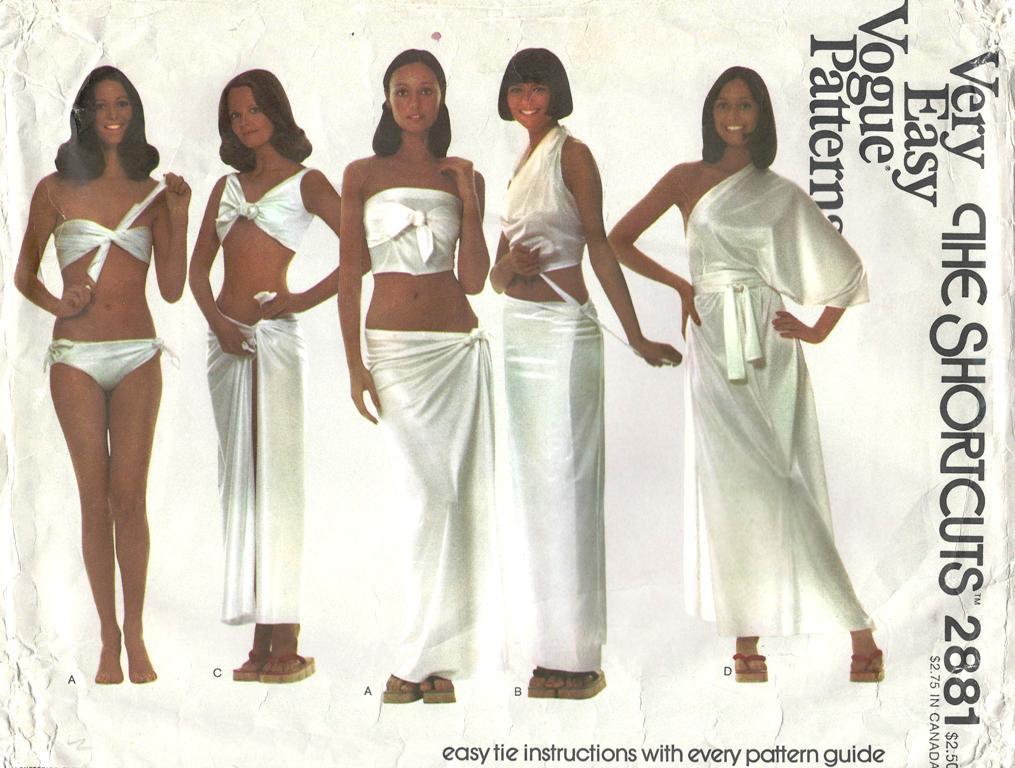 Lydia Silvestry trademarked "The Infinite Dress" and licensed it with McCall's in 1976. As the pattern envelope says, "One size dress can be worn an infinite number of ways. See enclosed guide sheet illustrating 13 ways dress can be worn, or try creating your personal version." (See Carmen Bouchard / Carmencita B's posts about this pattern here.)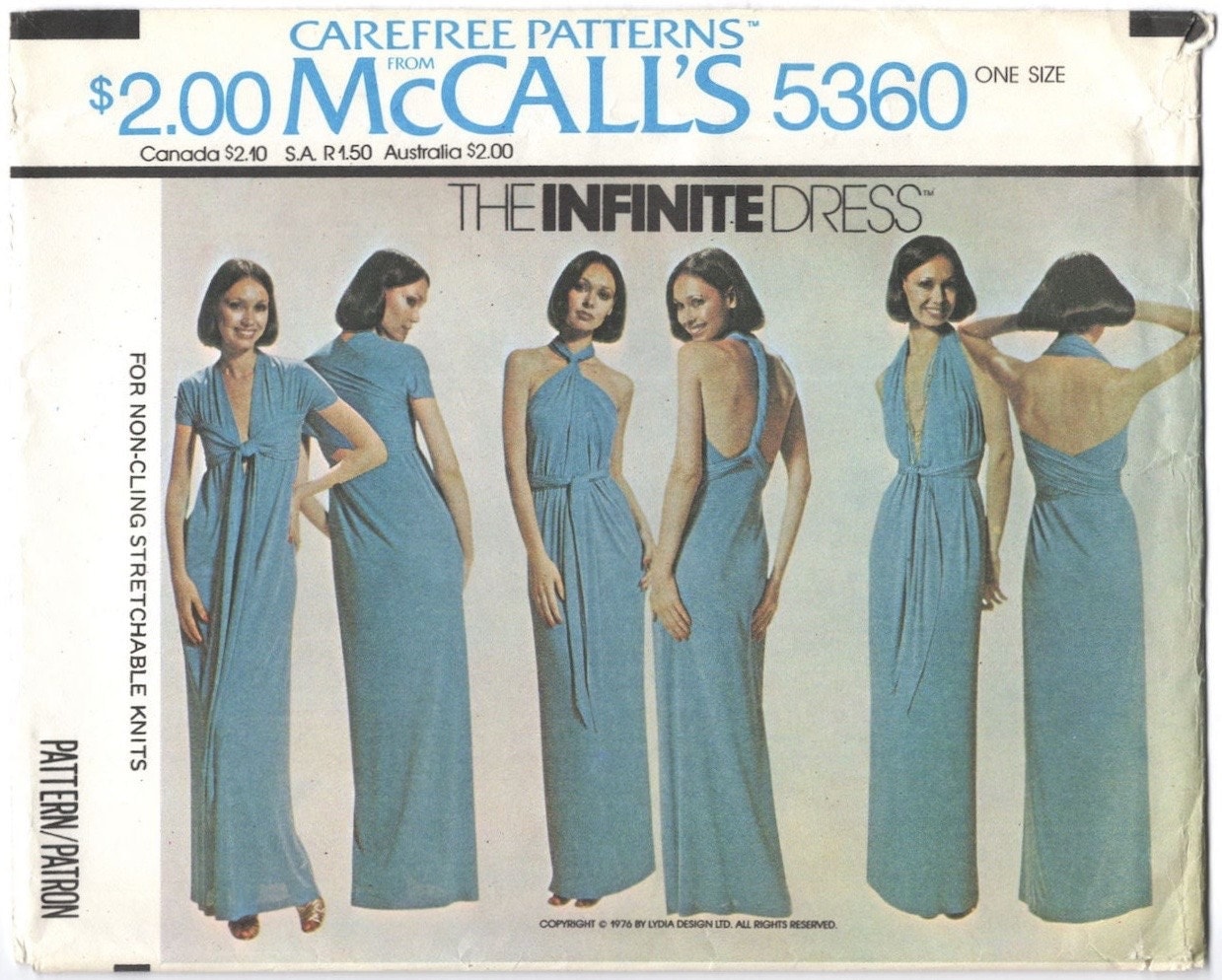 Silvestry also licensed her infinite jumpsuit as a pattern featuring Maud Adams. I think this pattern has my favourite fabric note: For best results use a Lightweight, Non-cling Stretchable Jersey-type Knit Fabric such as Rosewood Fabric's LA GRAND QUE of 100% QIANA, Burlington's AMBROSIA of 100% Dacron Polyester, Millikin's SURE THING of 100% Dacron Polyester. (Click to view in the shop.)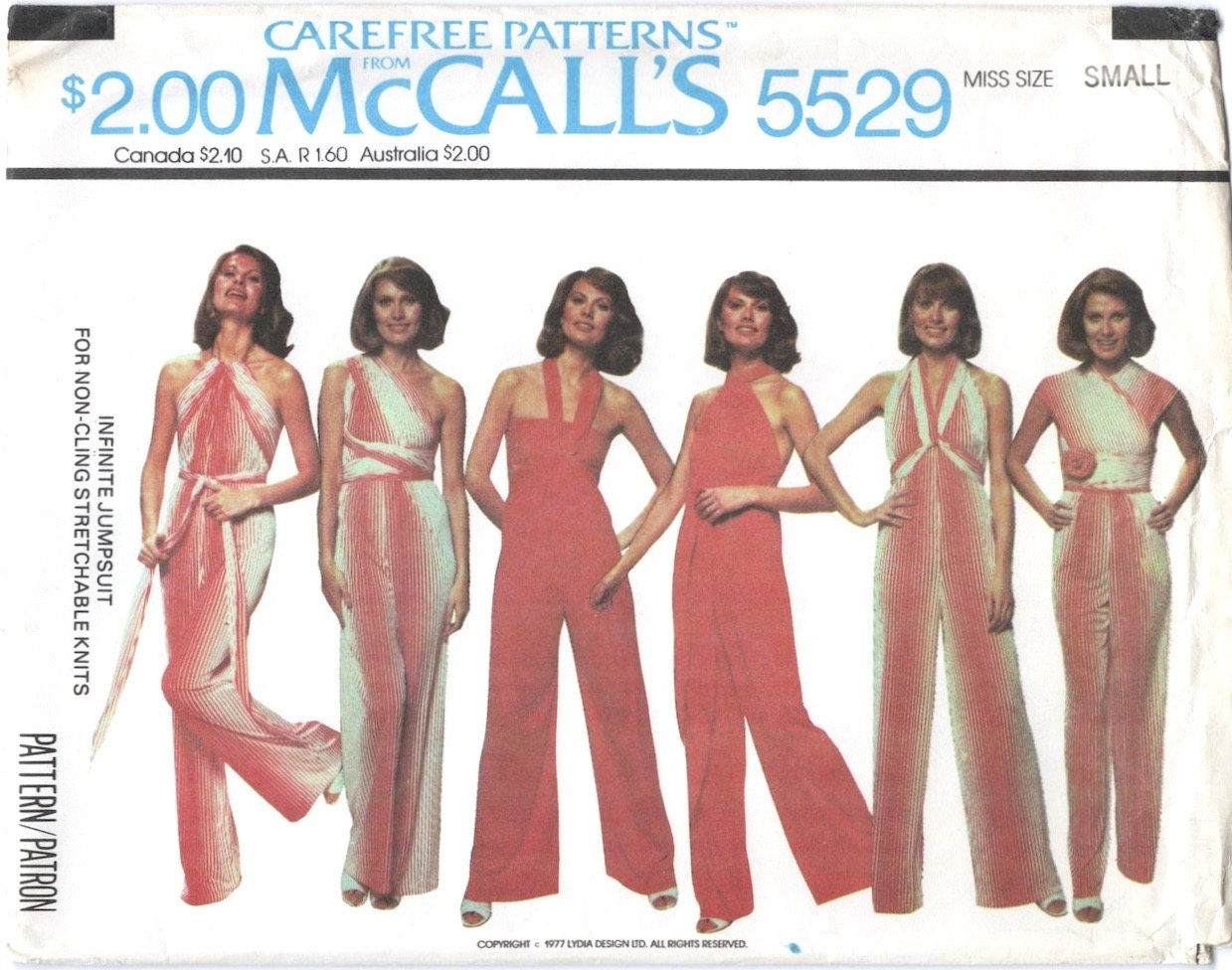 From Carol Horn, this dress has strapless and colour blocking options:
Also one-size, the Seven Way Wonder Dress seems to have been Butterick's answer to the Infinite Dress. A winter retail catalogue shows the Wonder Dress as black tie wear:
Meanwhile, Simplicity had the Wonder Wrap Jiffy Jumpsuit and Jiffy Multi-Wrap Dress:
Vogue released two Very Easy infinite dress patterns in spring, 1977: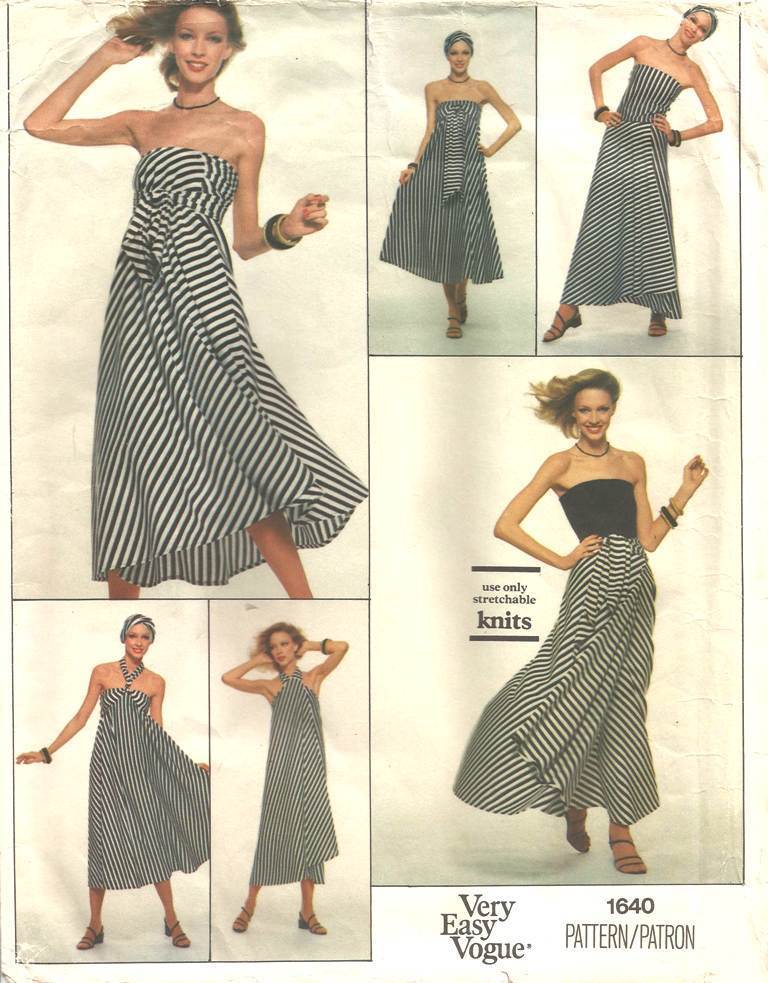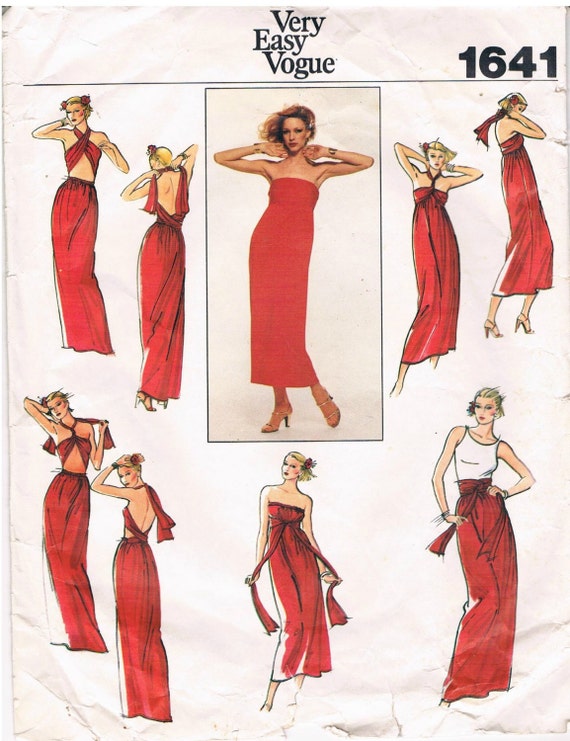 Vogue 1641 is seldom seen, despite being illustrated by Antonio and photographed in Antigua for Vogue Patterns magazine:
Is that Patti Hansen modelling the Glamour Plus Dress?
Fast forward to 2000, when McCall's released an infinite dress by Debra Moises (Debra and Moises Diaz). The envelope shows 5 variations:
In early 2011, the New York Times ran a story about the trend for convertible garments (see Ruth La Ferla, "Convertible Clothing Is a New Twist for the Cost-Conscious"). Butterick featured an infinite dress (now out of print) on the cover of that year's Spring catalogue:
Last summer, as part of their Archive Collection, McCall's reissued their 1970s-era infinite dress and jumpsuit as a single pattern (still in print). These patterns are usually adapted somewhat from the vintage originals:
It's easy to see why infinity dresses remain popular, with their carefree resort vibe and minimal fitting requirements. And on the pattern envelopes, the hall of mirrors effect never gets old, does it?
For more discussion and links, see Michelle Lee's post.