It's almost forty years since Beverly Johnson (b. 1952) became the first black woman to appear on the cover of American Vogue, in 1974. (Donyale Luna had appeared on the cover of British Vogue in 1966.) One of the decade's most successful models, Johnson had moved to New York City to pursue modelling after losing her summer job; she had been a pre-law student at Northeastern University.
To be accurate, Beverly Johnson was the first model of mixed black/indigenous background to make the Vogue cover, as her father's ancestry is part Blackfoot (see story and slideshow at Vogue Italia). Whereas her first agent told her she would never make the cover of Vogue, Johnson also faced obstacles with "the leading black magazines, Ebony and Essence, [who] wouldn't put me on their covers at first, because I wasn't ethnic-looking enough" (read her recollection at Vogue online).
As far as I know, Johnson was also the first black model to be photographed for Vogue's designer patterns. Johnson's relationship with the pattern company seems to have begun the year before her first Vogue cover. This Sybil Connolly pattern, from October/November 1973, is the earliest pattern I've seen featuring her:
You can see an alternate shot on the cover of Singer's booklet, How to Fit Patterns:
These three designs featuring Johnson, by Ungaro and Bill Blass, were released in May 1974. Instead of their usual sandy-haired male model, Vogue 1011 pairs her with another black model:
Here she models for a McCall's pattern by Halston:
Johnson appears on several early Calvin Klein patterns, including this set of casual separates (in series with the pantsuit modelled by Angeleen Gagliano):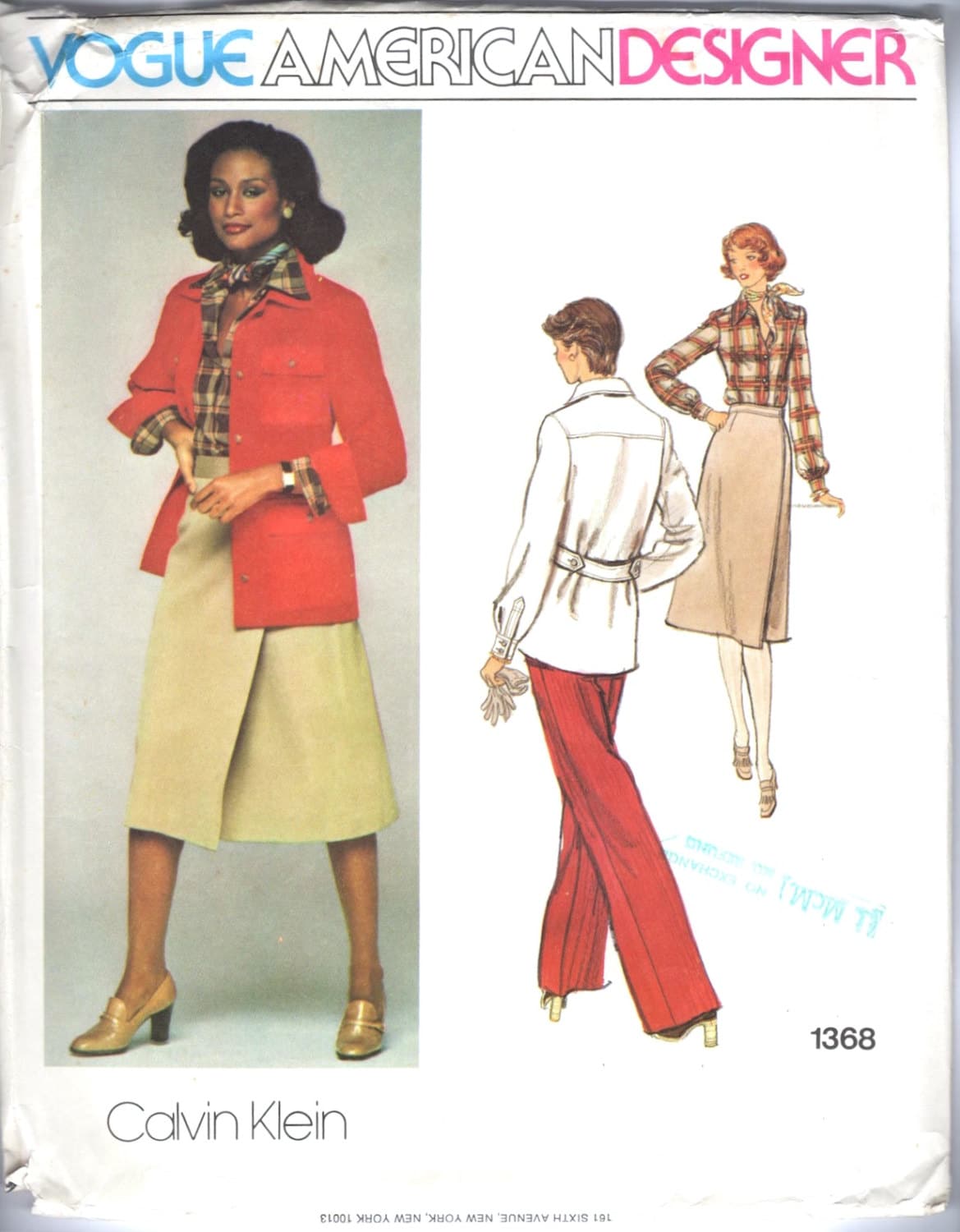 You may recognize these two patterns, from Dior and Balmain, which seem to have been quite popular:
In terms of high-profile, evening dress patterns, the only ones I could find featuring Johnson were these two, by Teal Traina and Belinda Bellville:
Beverly Johnson also modelled for Simplicity, as well as Vogue magazine's features on Vogue patterns. (Although Vogue Patterns was by then owned by Butterick, Vogue magazine continued to run editorials featuring Vogue patterns—see my Gia Carangi post for more.) Here Johnson appears in a 1972 advertisement for the Simplicity Catalog:
In this 1976 patterns feature, Johnson models linen tops with Karen Bjornson (the patterns, left to right, are Vogue 9544, Vogue 9635, and Vogue 9559):
In this Vogue shoot, Johnson's cardigan is Vogue 2924 by Fabiani:
The caftan shot at the top of this post is from a four-page patterns editorial photographed by Kourken Pakchanian. Here is the full editorial:
The patterns are: top left, Vogue 8585; top right, Vogue 8573; bottom left, Vogue 2881; bottom right, Vogue 8587. (The halter top, sarong, and bikini are all from V2881; the envelope photo shows deeply tanned, Caucasian models.) Corbis had the full image of Johnson in the V2881 bikini:
For a look inside Vogue's historic August 1974 issue with Beverly Johnson's cover, see Youthquakers' post here. There also some scans showing Johnson wearing 1974 Vogue designs here.