Today is World No Tobacco Day. Here's a look at a Virginia Slims ad that ran in Vogue Patterns magazine.
The mid-'70s ad—with the famous You've come a long way, baby slogan—contrasts the fashionable, contemporary Cheryl Tiegs with the Edwardian "Mrs. Florine Knauff," caught smoking during a fox hunt. Along the lower left-hand side, the caption reads, Fashions: Vogue Patterns.
Doesn't Tiegs' green dress look a lot like Emanuel Ungaro's goddess gown?
The popular design was reissued in 2001 (as V7521).
A handful of '70s Virginia Slims ads credit Vogue Patterns, most notably this Yves Saint Laurent couture pyjama, as worn by Beverly Johnson:
There were even promotional Virginia Slims sewing kits. This one contains FDR-made upholstery needles: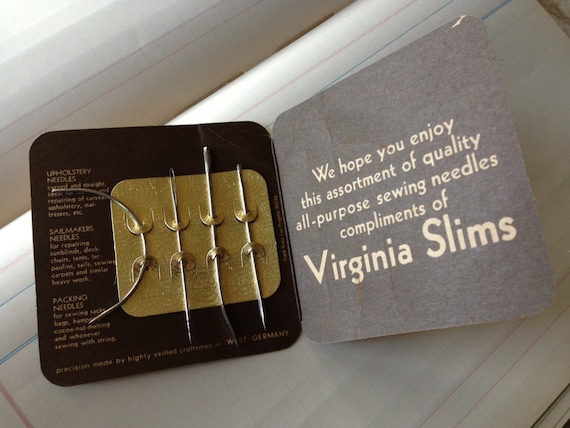 Click the Beverly Johnson ad to learn more about SRITA, Stanford's tobacco advertising project.