This summer, after extensive renovations, the National Museum of Scotland opened its new galleries, including a Fashion and Style gallery. Jean Muir's archive is housed in the museum, so the new gallery returns this important collection of her work to public view. To celebrate, I'll be posting a two-part series on Jean Muir sewing patterns.
Though born in London, Jean Muir (1928-1995) is often called "the Scottish Chanel." Muir began her career working at Liberty London. She was the designer for Jaeger before winning backing for her first label, Jane & Jane, in the early 1960s; she also designed for Morel London. In the fall of 1966 she founded her own company, Jean Muir Ltd. Acclaimed for her precise cut in jersey, leather, and suede, she preferred to be called a dressmaker.
Muir and her designs are featured in Life magazine's 1963 portfolio (headlined "Brash New Breed of British Designers") on what was then called the Chelsea Look.
Jean Muir licensed patterns with Butterick's Young Designers line into the early 1970s.
1960s
In early 1965, Butterick introduced Jean Muir of Jane & Jane with four designs in the Spring 1965 catalogue (click to enlarge):
This simple Jane & Jane dress is accented with two narrow tucks above the hemline: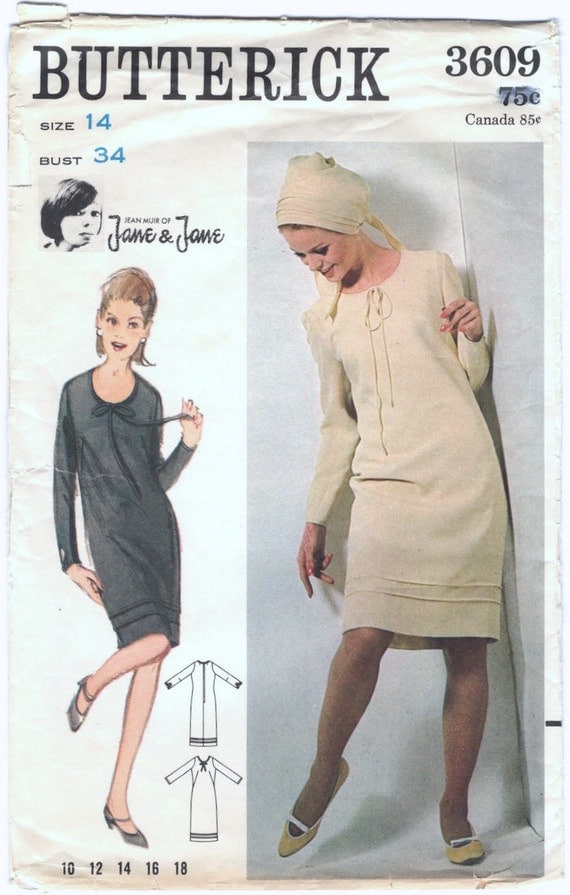 The tucks on Butterick 3609 recall the single, broad hemline tuck on this Jane & Jane dress photographed by David Bailey in Kenya:
This mod, A-line dress is trimmed with buttons and topstitching (click to view in the shop):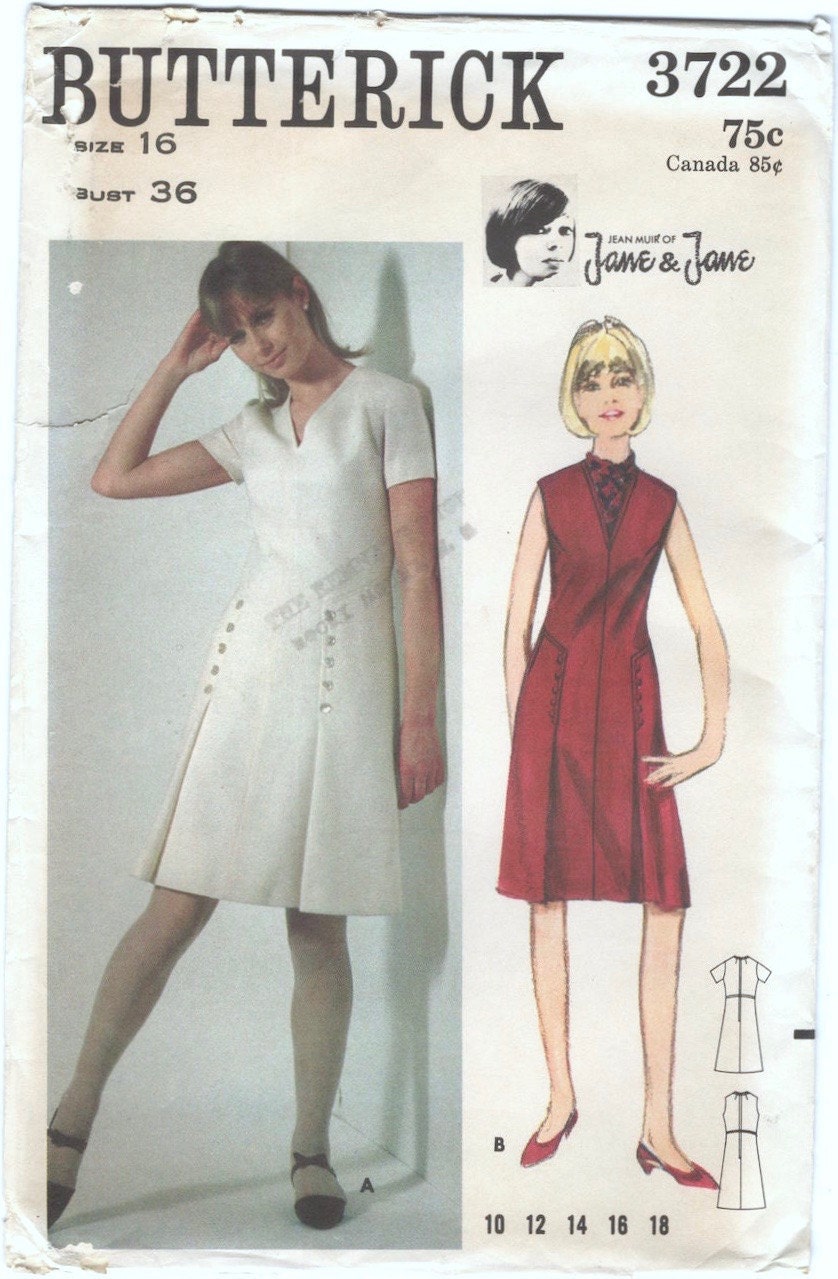 The young Grace Coddington posed in the sleeveless version for British Vogue:
Previously seen in my Celia Hammond post, this Jane & Jane dress has a standing neckline, raglan sleeves, and Muir's trademark tiny button trim:
Within a year of founding her own company, Muir saw her double-breasted 'cavalier' coat on the cover of British Vogue:
With its shoulder yokes and double-breasted front, Butterick 5242 is a similar design:
Muir's signature topstitching and shoulder yokes define the details on Butterick 4937, a sleeveless dress illustrated on the cover of the August 1968 news leaflet:
The pattern envelope shows the dress with and without the low-slung belt carriers:
David Bailey photographed a similar Jean Muir belted jumper in green Harris tweed:
1970s
Previously seen in my Mad Men-era Butterick Young Designers post, Butterick 5657 is the kind of fluid jersey dress Muir became known for:
The design is from Muir's Fall 1969 collection—photographed here in cloud grey jersey:
Butterick 5954 was shown in both mini and midi lengths; the recommended fabrics include jersey, knit, and synthetic knits. The contrast cuffs and bib front give the opportunity for colour blocking or print mixing as in the Liberty-style illustration (available in the shop):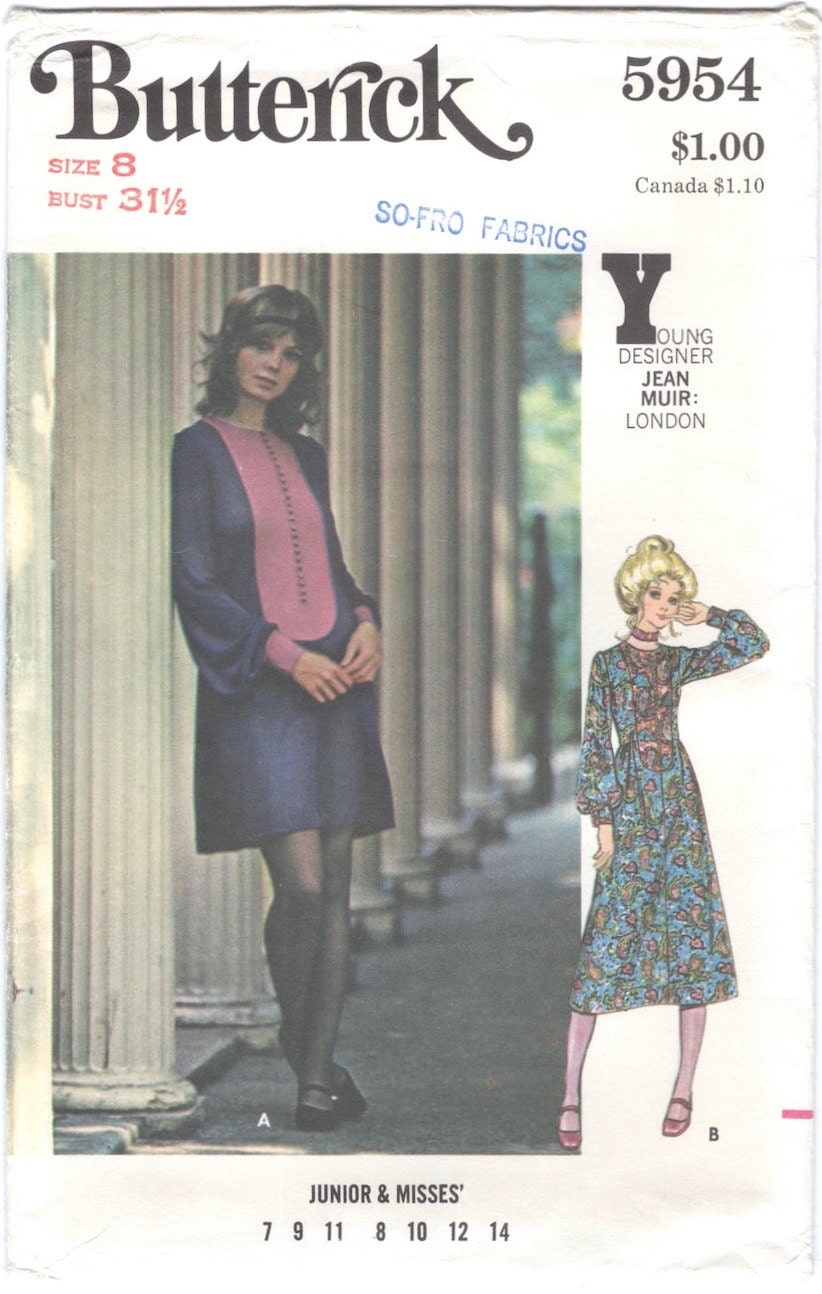 Before Butterick switched to illustrations only, there was a growing disparity in quality between pattern and editorial photography. Here it obscures the potential of Muir's tucked and colour blocked peasant tunic:
Jeanloup Sieff photographed a similar dress-and-knickers ensemble for an editorial in Nova magazine:
The latest Jean Muir Young Designer pattern I've seen is Butterick 6398, a high-waisted dress with tiny self ruffles, button trim, and optional contrast sleeves and hemband:
I'll close with this 1970 Norman Parkinson photo of a Jean Muir dress and turban in Monument Valley, in the collection of the National Portrait Gallery: