André Courrèges died early this month. He was 92. (See WWD, "André Courrèges: Space Age Couturier," or Vanessa Friedman's obituary for The New York Times.)
Born in Pau, France, André Courrèges (1923-2016) initially became an engineer at his father's behest. He changed careers after the Second World War, spending ten years at Balenciaga and founding his own couture house in 1961. His silver and white, spring 1964 "Space Age" collection made the Courrèges name with its futuristic, body-conscious, practical designs; a May, 1965 profile in Life magazine hailed him as "The Lord of the Space Ladies." (See Patricia Peterson, "Courrèges Stresses Modern Look" [Spring 1964] and "Courrèges Is Star of Best Show Seen So Far" [Fall 1964]; on those otherworldly sunglasses, which reference Inuit snow-goggles, see FIDM's note.) He retired in 1995.
In North America, licensed copies and other versions of Courrèges' work were more common than couture originals. In the summer of 1965, McCall's released nine patterns adapted from Courrèges. Six of these were photographed by Edward Pfizenmaier for "The Look of Courrèges," an editorial in the Fall 1965 home catalogue. On the left is coat pattern McCall's 7938; on the right, ensemble and dress patterns McCall's 7932 and McCall's 7918 (click to enlarge):
Here, on the left, jumper and blouse pattern McCall's 7914; on the right, skirt suit McCall's 7936 and jumper McCall's 7940, made in a special Carletex fabric described as the "perfect medium for the 'go-go' look: washable cotton with the look and texture of leather" (all boots by Golo and Capezio):
This photo portfolio was followed by an illustrated Seventeen feature showing three more Courrèges-look patterns: jumper ensemble McCall's 7903, dress McCall's 7923, and hooded poncho McCall's 7884. The textile credits are interesting: the jumper is shown in houndstooth Crompton corduroy; the dress in Burlington Dacron-cotton twill*; and the hooded poncho "in shiny make-believe black patent that's actually vinyl-coated cotton by Landau":
A "Courrèges look" pattern also appears in the catalogue's front pages, in a Crompton Corduroy ad that pairs McCall's 7923 with op art by the late Marcel Barbeau:
As the catalogue reminds readers, McCall's 7923 was also photographed for the cover of Seventeen magazine. The cover model for the "summer party issue" is Jennifer O'Neill, who would go on to star in David Cronenberg's Scanners (1981); the matching hat seems to be an Adolfo version of a Courrèges original (see Sotheby's and the Costume Institute):
Inside, a McCall's editorial shows popular teen model Colleen Corby photographed by Carmen Schiavone; here she wears McCall's 7902 (far left) and McCall's 7903 and 7884 after Courrèges (Adolfo II hats):
Corby's version of the McCall's 7884 hooded poncho is shown in tomato red:
Update: Corby could also be seen in a Courrèges-look pattern on the cover of McCall's retail catalogue:
Here's a look at McCall's Courrèges-look patterns. McCall's 7884 includes a sleeveless dress with low-slung, drawstring belt and an ultra-mod poncho with separate hood (available in the shop):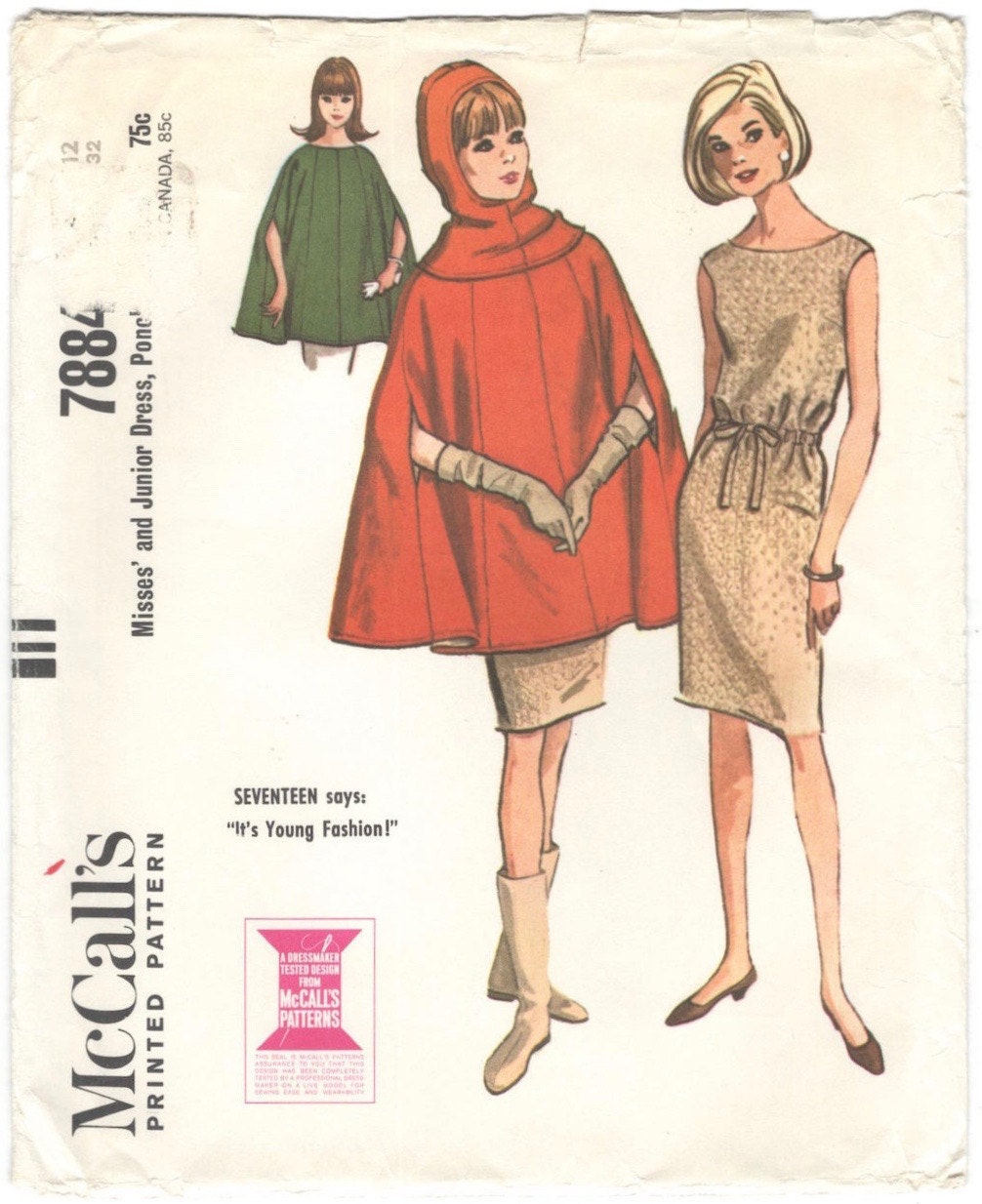 In addition to a U-neck jumper and pleated skirt, McCall's 7903 also includes a blouse with optional trompe-l'oeil collar and cuffs (available in the shop):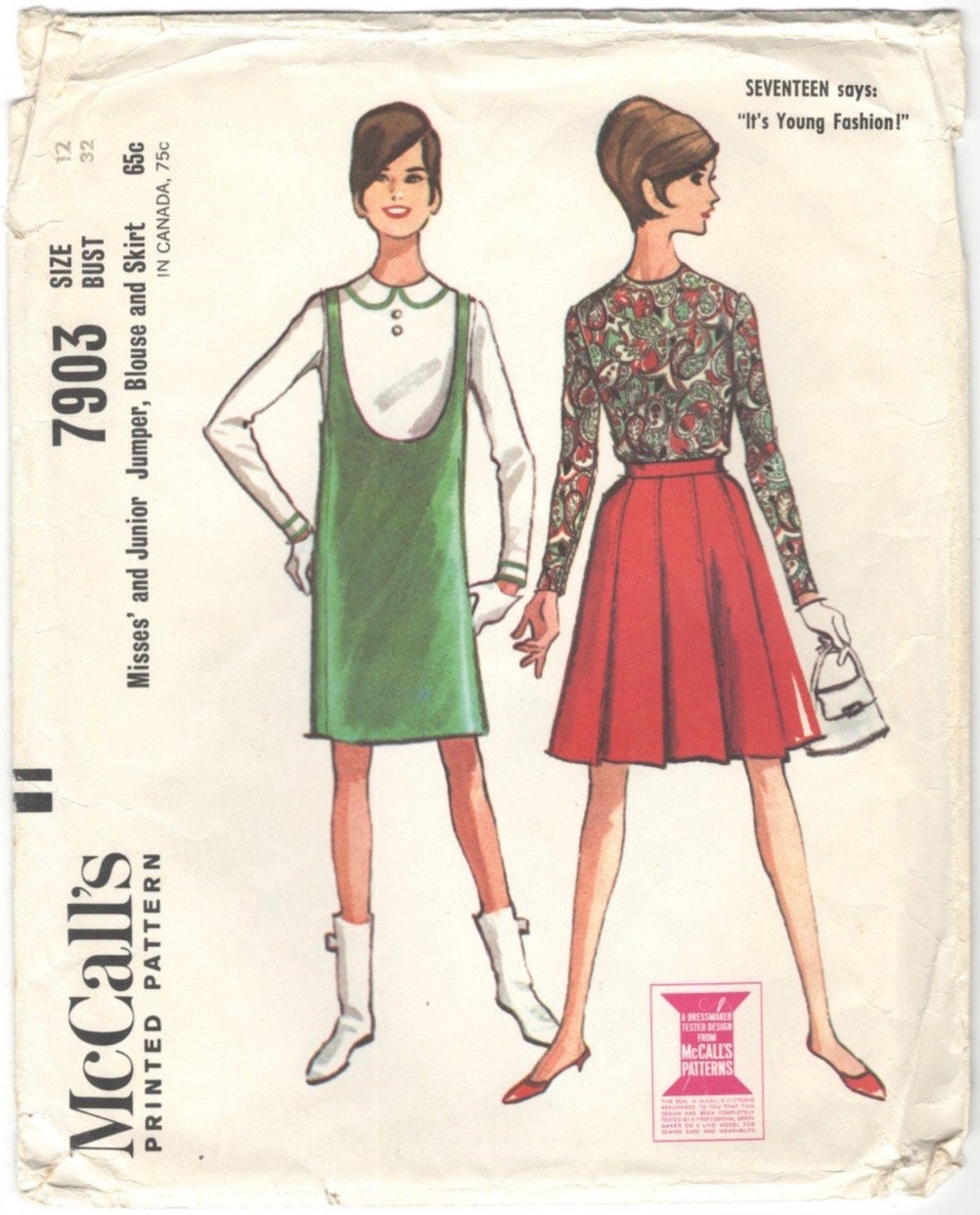 McCall's 7914 is a pattern for a dress or jumper, blouse, and skirt. The jumper's welt seams could be topstitched in contrasting thread to match the blouse::
McCall's 7918 is a dress with optional collar and sleeves cut in one with the yoke. Skinny belt included in the pattern: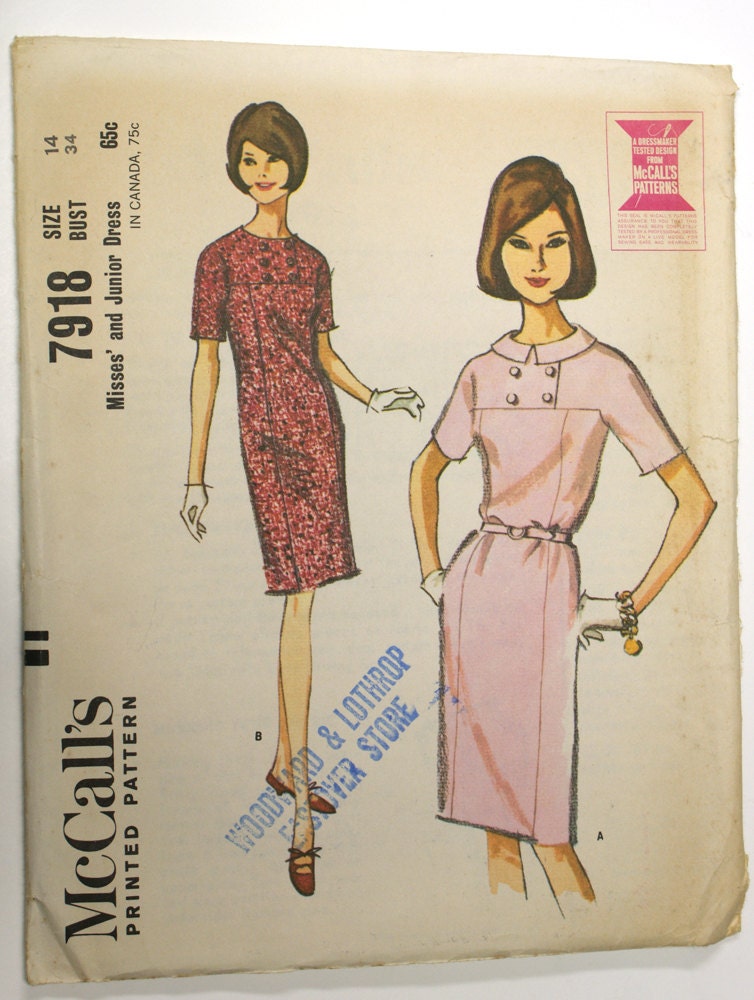 McCall's 7923, the dress from the Seventeen cover and the Crompton Corduroy ad, could be made sleeveless, as a jumper, and came with a blouse with zippers at the sleeves and back. The pattern also included the low-slung skinny belt and carriers (available in the shop):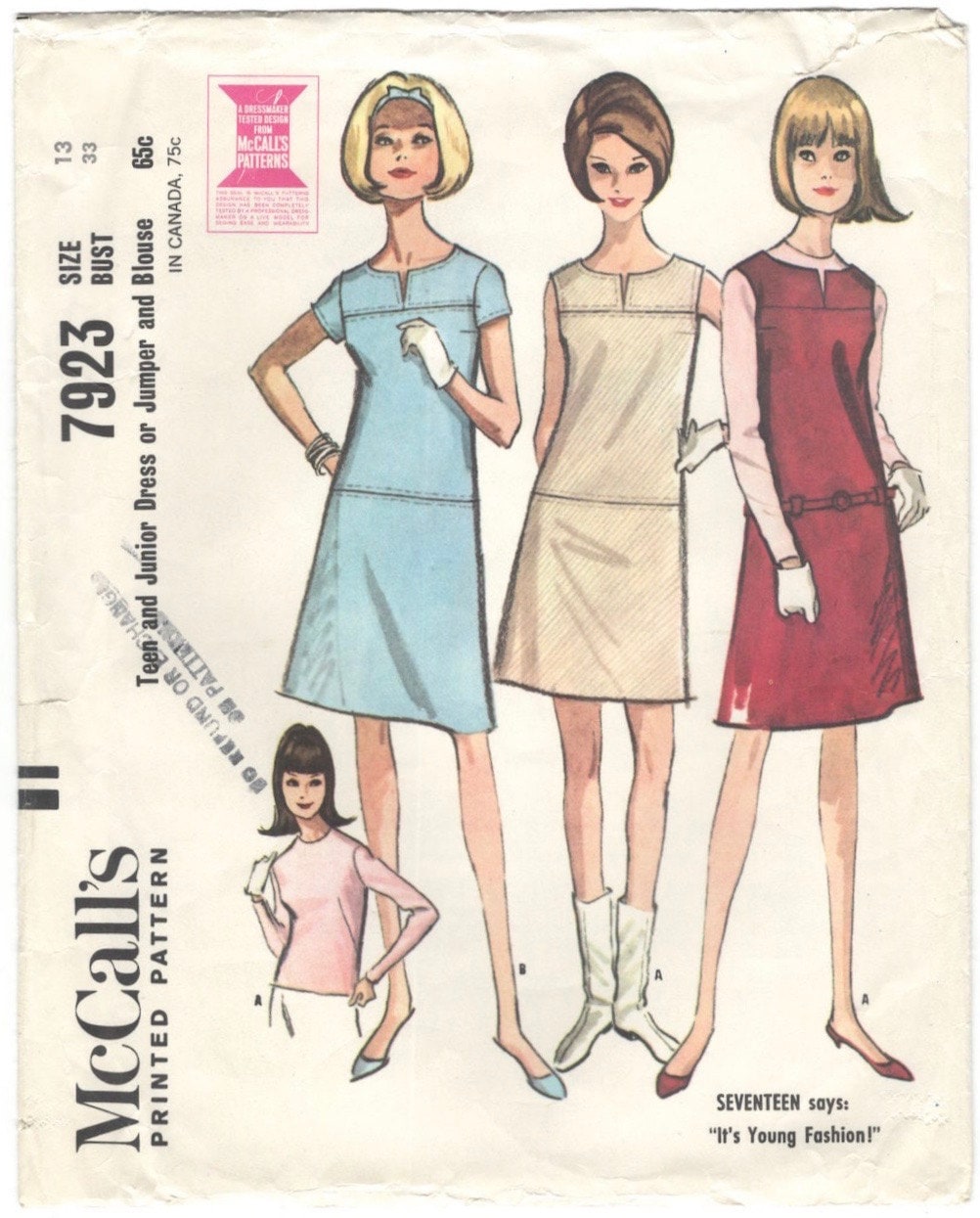 Perhaps the rarest of these patterns, McCall's 7932 is a short-sleeved top and skirt ensemble:
McCall's 7936 is a short-sleeved blouse and skirt suit with Courrèges' characteristic, stand-away collar (available in 2 sizes in the shop):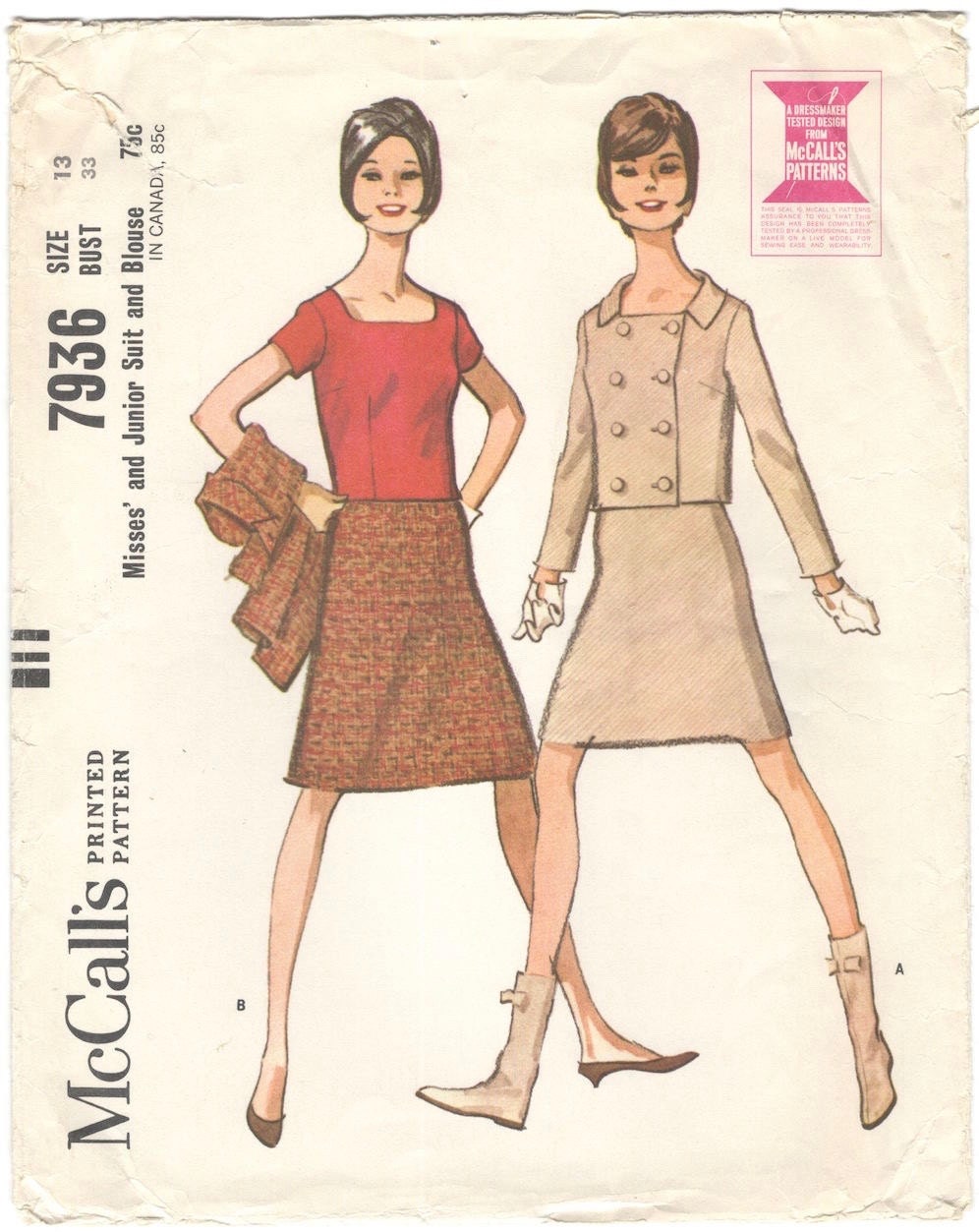 McCall's Courrèges-look double-breasted coat, McCall's 7938, has welt pocket flaps and a martingale and loose panel in back, with all edges accented by contrast binding. The pattern also includes a skirt suit and blouse (available in 2 sizes in the shop):
Finally, McCall's 7940 is a pattern for a high-waisted dress or jumper, short-sleeved blouse, and double-breasted jacket with standing collar (available in the shop):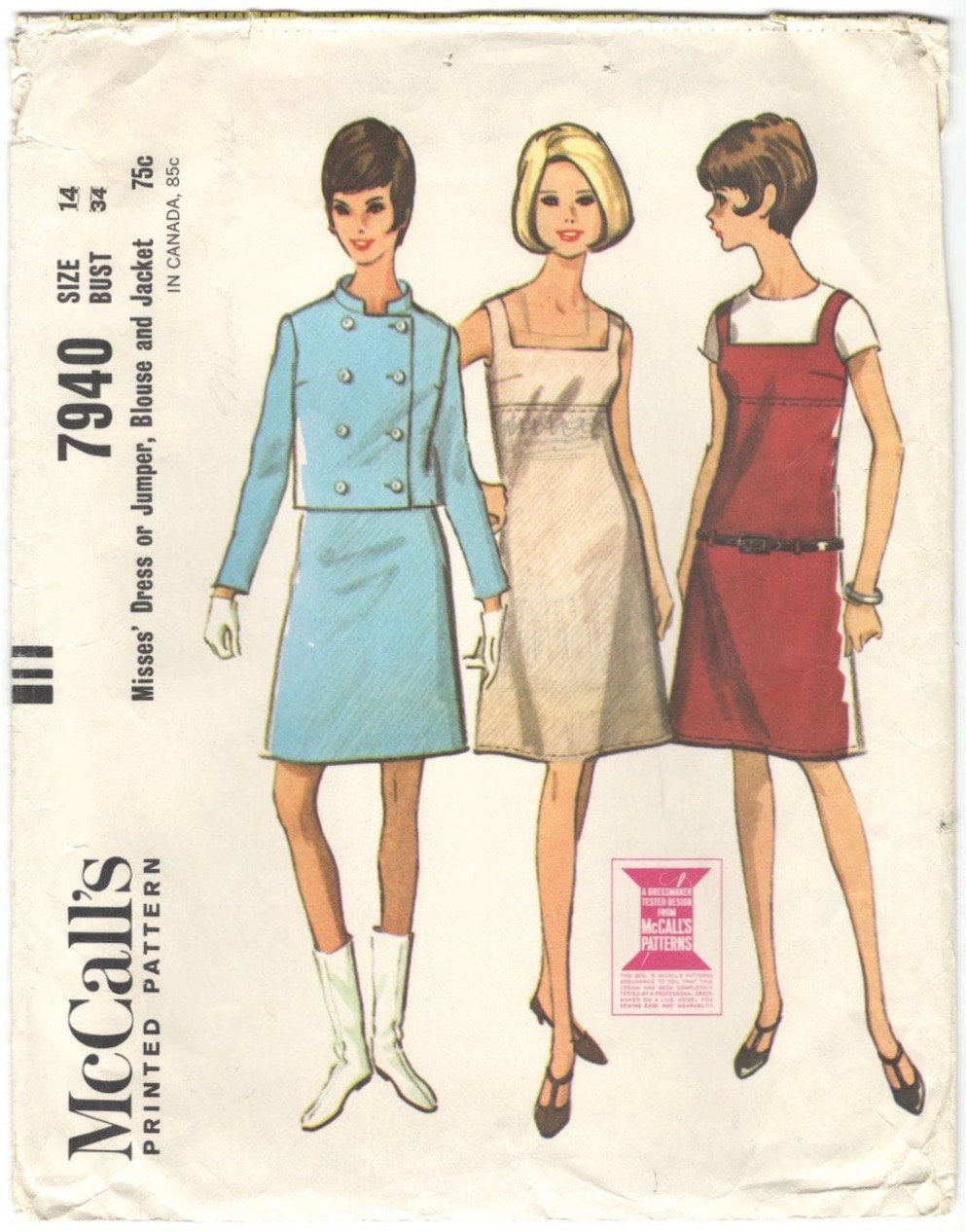 André Courrèges' futuristic style, high hemlines, and fresh trouser looks had made him a hit with the youthquake set. In a nod to this market, the illustrations show kitten heels and go-go boots, and the three patterns shown in Seventeen magazine have the text, "SEVENTEEN says: 'It's Young Fashion!'" Most of the Courrèges-look patterns were available in teen and junior sizes; one (M7923) was not available in misses' sizes at all. (Of the two patterns in misses' sizes only, M7938 and M7940, the former was featured in McCall's magazine, though I'm not sure which issue.) It's surprising that the patterns include no pantsuits: Courrèges was a great proponent of pants for the woman of the future.
I'll close with some William Klein photos of Courrèges for Vogue magazine (visit Youthquakers for the full editorial):
* Dacron was known by the name Terylene in the U.K.