It's been another hot summer here in Toronto. One of my earliest blog posts, Heat Wave!, surveys vintage beachwear patterns. This summer, let's take a look at a more elusive beast: designer swimwear patterns.
1950s
The earliest pattern I've seen for designer swimwear is Pucci's strapless one-piece, McCall's 3977. This pattern was available in Junior sizes only. The suit was lined in jersey, and could be made with or without the brightly coloured appliqués:
1960s
From another Italian designer, Irene Galitzine, Vogue 1288 is a pattern for a bikini, dress, and hat. The bikini consists of a cropped, cowl-neck blouse and bikini pants with side ties:
1970s
The 1970s were the heyday of designer swimwear patterns, often with a coordinating coverup, and always for stretch knits. Vogue 1416 is an early design by Donna Karan; from Anne Klein's collaboration with Penfold, the pattern includes both a maillot and a halter bikini:
From Bill Blass, Vogue 1455 includes a two-piece swimsuit with bra top and bikini briefs:
John Kloss licensed a number of swimwear designs with Butterick. This ad promotes his patterns with a poolside photo of Butterick 4808:
Another Butterick designer, Gil Aimbez, designed this one-piece bathing suit. Contrast bias binding outlines the cut-away sides and bodice seaming detail:
Like the Anne Klein Penfold pattern above, this Penfold pattern includes both one-piece and halter bikini bathing suits. The one-piece and bikini top are cut on the bias:
Both Penfold patterns can be seen in a Vogue Patterns editorial photographed in Antigua:
From spring, 1978, Vogue 1893 seems to have been the only Catalina pattern. Instead of a coverup, it includes three styles of bathing suit: low-backed view A, strapless view B with built-in boning, and blouson view C is a two-piece:
The magazine recommended making the Catalina suits in Thompson of California's "second skin Tic Toc warp knit polyester crepes" in various prints:
1980s
From 1980, McCall's 7109 includes three one-piece swimsuits by the Italian label Basile: a mock wrap, belted halter-neck and variations on the strapless suit with gathered bust (available in the shop):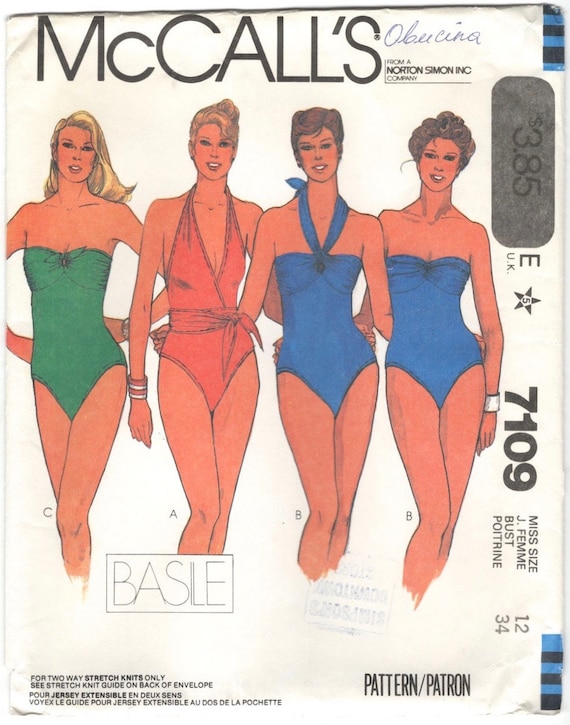 Jerry Hall (right) seems to be wearing the view A style in this Basile ad photographed by Irving Penn:
Also from 1980, Bob Mackie's strapless, colour-blocked swimsuit, McCall's 7138, was photographed for the July counter catalogue and news leaflet (seen at the top of this post):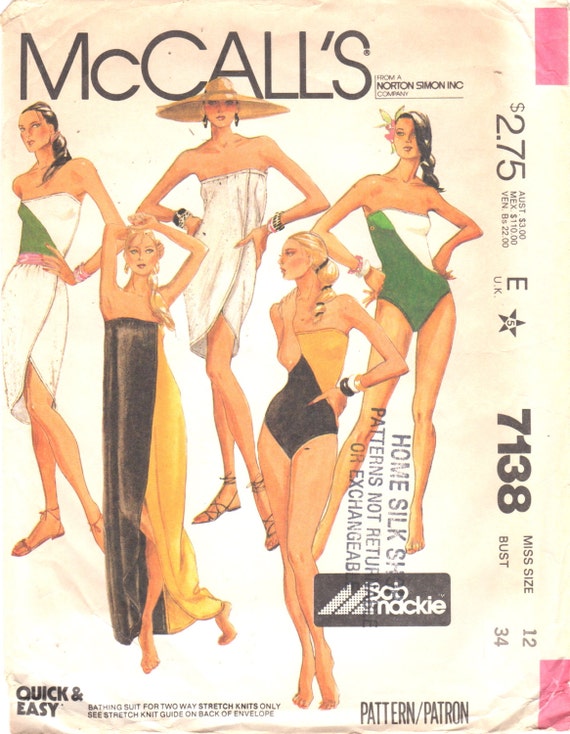 1990s
Finally, this early '90s DKNY pattern, Vogue 2897, is labelled 'dress and bodysuit,' but was photographed as beachwear: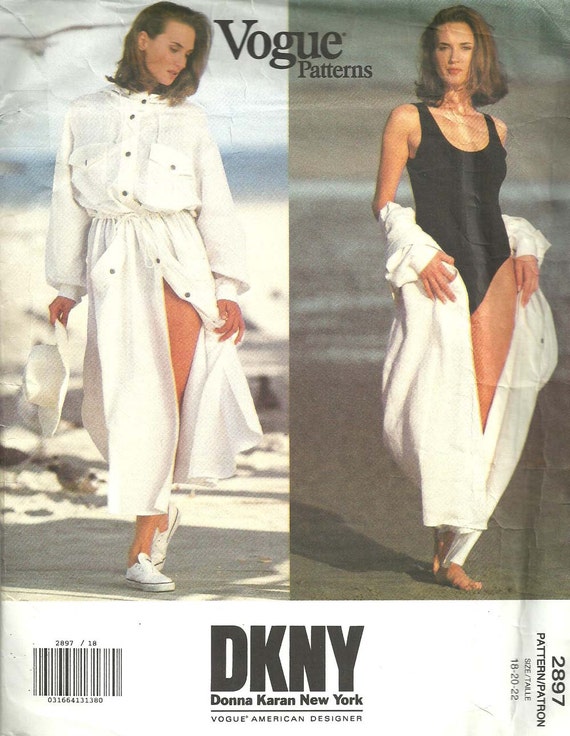 After a long swimwear pattern drought, the big pattern companies seem to have noticed the renewed popularity of sewing your own, custom bathing suit. For this summer, Simplicity reissued a 1950s bathing suit pattern, Simplicity 4307 / S8139, and The McCall Pattern Company has released a number of new swimwear designs, including one Vogue and two Lisette swimwear patterns.
Two designers with existing pattern licensing, Cynthia Rowley and Rachel Comey, both have swimwear lines. If we voice our support, perhaps we could soon see patterns for Cynthia Rowley surf wear and Rachel Comey Swim…