Diane von Fürstenberg's wrap dress celebrates its 40th anniversary this month. The famous dress, which officially made its debut in January, 1974, is being fêted with Journey of a Dress, an exhibition of 200 wrap dresses at the Wilshire May Company building in Los Angeles:
Update: A catalogue of the LA exhibit is available from Rizzoli:
Von Fürstenberg relaunched her label in 1997 after realizing that her vintage wrap dresses were enjoying a new popularity among young women. The advertising campaign for the relaunch shows Danielle Z. in different wrap dresses, including this leopard print version (click the image for a style.com article with slideshow):
Vogue Patterns introduced Diane Von Furstenberg patterns with great fanfare in the fall of 1976. The designer herself modelled a wrap dress on the magazine cover, and there was even a special sew-in label and tie-in with Cohama fabrics. (More on the fabrics at The Vintage Traveler.)
The punning headline of the 1976 magazine feature, "The Princess and Her Prints," refers to her first marriage to Egon von Fürstenberg, of the Prussian princes of Fürstenberg (she capitalized the 'von' for her label):
Vogue's Diane Von Furstenberg patterns included several wrap dresses. The 1970s patterns were all in the Very Easy Vogue line, and most were for stretchable knits.
The long-sleeved Vogue 1548 may be worn in two ways, forward or backward. The young Rene Russo is the model: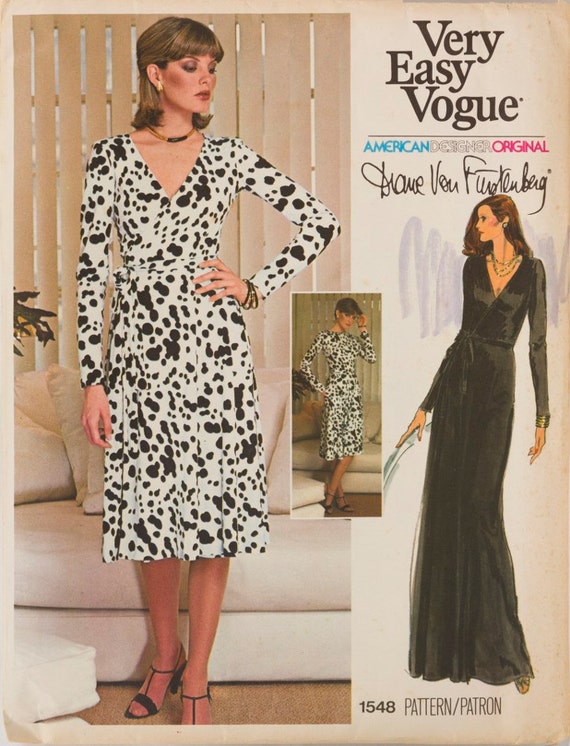 Karen Bjornson models Vogue 1549, a wrap dress with buttoned cuffs and optional collar. This design also works for woven fabrics:
The following year Vogue Patterns released a half-size version for petites, Vogue 1679. The first set of patterns was photographed by Chris von Wangenheim:
Here's the back-wrap view of Vogue 1548 on the cover of the December catalogue:
Vogue 1610 may be made sleeveless or short-sleeved with faux cuffs. I've made this for Naomi, and it's incredibly versatile:
Vogue 1853 has full, cuffed sleeves in a choice of long or elbow length. Christie Brinkley modelled the long-sleeved version:
Vogue 2517, a colour-blocked, front-wrapped dress designed for two colour contrasts, was photographed by Patrick Demarchelier. (This one is technically a mock-wrap dress.) The model is Chris Royer:
Tara Shannon models Vogue 1486, an '80s wrap dress with pleated skirt, shaped hemline, and dolman sleeves:
Discussions of the DVF wrap dress always seem to centre on questions of contemporary femininity. Even the promotional bio on the envelope flap promises dressmakers they'll "feel like a woman":
This Vogue Patterns editorial photo of the Vogue 1610 wrap dress similarly promotes the idea of femininity in the workplace. With the caption "Soft Dressing for Hard Schedules," it shows Karen Bjornson, glasses in hand, being delivered flowers at the office:
I was tickled to learn that Amy Adams wears three Diane Von Furstenberg dresses in American Hustle—two vintage and one contemporary. Apparently David O. Russell was obsessed with the green print version worn by von Fürstenberg on the cover of Newsweek, and costume designer Michael Wilkinson was able to source the vintage original for the film (see Financial Times story with slideshow here, or click the image for a Variety costumes story with video):
Have you sewn from a Diane Von Furstenberg pattern?
Update: Unfortunately Vogue can't re-release these vintage patterns. But check out the McCall's wrap dress blog posts for tips on getting the look.