The current exhibition at London's Fashion and Textile Museum, The Glamour of Bellville Sassoon, celebrates the museum's 10th anniversary with a retrospective of the British fashion house. If you're in the London area this week you can bring in your Bellville pieces, including versions sewn from Vogue Patterns, for evaluation by David Sassoon at the event "Bring out your Bellville." (The exhibition runs until January 11th, 2014.)
Belinda Bellville founded her eponymous couture house in 1953, and recruited David Sassoon in 1958; the Bellville Sassoon name dates to 1970. Following Bellville's retirement in the 1980s, Sassoon was joined by Lorcan Mullany as designer of the house's ready-to-wear line. Vogue Patterns has been producing Bellville patterns since the late 1960s.
Bellville Sassoon is unusual for having no licensing apart from its long-running sewing patterns with Vogue. (See Libby Banks, "Loosening a Fashion Stiff Upper Lip.") This has the effect of giving the patterns a special prominence. As Suzy Menkes observes, although Bellville Sassoon is perhaps best known for its society wedding gowns and association with the British royal family, the sewing patterns show the house's "more democratic side." (See Sinty Stemp, The Glamour of Bellville Sassoon [Antique Collectors' Club, 2009], which devotes a chapter to Vogue Patterns.) Even the couture-focused exhibition Glamour and Gowns: Couture by Belinda Bellville and Bellville Sassoon, which ran through October, 2013 at Holkham Hall (the ancestral seat of Bellville's son-in-law), included Bellville sewing patterns.
Here is a selection of Belinda Bellville and Bellville Sassoon sewing patterns from the Sixties to now.
1960s
From early 1967, this Bellville evening ensemble includes an elegant, bow-trimmed jacket and A-line gown with optional beaded trim:
The bodice of this popular design for a short or long evening dress extends into a large bow in the slit back: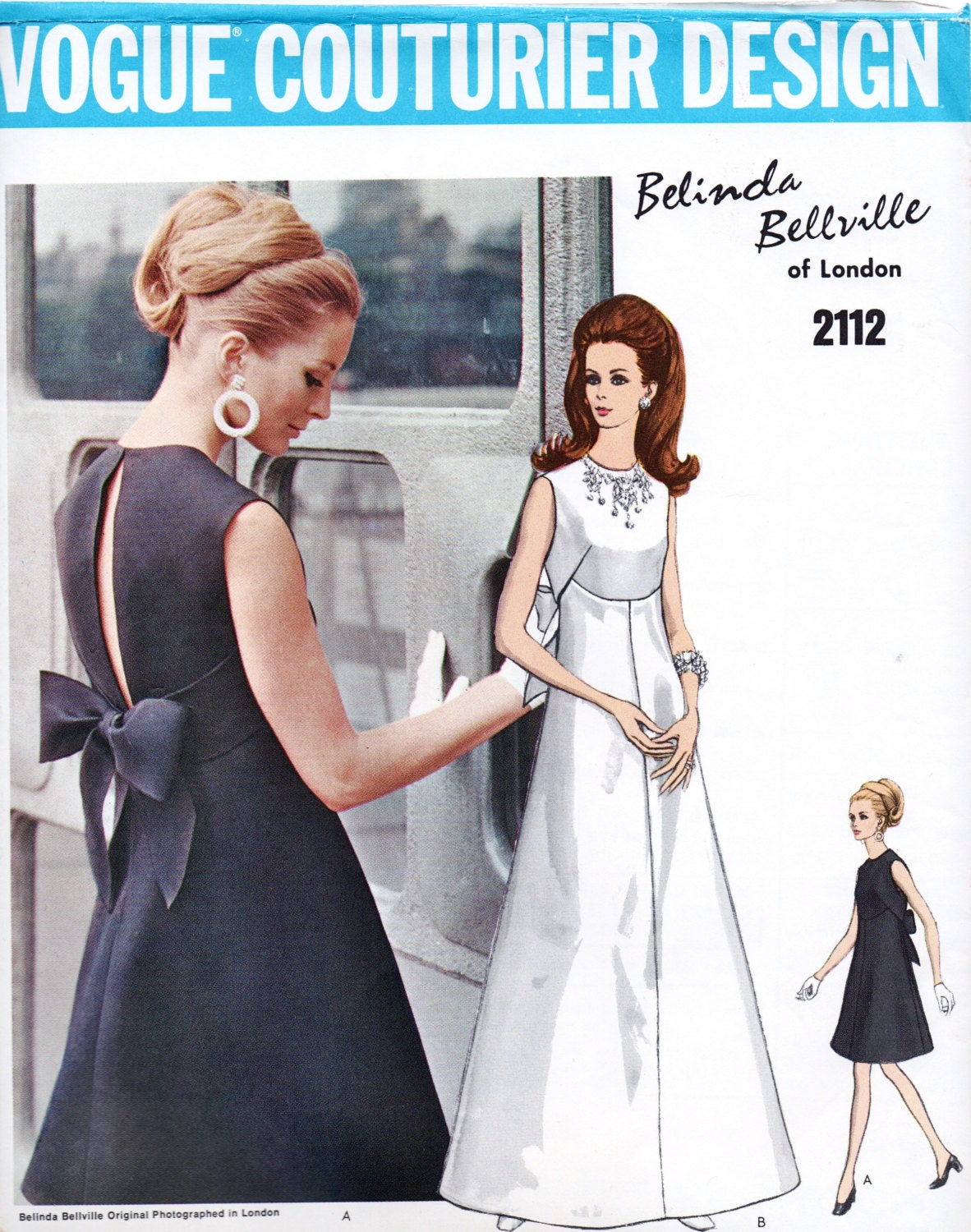 1970s
This high-waisted evening dress with waistcoat bodice could be made short, or above the ankle:
The back wrap on this bias dress creates a cowl neckline that becomes a V in the back. The model is Rosie Vela:
1980s
This dramatic, one-shouldered cocktail or evening dress has a draped, asymmetrical bodice with big bows at the hip and shoulder: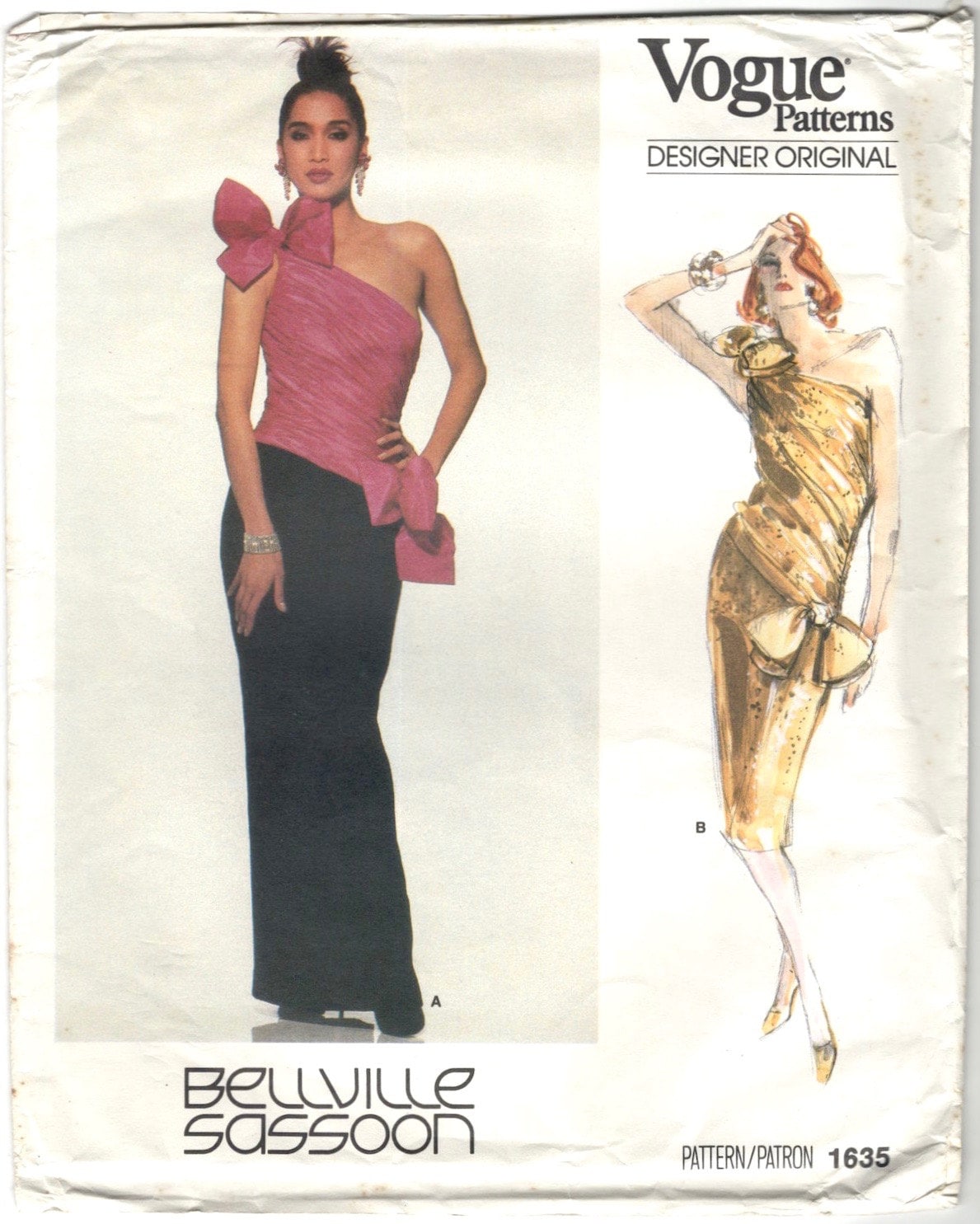 The volume in this strapless, ruffled formal dress is amplified by an attached ruffled petticoat: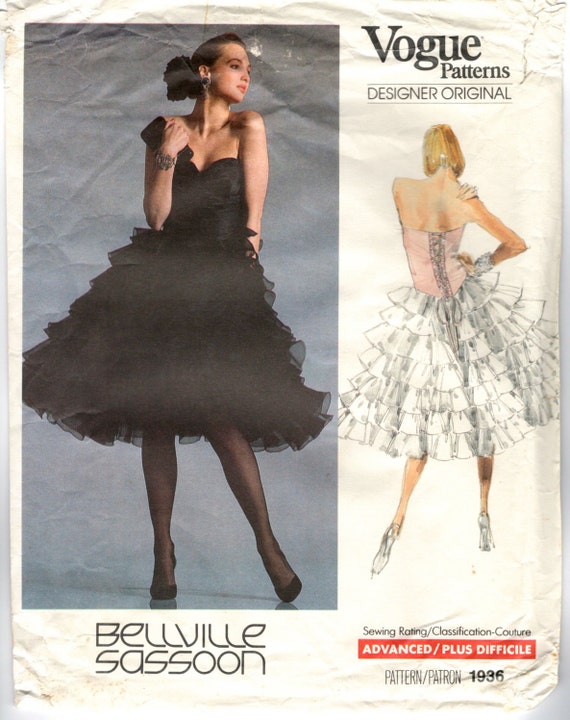 1990s
A petticoat is also essential to this full-skirted, strapless party dress from the early 1990s. The bow detail at the bodice can be made in contrast fabric:
This evening dress with bias-banded bodice was photographed at Los Angeles' Biltmore Hotel for the May/June 1997 issue of Vogue Patterns magazine, which also included an article by Claire Shaeffer on couture techniques for constructing the design:
2000s
Strong shoulders are achieved through extravagant sleeve rosettes on this recent Bellville Sassoon cocktail dress, which also features a piped and ruffle-trimmed neckline: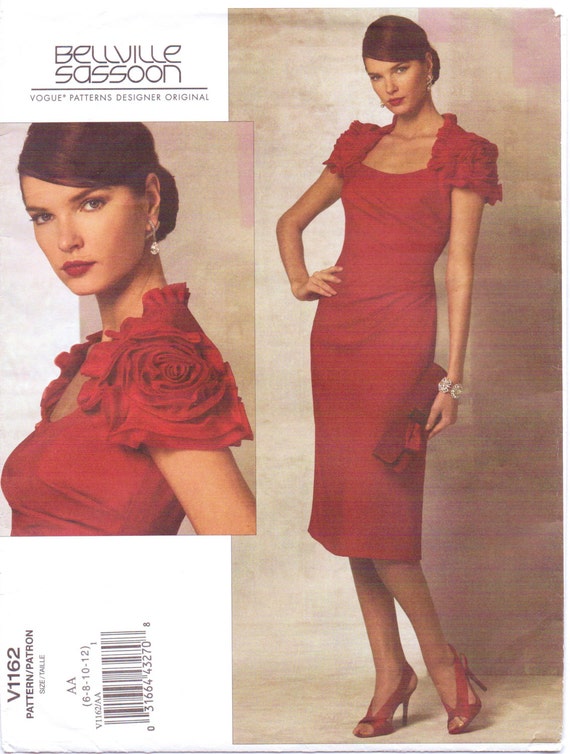 Current Vogue patterns, like this dress with draped and pleated bodice, show the designer as Lorcan Mullany for Bellville Sassoon: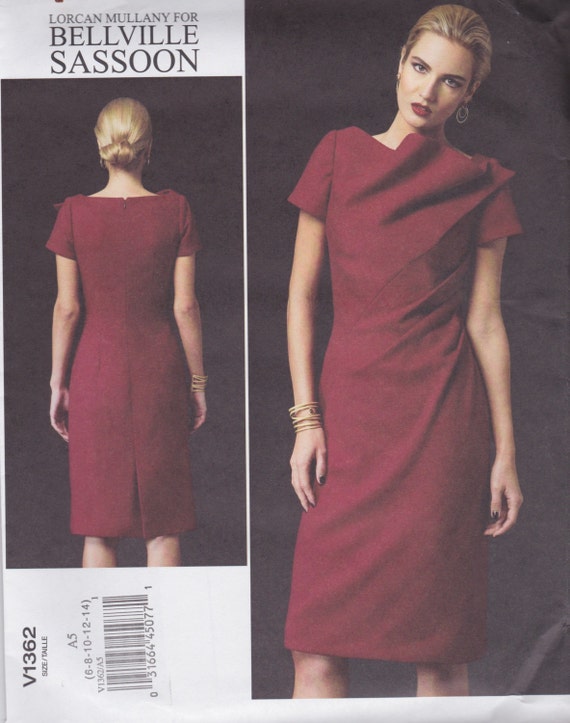 As a teenager in the '90s, one of the first things I made was a Bellville Sassoon corset top (from Vogue 1605). Have you sewn any Bellville patterns?