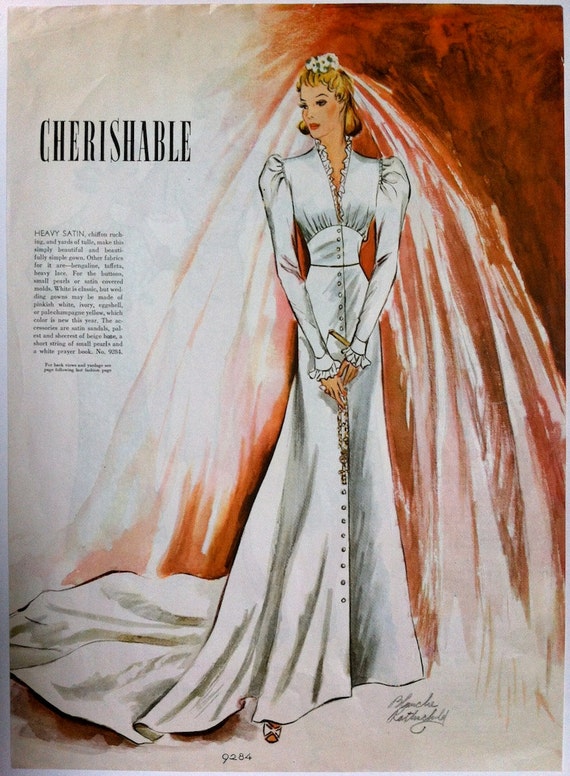 Vintage bridal patterns offer a unique alternative to modern bridal designs. Even if you're already married, they provide a glimpse into past bridal fashions' sometimes exotic vintage details—making them tempting even for those not in need of a wedding dress. (Can we expect Debi Fry to make her 1940 bridal pattern, McCall 4004?)
Now that wedding season is in full swing, here's a selection of vintage bridal patterns, from the Twenties to the Eighties.
1920s
In the Twenties and Thirties, bridal patterns usually did double duty as patterns for formal dresses. This 1920s Peerless Patterns sign features a wedding illustration promoting a number of patterns: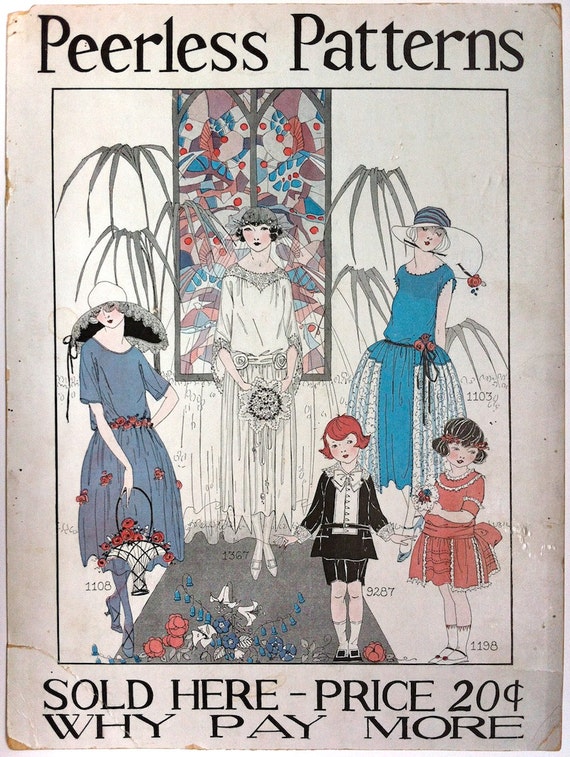 This fantastic bridal or evening dress is short, in keeping with the current fashion, and may have one or two extended side panels that give the effect of a train:
1930s
Thirties bridal patterns have the same glamour we associate with the decade's evening wear. This pattern for a bridal gown or dinner dress dates to circa June 1934:
A reproduction version of this pattern for a bridal gown or afternoon dress is available from the Vintage Pattern Lending Library:
A copy of McCall 8331 recently seen on eBay was accompanied by this wedding portrait, which shows the dress made up:
1940s
In the Forties the bride begins to take centre stage on pattern envelopes, although evening and bridesmaid versions are still included. This bridal or evening dress was reissued in the Vintage Vogue line as Vogue 2384:
This strong-shouldered, postwar design has a sweetheart neckline and waist piping detail. The pattern also includes a bridesmaid's dress with short, shirred sleeves (click image for the technical drawings):
1950s
By the 1950s the bride, in her full-skirted glory, dominates the pattern envelope. This Jacques Fath design for a bride's or bridesmaid's dress has a bustled back and tiny shawl collar. The bridesmaid's version simply lacks a train:
John Cavanagh was known for his connection to the English court. He licensed several bridal patterns with Vogue, and designed the Duchess of Kent's wedding dress in 1961. (See my earlier post here.) This short-sleeved Cavanagh design has a simulated train; the smaller figures show bridesmaid's and evening versions:
1960s
Also by John Cavanagh, this 1960s bridal design with a cathedral-length Watteau train was modelled by Jean Shrimpton:
No bridal pattern survey could be complete without this Halston pattern for bridal headpieces:
1970s
From the early 1970s, this Pierre Cardin bridal gown, shown in a silk knit, has an optional overskirt with handkerchief train:
Although it isn't for everyone, Yves Saint Laurent's couture bridal design for a gathered, bias dress, filmy coat, and five-yard veil distinguishes itself by showing the bride as wayward Vestal virgin (see Paco Peralta's post here):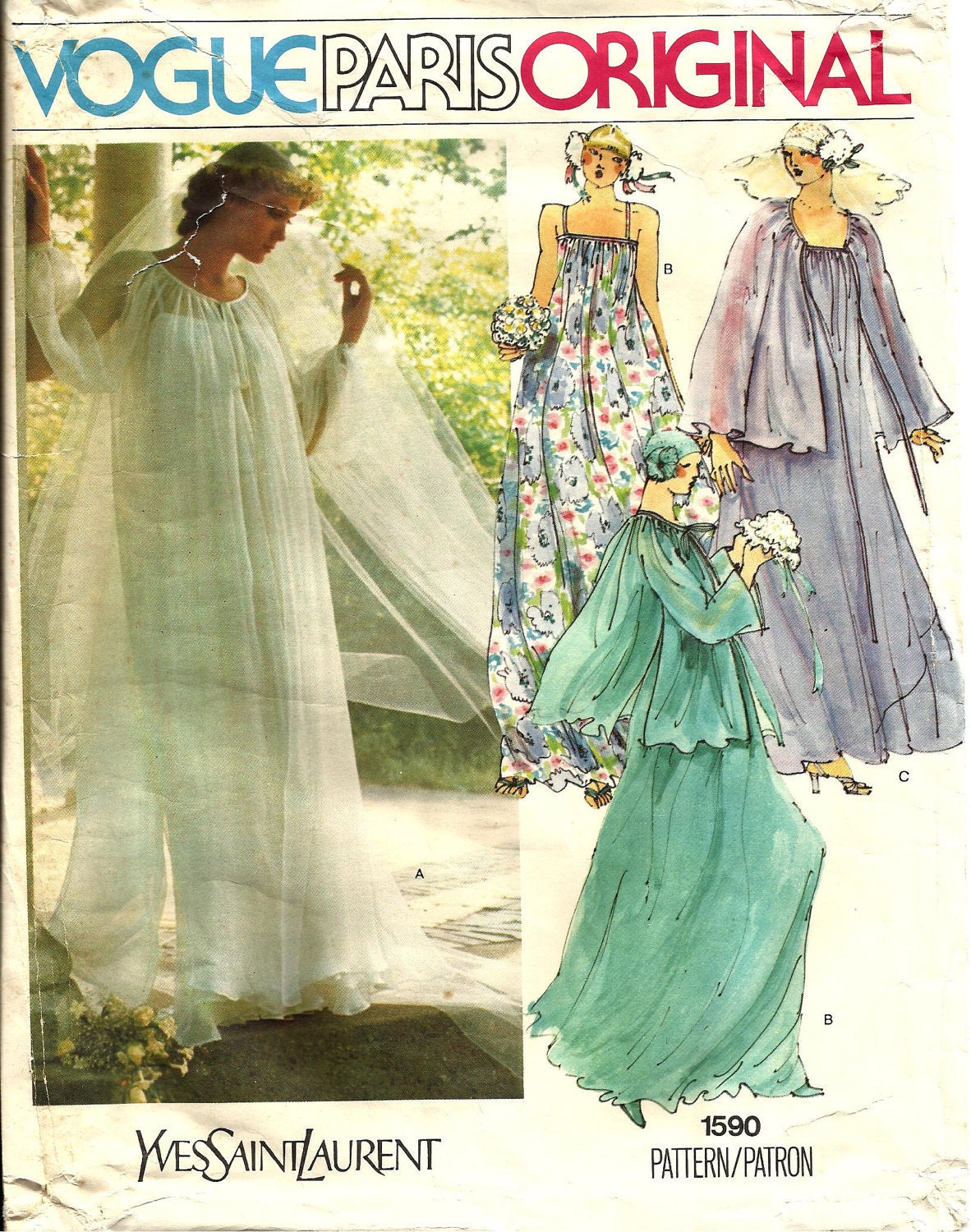 1980s
Released in 1980, this opulent Dior design for a bell-skirted bridal gown, complete with bias necktie, cummerbund, and bow-embellished headpiece, is drawn from the Christian Dior Haute Couture collection for Fall 1979 (read Dustin's post here):
Perfect for steampunk weddings, Vogue 2180 by Bellville Sassoon has an elaborate bustle that gives it a neo-Victorian flair:
For more on the history of bridal fashion, see the V&A Weddings page and Edwina Ehrman's The Wedding Dress: 300 Years of Bridal Fashions (V&A, 2011).