Betsey Johnson turns 75 today. Four decades on, the designer's 1970s Butterick patterns are still very popular. Here's a look at Johnson's early work, with an emphasis on more seldom seen archival images.
Betsey Johnson (b. 1942) has made a career of creating irreverent, youth-oriented clothes that stand a bit outside the mainstream. She learned sewing and pattern drafting while running a dance school as a teen, but got her official start in the business designing for Youthquake boutique Paraphernalia. By 1970 she was the designer for Alley Cat, a junior sportswear label. (For more see Vogue.com and Anne-Marie Schiro, "Betsey Johnson: Honor for a Life of Celebrating Youth.")
In 1971, Johnson won a Coty Award for her work at Alley Cat (see the New York Times notice). The following year, Butterick launched its Betsey Johnson patterns in the Spring 1972 catalogue. The designs were also cross-promoted (along with Cyrus Clark cotton chintz) with a Barbara Bordnick editorial in Seventeen magazine.
The earliest of Johnson's Butterick Young Designer patterns refer to her as Betsey Johnson of Alley Cat, and most seem to predate the founding of her company in 1978. Here's Butterick 6979 on the cover of the March 1973 issue of Butterick's news leaflet:
The young Patti Hansen in Alley Cat:
One of the first items I sold on Etsy was this 1975 issue of Butterick Fashion News with a Betsey Johnson cover. (Click to see inside.) The same embroidered pinafore was featured on the home catalogue cover: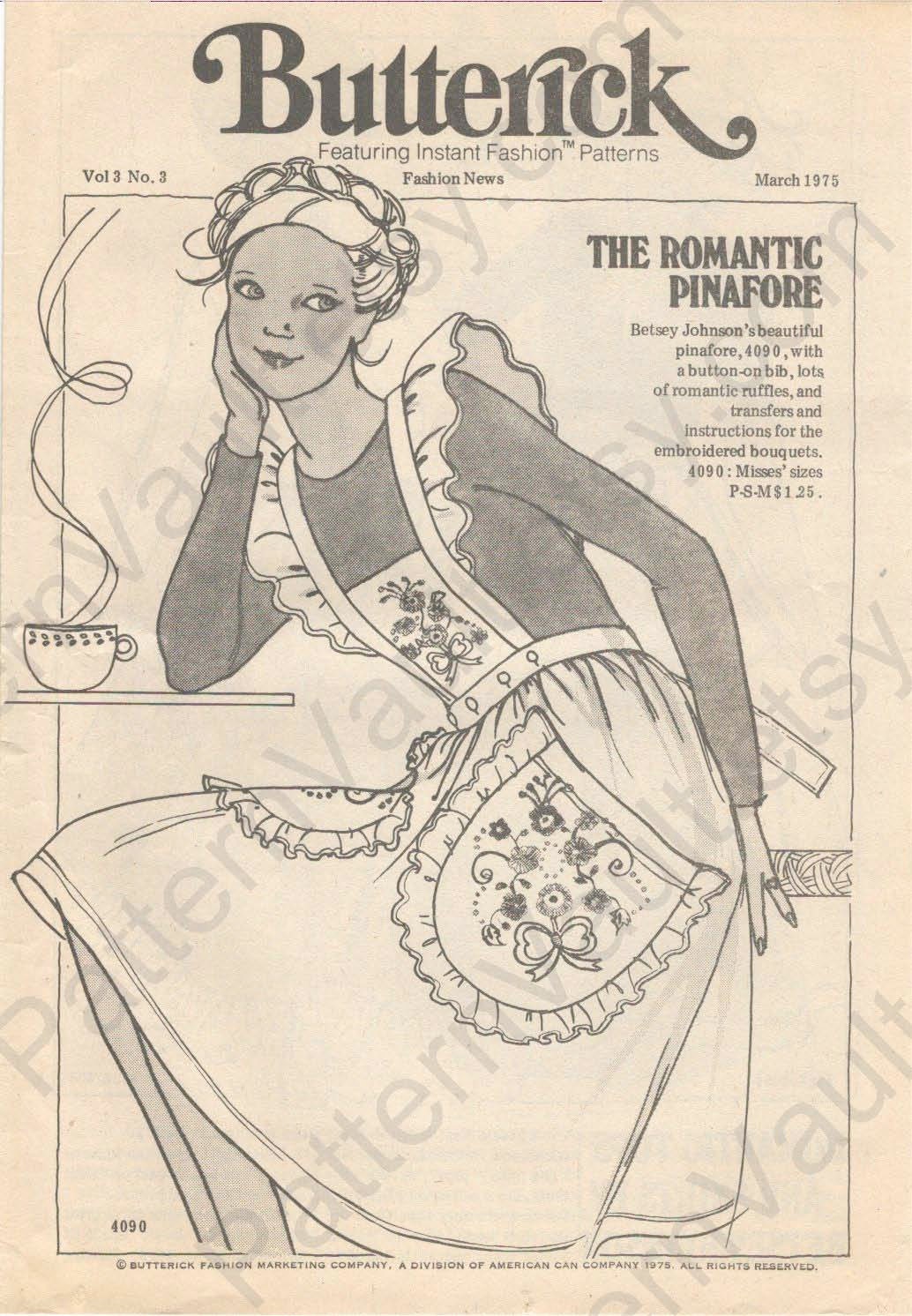 The pinafore also appears in this cute advertisement with Butterick 4088:
This Butterick ad shows three Betsey Johnson designs that came with transfers for DIY embellishment (dress Butterick 4679, knit tops Butterick 4676, and skirt/pants Butterick 4678):
The Spring 1976 catalogue used illustrated photographs to present this DIY series, which also included a hat and shoes (1st page, Butterick 4680; 3rd page Butterick 4681, with Joyce Walker on the right):
Another 1976 Butterick ad shows a Betsey Johnson jumper (Butterick 4956) with deep ribbon trim—perfect for a late-summer Cape Cod getaway:
Happy birthday, Betsey Johnson!
With thanks to Heidi at Gold Country Girls.