Word is Guy Laroche patterns are set to return after a two-year hiatus. (The last Laroche, and last Paris Original, to be released was V1450 in Summer, 2015.) In anticipation, my ongoing Laroche series resumes with a look at the early 2000s designs of Mei Xiao Zhou.
Born in the Netherlands, Mei Xiao Zhou came to a career in fashion after working as a ballet dancer and video director in New York and Tokyo. He spent six years as an assistant to Thierry Mugler before he was hired as head designer at Guy Laroche. (See WWD, "Guy Laroche Taps Zhou.")
Zhou designed two collections for Laroche, both presented in 2001.
1. Guy Laroche Prêt-à-porter Fall/Winter 2001 (shown March 2001)

Mei Xiao Zhou's first collection for Laroche radiated energy, with vibrant colour and prints underlining the skillful cut. (See WWD, "Static State, Forties-Something, and the 'Casino' Factor.") Here's the collection image from L'Officiel 1000 modèles:
The hardest to find of Zhou's Laroche patterns, Vogue 2650 is a bias-cut, halter-neck wrap dress that can be made in cocktail and evening length (both size ranges available in the shop):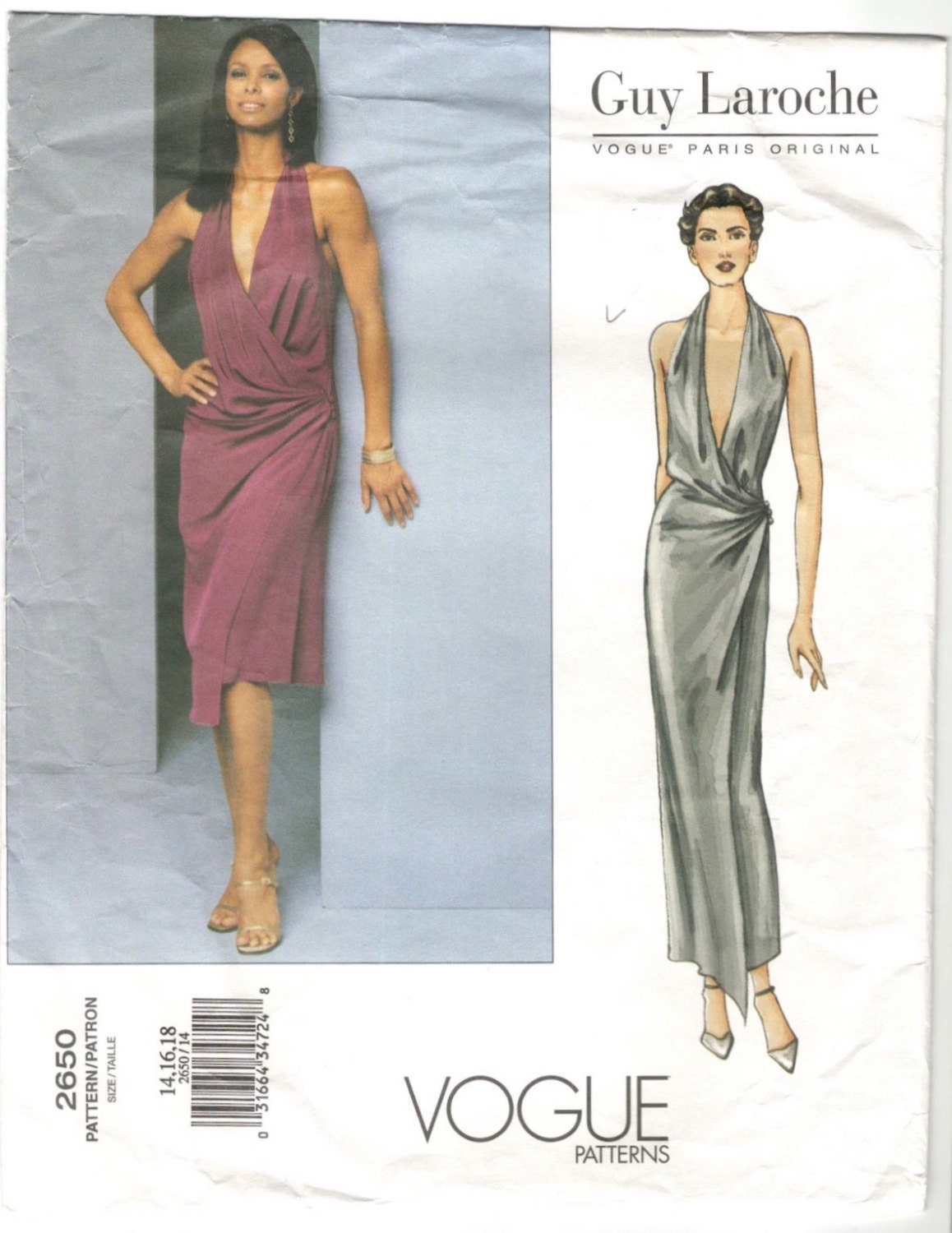 Vogue 2668's trouser suit includes a short jacket with three-quarter sleeves. On the runway, the revers on the red version revealed a flash of sequins:
Vogue 2689 is a sleek skirt suit with concealed closure and clavicle-framing standing collar. The skirt has a zippered side slit: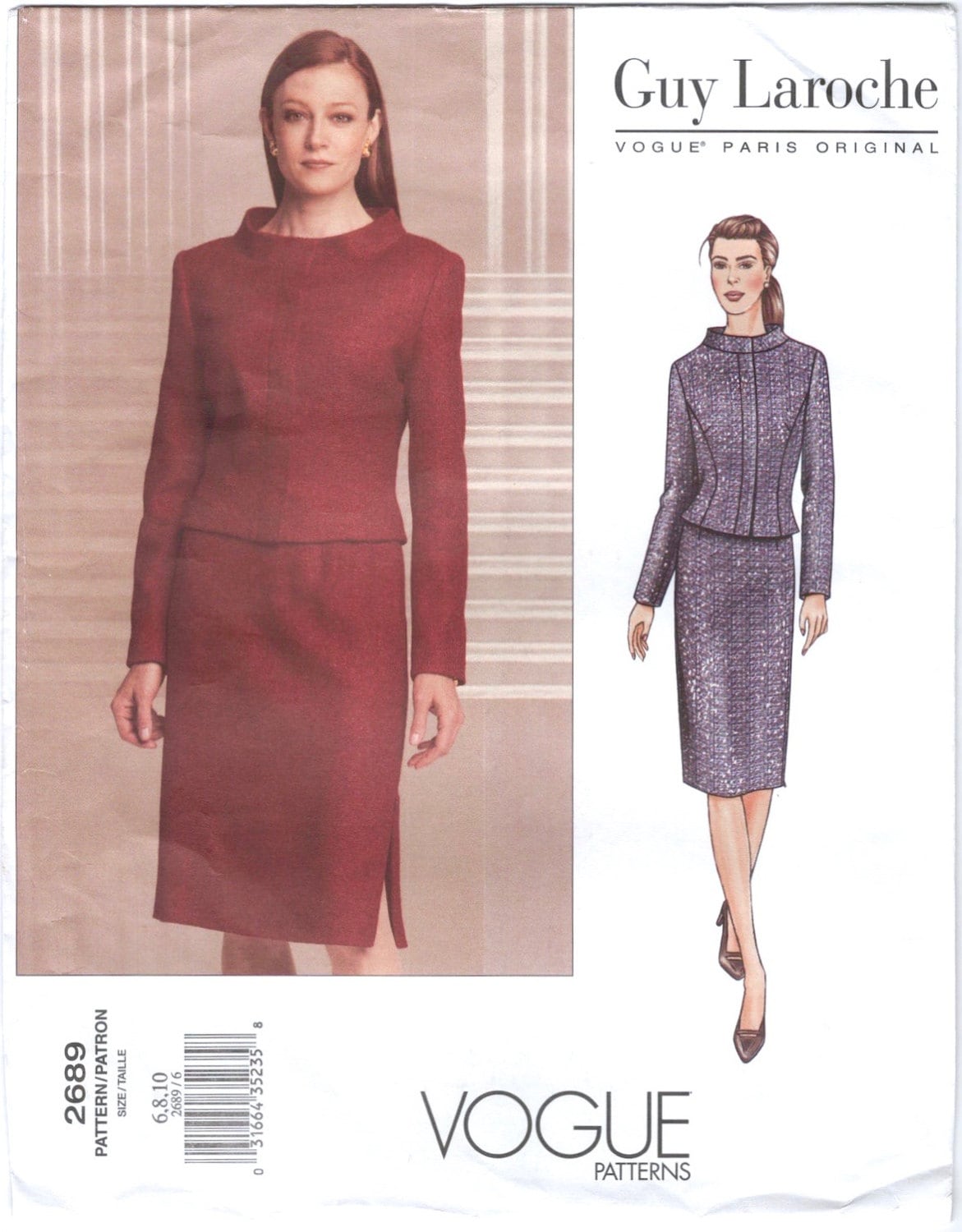 L'Officiel included one of Zhou's op-art print pieces in the Sixties-inspired editorial "Mille neuf cent soixante-trois":
2. Guy Laroche Prêt-à-porter Spring/Summer 2002 (shown October 2001)

For his romantic second collection for Laroche, Zhou covered the runway in water, sending out looks with an Asian influence in a palette of white, yellow, ochre, chocolate brown, and black. (See L'Officiel 1000 modèles and AP, "Louis Vuitton Show Goes Creative.") Here's the collection image:
Update: Getty had a few more images from the collection.
The Spring 2002 campaign echoed the runway's aquatic motif:
Because this collection is not well documented online, it's difficult to identify corresponding sewing patterns. Vogue 2752 looks to be one of the canary yellow suits, with flared kimono sleeves and rounded lapels that match descriptions of the show: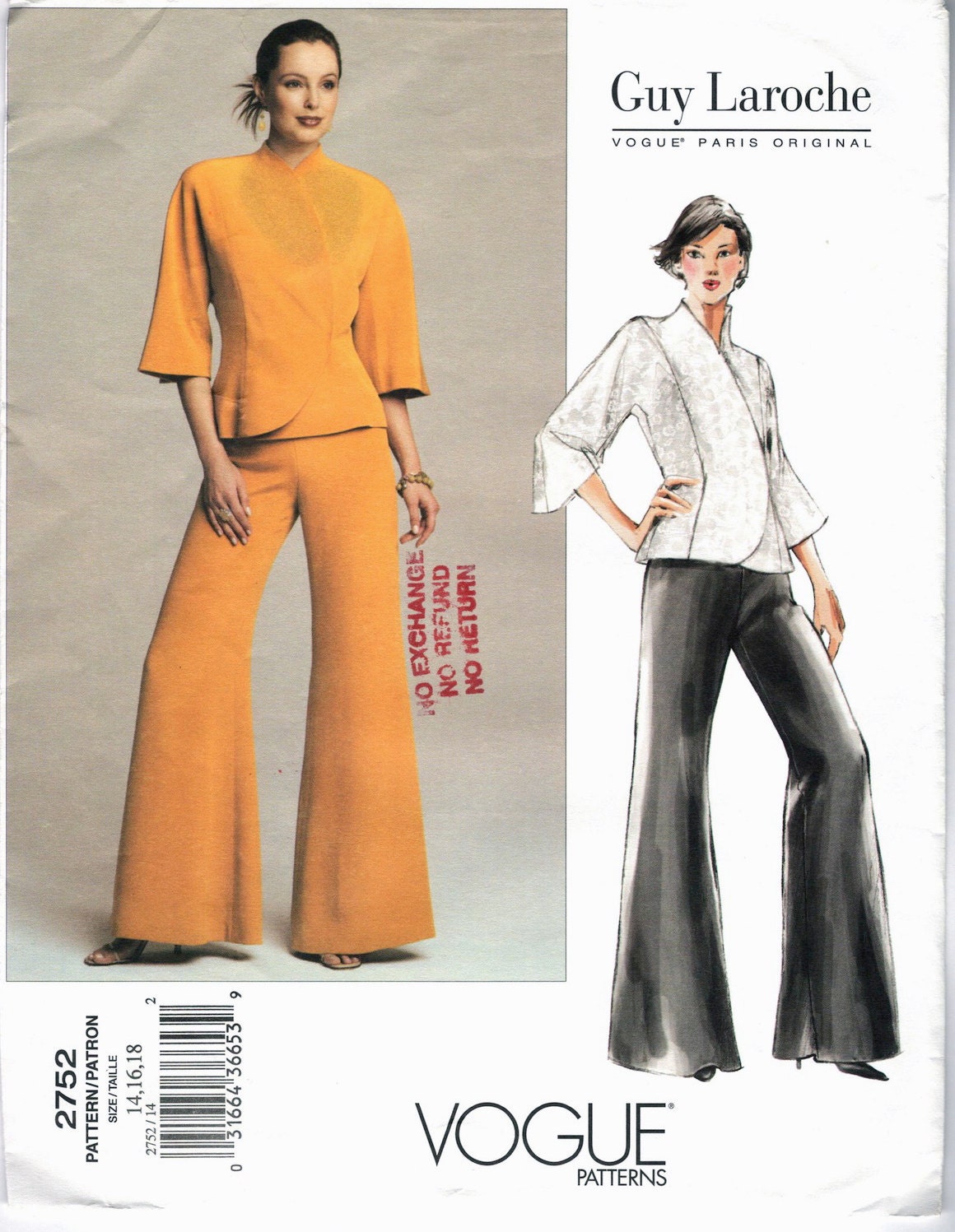 Although I can't confirm it, Vogue 2736 may also be a Spring 2002 design. The jacket has a bustier-effect bias inset, and the pants have high slits in the back seams:
Mei Xiao Zhou brought the verve of Mugler to his runway shows for Laroche. Although his first collection was well received, the house was sold to a new parent company, which hired a new designer for Fall 2002 (Laetitia Hecht). Like other designer patterns of this period, Zhou's Laroche patterns highlight the widening gulf between catwalk and sewing-editorial styling—which is ultimately the gulf between the fashion and home sewing industries.
Previous Laroche posts: