Only a few weeks til the Oscars! One dress that's consistently included in 'Best Oscars Dresses' lists is the Guy Laroche gown Hilary Swank wore to accept her Academy Award in 2005. Between 2004 and 2006, Guy Laroche collections were designed by Hervé L. Leroux. You've probably heard of Leroux under his original name: Hervé Léger. Léger studied sculpture and art history before leaving school to pursue a career in fashion, working as assistant to Karl Lagerfeld at Fendi and at Chanel, Lanvin, and Chloé. Léger established his own label in 1985 and soon made his name with his sexy bandage dresses.
In 1999 Hervé Léger lost control of his company after its acquisition by BCBG Max Azria; he also lost the right to business use of his name. (Hervé Léger is now designed by Max Azria.) Within six months the designer founded a new company as Hervé L. Leroux. (Karl Lagerfeld provided the new name—a reference to the designer's red hair. See Suzy Menkes, "Customers, Old and New, Track Down Fashion's Hidden Assets: The Comeback Kids.") Hervé L. Leroux opened a boutique in Paris the following year, showing ready-to-wear privately and providing clients with made-to-measure draped jersey dresses.
Leroux was hired to design for Guy Laroche after the house changed hands for the second time that decade. (See the WWD article here.) His tenure ended with his resignation in January 2006, making the Fall/Winter 2006-7 ready-to-wear his final collection for the house. Vogue Patterns' Guy Laroche license allowed the company to release designs from all four of Hervé Leroux's collections for Laroche.
1. Guy Laroche Prêt-à-porter Spring/Summer 2005 (shown October 2004)
For his first collection for Guy Laroche, Hervé L. Leroux presented a strong collection of body-conscious designs, with sleek tailoring and torso-hugging jersey dresses in silk and viscose. Black, white, and taupe predominated, with the addition of blue and burgundy for evening. The models, with natural makeup and minimal accessories, entered through a giant gilt frame rimmed with acid yellow light. (See Jessica Michault, "The Collections / Paris: Guy Laroche.") The collection's finale was the dress Swank wore to accept her Oscar for Million Dollar Baby; dubbed the Hilary, it was still available to customers three seasons later. You can see thumbnails of the collection here; there's also a video of the show on FashionTV's YouTube channel.
Here is the collection image from L'Officiel 1000 modèles:
Vogue Patterns chose two designs from the Spring collection. Vogue V2899 (which is still in print now out of print) is a low-backed cocktail dress, shown as an LBD: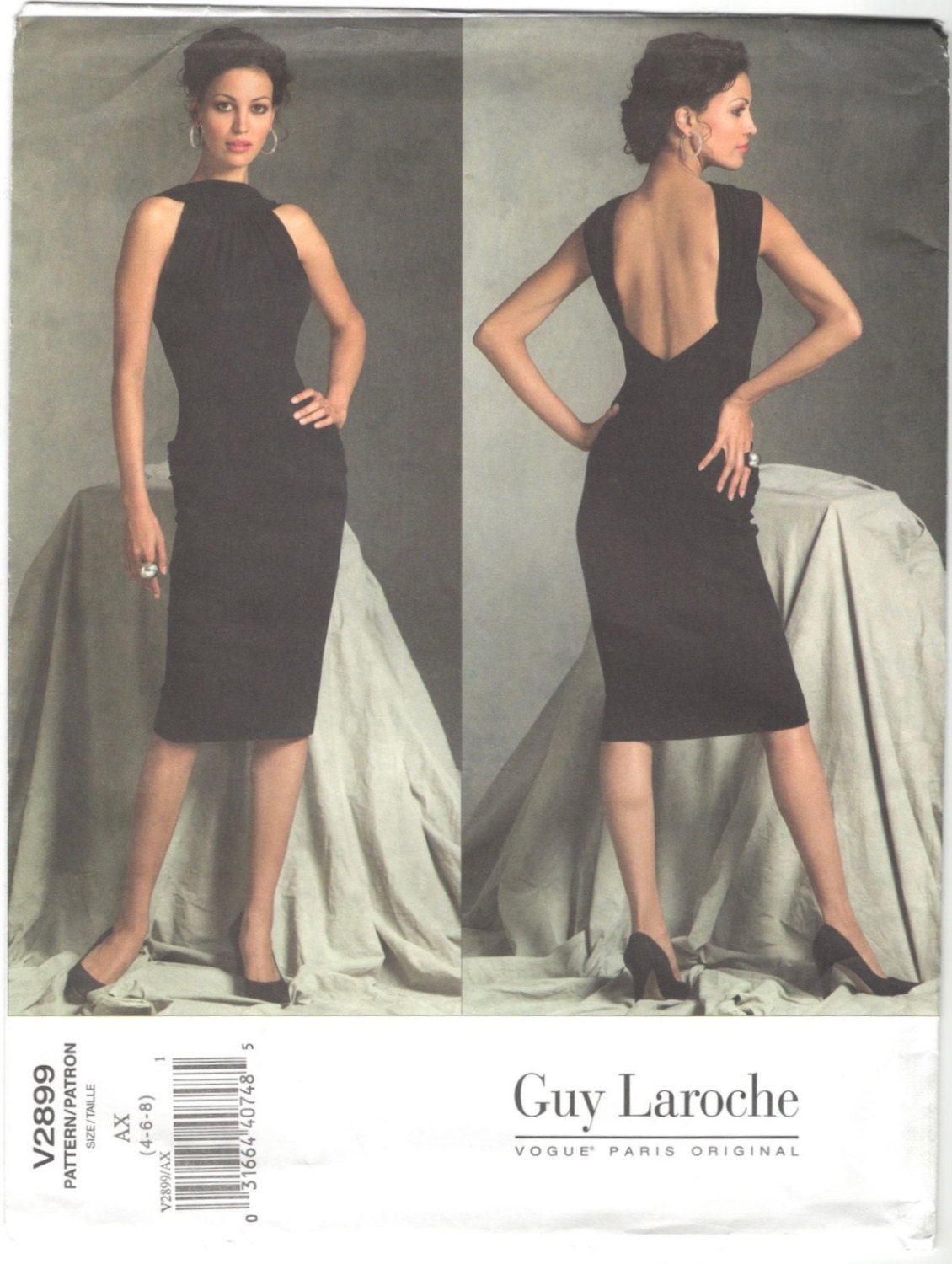 Here's the description from the pattern envelope: Misses' Dress. Close-fitting, tapered, self-lined dress, below mid-knee has front drape and concealed front neck band which extends into back shoulder straps (one gathered and one concealed), princess seams with ruched detail (no pocket), and back zipper.
You may have seen Erica Bunker's version of V2899 (see her post here). Here is a runway image of the dress:
The second pattern, Vogue V2937, is for a pantsuit with backless jacket:
The envelope description reads: Misses' jacket & pants. Loose-fitting, lined jacket (fitted at waist and through hips) has low neckline and partially backless back, neck band, contrast back and front drapes, raised waistline, inside belt, exposed separating zipper closure and two-piece sleeves. Slightly flared pants, floor length has wide raised waistband and back zipper. The pattern calls for a sheer stretch knit for the jacket contrast and lining.
Here are some runway images of the V2937 design:
2. Guy Laroche Prêt-à-porter Fall/Winter 2005-6 (shown March 2005)
The Guy Laroche Fall 2005 collection alluded to the fashions of the late 1930s and 1940s: the models wore Forties-inflected hairstyles to present Leroux's slim, strong-shouldered silhouettes and belted jackets and trenches. (See Jessica Michault, "From the red carpet to an enchanted forest.") You can watch the FashionTV video of the show here.
The collection image from L'Officiel 1000 modèles shows the day wear's sombre colours:
Vogue Patterns' selection from the Fall collection, Vogue V2922, is a belted pantsuit with military styling: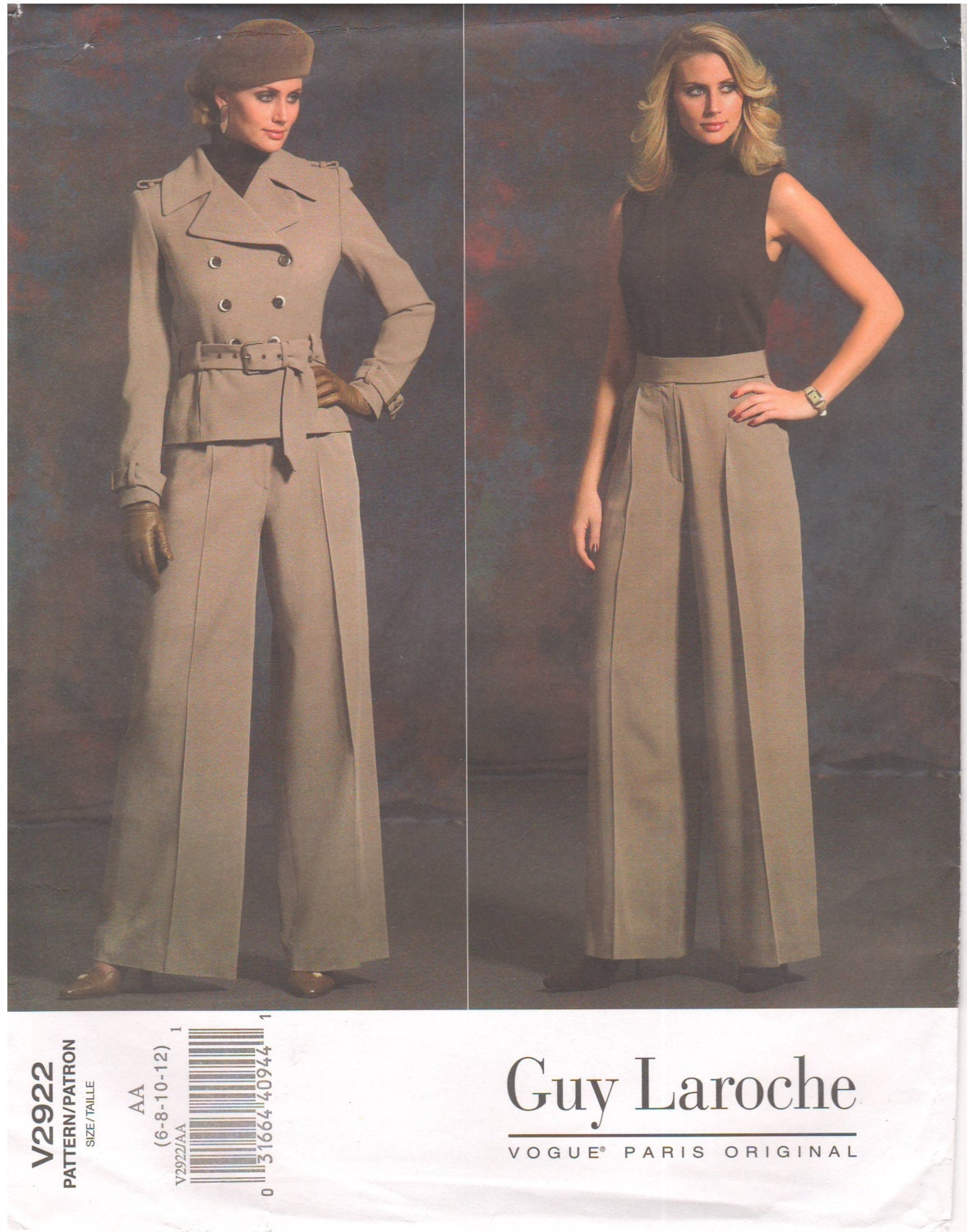 Here's the envelope description: Misses'/Misses' Petite Jacket, Belt and Pants: Double-breasted, lined jacket has princess seams, back inverted pleat, self belts and epaulets with buttonhole closure. Pants have front pleats, fly front, slanted side seam pockets, back darts and wide waistband.
The runway photo shows the fluidity of the original design:
Leroux had left bandage dresses in the past with the Hervé Léger name; his work for Laroche shows a more mature glamour. It's nice to see the kind of elegant, red carpet-friendly eveningwear he designs for his own, Hervé L. Leroux label in pattern form. And I've gained an appreciation for his relaxed yet vampy tailoring after seeing the runway versions.
Next: Hervé Léger Hervé L. Leroux's second year at Guy Laroche.