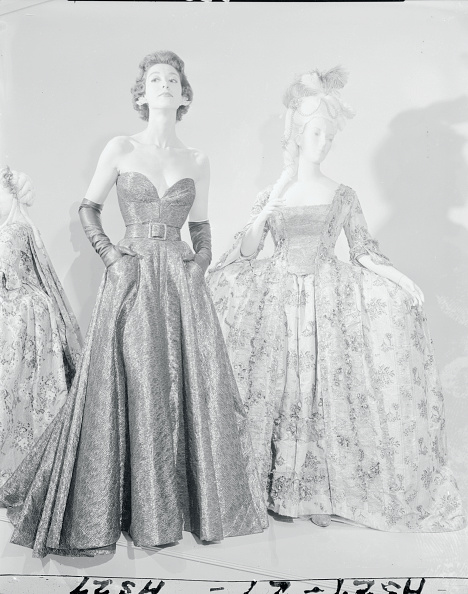 James Galanos died last month. He was 92. According to his obituary in the New York Times, Galanos authorized only two licenses: furs and fragrance. But he also licensed commercial sewing patterns—first with McCall's, and later with Vogue Patterns. This post looks at Galanos' 1950s patterns with McCall's.
Born in Philadelphia to Greek parents, James Galanos (1924-2016) was a graduate of the Traphagen School of Fashion. He worked with Hattie Carnegie, Hollywood costume designer Jean Louis, and Robert Piguet before founding his own, LA-based label in 1951. He retired in 1998, the year after LACMA mounted a retrospective of his work. Galanos won the devotion of celebrities and socialites with his virtuoso technique and flawless craftsmanship.
1950s
McCall's introduced designer exclusives by "James Galanos, brilliant young star of American fashion" with two patterns for winter 1956-57. The Galanos designs—full-skirted formal gowns in two lengths—were prominently featured in the holiday issues of McCall's Pattern Book and the company's monthly news leaflet.
According to the news leaflet, McCall's 3894 is "a fabulous ball gown to make in brocade." The molded bodice is a trademark Galanos touch:
McCall's 3895 is a bow-trimmed evening gown. As the leaflet notes, "Beautifully low-cut in back, it can be cocktail length." Recommended fabrics included heavy satin, peau de soie, brocade, and taffeta:
In spring, 1957, McCall's released two more Galanos patterns: the lavishly full-skirted McCall's 4045 and 4046.
Here, the back bodice extends into a front yoke. The skirt and petticoat were to be made in organdy, nylon, or silk organza:
The new Galanos patterns were promoted in the March issue of McCall's magazine ("Galanos designs: Black-and-white for summer evenings") and in the company's "Make the Clothes that Make the Woman" advertising campaign.
In the Summer 1957 pattern book, the designs are illustrated in green linen and flower-embroidered organdy:
Today, Galanos' McCall's patterns are quite scarce. Perhaps customers balked at the extravagant yardage: the skirt for one dress took over 20 yards of narrow fabric. Galanos' work with sheer layers continued into the following decade, as seen in this 1961 editorial by Gordon Parks: