Evelyn Tripp (1927-1995) was one of the most prolific models of the 1950s. Born on a farm in Missouri, she was discovered at 20 while shopping on Fifth Avenue. You may recognize her from William Klein's photograph, Smoke + Veil. She retired in 1968. (Read her New York Times obituary here.)
Evelyn Tripp did modelling work for Simplicity, Woman's Day, Butterick, and Vogue Patterns in the 1950s and early 1960s.
The Fall-Winter 1950 Simplicity catalogue includes a few photographs of the young Tripp. Here she wears tent coat Simplicity 8217:
Tripp also modelled an early Pauline Trigère design for Woman's Day magazine. The portfolio was photographed by Leombruno-Bodi (full size here):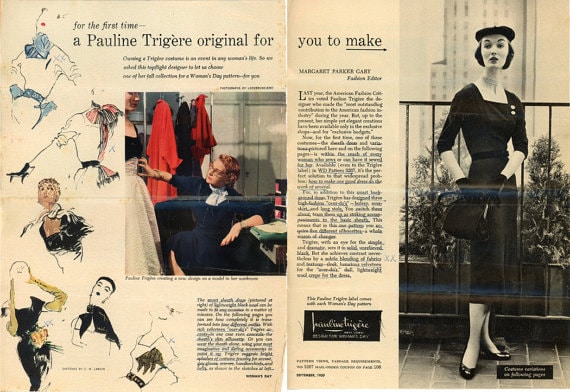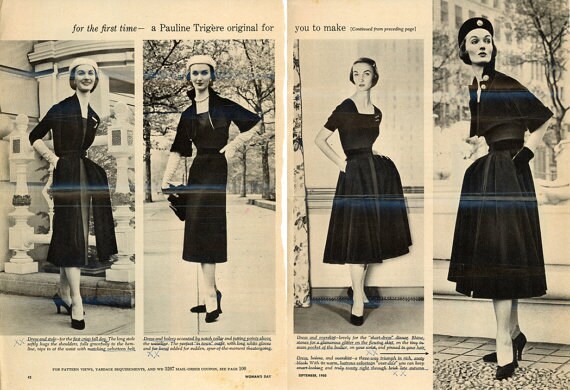 Among Tripp's many covers are several for Vogue Pattern Book. Here she wears suit pattern Vogue S-4625:
On this spring cover she poses in dress-and-coat ensemble Vogue S-4659 (with matching hat):
Roger Prigent shot this cover featuring Tripp in Vogue 8829 made in Moygashel linen (also in Vogue):
She appears on this summery Simplicity Pattern Book cover in Simplicity 1625 and Simplicity 1550, a top and skirt made in a matching print:
Inside, she poses in two-piece playsuit Simplicity 1608:
Tripp also appeared in a 1956 Vogue Patterns advertisement promoting the new printed and perforated patterns. The evening dress pattern is Vogue S-4735:
Here she wears Vogue 9607, made up in red, on the cover of the holiday 1958 issue of Vogue Pattern Book:
On this spring Butterick Pattern Book cover, she poses in a suit and flower hat, Butterick 8912 and Butterick 8880:
Tripp may also be seen in early 1960s Vogue Pattern Book editorials. Here she wears Vogue 4267, a one-shouldered dress in wool jersey:
For more of Evelyn Tripp's work, see MyVintageVogue or Kristine/dovima_is_devine's set on flickr.