Today is the 90th anniversary of Jean Patchett's birth.
Jean Patchett (1926-2002) moved to New York City from her home in Preston, Maryland to pursue a career in modelling. She signed with Ford Models in the spring of 1948, and soon became one of the new agency's top models. Patchett appears on some of Vogue's most iconic covers. She retired in 1963. (See Cathy Horyn's obituary for The New York Times, "Jean Patchett, 75, a Model Who Helped Define the 50's.")
(Read more about this cover at the Art Institute of Chicago, or see the UK version here.)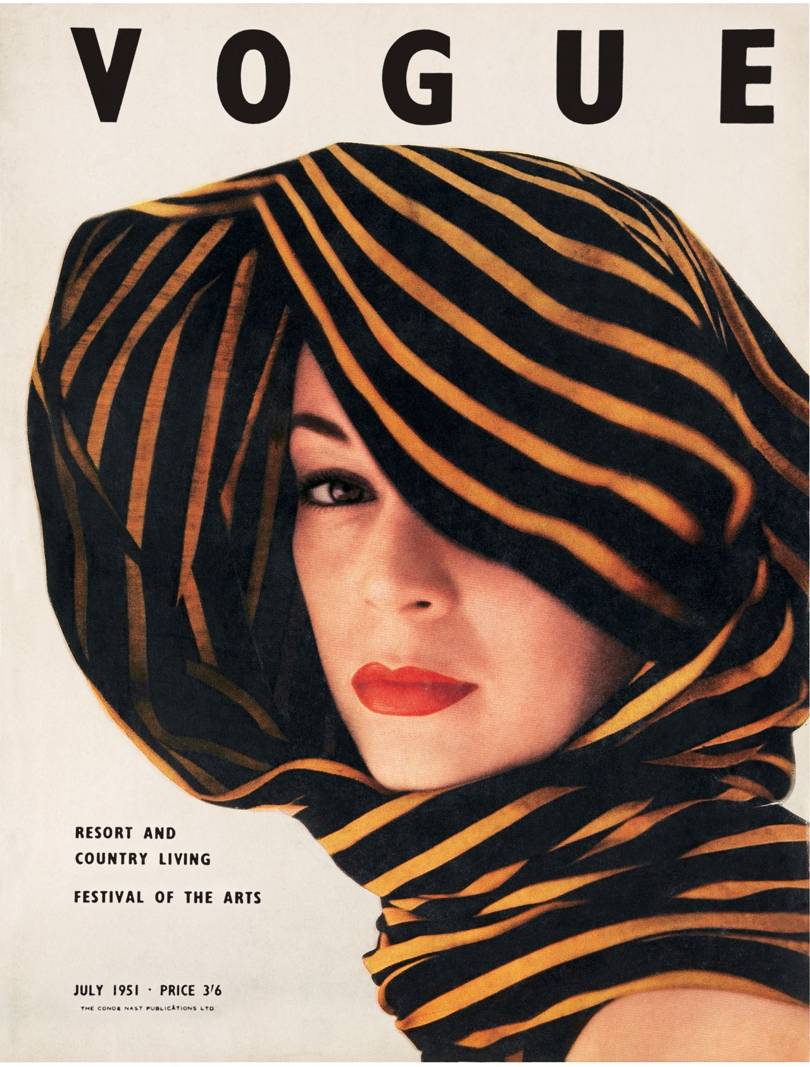 (Prints available from the Condé Nast shop.)
According to a short profile in Glamour, in her off hours, Patchett enjoyed making her own clothes (Glamour, Oct. 1948). She can be seen in pattern editorials for Vogue, Simplicity, McCall's, and Butterick from the late 1940s on.
Soon after her first Vogue cover in September, 1948 (October for British Vogue), Serge Balkin photographed the young Patchett in tone-on-tone grey flannel for the cover of Vogue Pattern Book. The patterns are Vogue 6620 (dress) and Vogue 6629 (coat):
Irving Penn's famous Vogue editorial, "Flying down to Lima," showing Patchett on location in Lima, Peru, is in fact a pattern editorial. In this café scene, she chews her pearls wearing Vogue S-4967, a dress and jacket ensemble (click the image for a gallery note, or see Devorah MacDonald's blog for the full editorial):
Patchett poses in dress and jacket Vogue S-4008 on this fall 1949 cover of Vogue Pattern Book:
Wearing the New Look dress and camisole Vogue S-4088:
Richard Avedon's travel-themed photo was used for both Simplicity's counter catalogue and the company's Fall-Winter magazine (where Patchett can be seen holding a copy of André Gide's Les faux-monnayeurs). The patterns are Simplicity 3327 (topper), Simplicity 3298 (weskit), and Simplicity 3027 (skirt):
Here she poses in a veiled hat and elegant silk shortcoat; the text contains a typo—the pattern is Vogue 7258:
This Holiday issue of Butterick Pattern Book features Patchett in Butterick 5941, a shirtdress with cuffed sleeves:
For the fortieth anniversary issue of McCall's Pattern Book, Patchett posed in McCall's 9080 alongside illustrations from past decades:
Lillian Bassman photographed Patchett in this striped summer dress from Simplicity:
Posing for the cover of Burda Moden magazine:
This strapless playsuit must be Simplicity 4715, shown in bias tartan with matching parasol:
Roger Prigent photographed Patchett in Vogue S-4550, made up in Onondaga acetate brocade:
Finally, Patchett appears with her own double in this resort-themed McCall's advertisement featuring McCall's 3635 (see my earlier post on this campaign here):
For more of Jean Patchett's work, see jeanpatchett.com, myvintagevogue, or skorver on flickr.