Yves Saint Laurent's Spring 1971 haute couture collection, Libération, is currently the focus of a major Paris exhibition. Curated by Olivier Saillard of the Palais Galliera, Yves Saint Laurent 1971: la collection du scandale may be seen at the Fondation Pierre Bergé – Yves Saint Laurent through July 19th, 2015. A catalogue (in French only) is available from Flammarion.
Inspired by the women of occupied Paris, Saint Laurent's "Forties" collection interpreted vintage styles for the younger generation—subversive historicism with an edge of camp. The wartime silhouettes of thirty years previous dominated for day, with evening gowns featuring prints based on ancient Greek erotic art. (See Suzy Menkes for Vogue and Joelle Diderich for WWD.) Like the designer's Beat collection for Dior, it brought youthful street style to couture, prompting a similar backlash but ultimately succeeding in terms of broader influence.
L'Officiel was one of the only magazines to put the collection on the cover; British Vogue and Harpers & Queen opted for related Rive Gauche looks instead: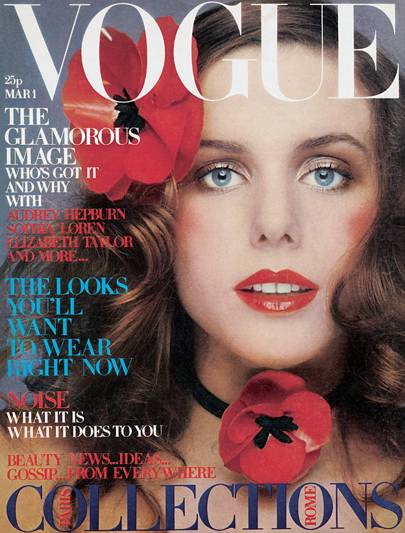 Vogue Patterns licensed two patterns from the Spring 1971 couture. Vogue 2571 is a puff-sleeved dress trimmed down the front with tiny buttons. Frank Horvat photographed the navy original for the August/September issue of Vogue Pattern Book. The editorial text reads, "From Yves Saint Laurent, a slither of crepe. Note the new high puffed sleeves tight round the wrists, with just enough flare and tiny ball buttons":
Here's the envelope description: Misses' Dress. Semi-fitted, slightly flared dress, mid-knee length, has jewel neckline, front button and loop closing, front gathered into forward shoulder seam and topstitch trim. Full length leg-o-mutton sleeves with pleated cap have zipper closing. Purchased scarf. Semi-fitted sleeveless slip has back zipper closing.
The exhibition catalogue includes this photo of the dress in the original collection presentation:
Vogue 2598 is a pattern for pleated skirt, cuffed trousers, and double-breasted jacket with optional ribbon trim (see Paco's post here):
The envelope description reads: Misses' Three-Piece Suit. Fitted, double-breasted blazer jacket has notched collar, wide lapels, patch pockets, extended padded shoulders, full length sleeves with buttoned vents and turn back cuffs. Topstitch or ribbon trim. Gored, pleated skirt, two inches below knee, has waistband and topstitch trim. Straight-legged pants with cuffs are darted into waistband.
Here is a ribbon-trimmed pantsuit version of Vogue 2598 in the original presentation. The pattern could be adapted to make the sleeveless variation:
These editorial photos from L'Officiel's spring couture preview show three variations on the Vogue 2598 double-breasted suit look: a long, houndstooth coat; a jacket worn with a short, wool jersey jumpsuit; and a pinstriped pantsuit topped with a fur stole:
Jane Birkin was photographed in the long-sleeved, ribbon-trimmed jacket (can anyone identify the photographer?) and Bianca Jagger wore a white, single-breasted jacket from this collection to her wedding:
Just for fun, I'll close with some editorial images featuring spring 1971 Yves Saint Laurent:
With thanks to Paco Peralta.