In celebration of Canada Day, this models post is devoted to Canadian supermodel Linda Evangelista.
Born in St. Catharines, Ontario to Italian-Canadian parents, Linda Evangelista (b. 1965) was discovered by a scout from Elite at the 1981 Miss Teen Niagara beauty contest. (She didn't win.) At eighteen she signed with Elite and moved to New York and later, Paris. Evangelista became one of the world's most successful and influential models, especially after Julien d'Ys cut her hair short in 1988. (More on Voguepedia.)
Some of Evangelista's early work can be seen in 1980s Vogue patterns and Burda magazine.
1980s
The young Evangelista made the cover of the Spring/Summer 1985 issue of Burda international:
She also starred in a jazz club-themed Burda editorial shot by Günter Feuerbacher (click the image for more):
Evangelista's work with Vogue Patterns was for the Paris Originals line. Here she models a popular, pleated wrap dress by Emanuel Ungaro, Vogue 1799:
Evangelista can be seen on a number of Yves Saint Laurent patterns. Vogue 1720 is an elegant dress with blouson bodice and wide, bias roll collar. The pattern includes the contrast sash:
Here Evangelista shows off advanced-class colour blocking in Vogue 1721, a Nina Ricci pattern for a dramatic hooded blouse, mock-wrap skirt, sleeveless top, and sash:
This editorial photo from the Autumn 1986 issue of Vogue Patterns magazine best conveys the different colours:
Evangelista also appeared on the cover of the July/August 1987 issue of Vogue Patterns:
1990s
In the mid-1990s, Evangelista's runway work for Yves Saint Laurent reached home sewers on Vogue pattern envelopes. From the YSL Rive Gauche Spring 1996 collection, Vogue 1862 is a pattern for cropped jacket, blouse, and high-waisted pants (see a detail shot on firstVIEW):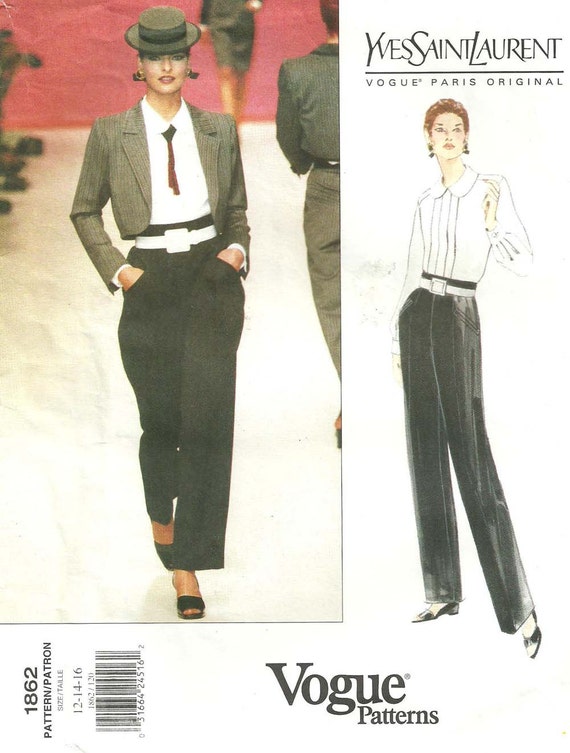 Evangelista brings out the drama of this Yves Saint Laurent Cossack-style coat, Vogue 1652:
Happy Canada Day, everyone!