(A late Mother's Day post since I was under the weather yesterday.)
In honour of Mother's Day, this models post is devoted to a mother and daughter who both modelled for designer sewing patterns: Nena von Schlebrügge and Uma Thurman.
Nena von Schlebrügge (b. 1941) was born in Mexico City to German-Swedish parents who had fled Nazi Germany. In 1957, two years after she was discovered by Norman Parkinson, she moved from her native Stockholm to London to pursue modelling, later moving to New York to sign with Eileen Ford.
Nena von Schlebrügge appears on a number of Vogue Pattern Book covers and Vogue patterns from the late 1950s and early 1960s.
Here she models one of Vogue's first Dior patterns by Yves Saint Laurent—Vogue 1472, a skirt suit and full coat with big, shaped collar:
Von Schlebrügge can also be seen on Vogue 1484 by Madame Grès, a 3-piece ensemble that includes a voluminous coat with three-quarter sleeves, loose back panel, and elegant contrast lapels and lining:
Uma Thurman (b. 1970) is the daughter of Nena von Schlebrügge and her second husband, Robert Thurman. Born and raised in Massachusetts, Uma Thurman dropped out of her prep school there to pursue acting in New York City, where she worked as a fashion model before landing her breakout roles in Stephen Frears' Dangerous Liaisons (1988) and Terry Gilliam's The Adventures of Baron Munchausen (1988).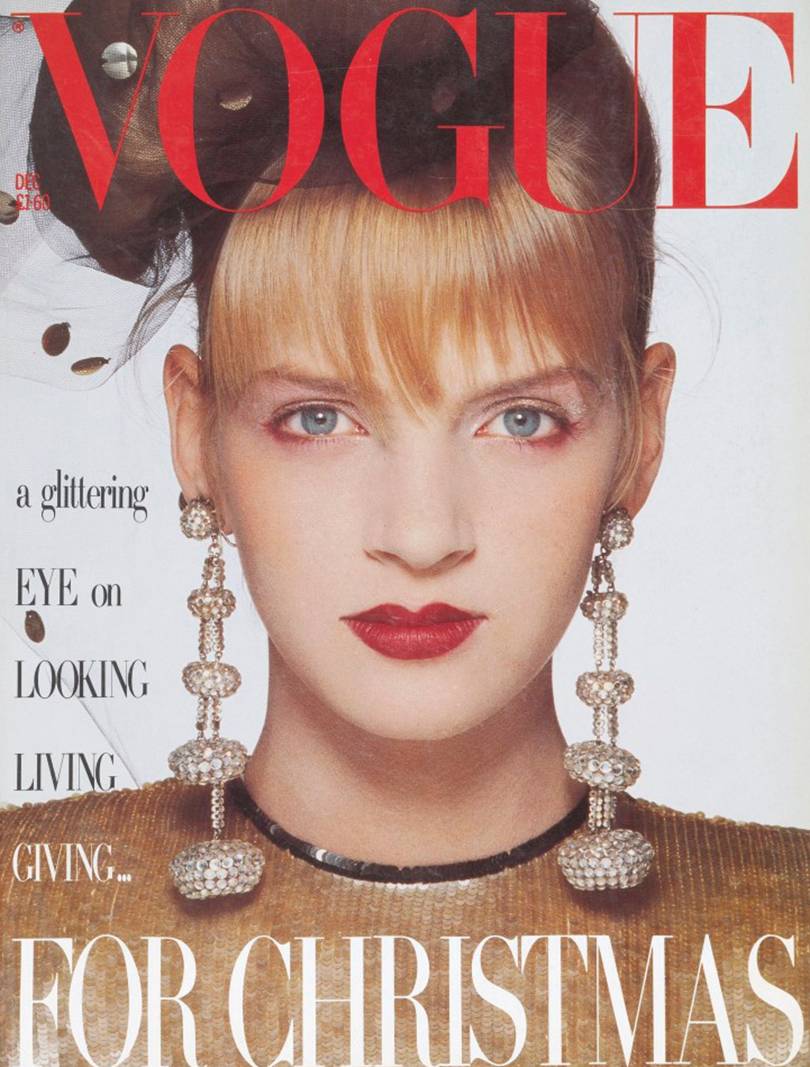 Uma Thurman is featured on a handful of 1980s Simplicity patterns, including two by Cathy Hardwick. (These may date to Tom Ford's time at the company.)
Here Thurman wears Simplicity 8054, a wrap dress with halter back and capelet sleeves, in classic red:
Here she models a pure '80s LBD with big shoulders and flutter sleeves, Simplicity 8055:
Nena von Schlebrügge later became a psychotherapist and director of Tibet House and the Menla Center; Uma Thurman is an Academy Award nominee for her role in Pulp Fiction (1994). Thurman's presence is already evident in her Simplicity patterns. Isn't the family resemblance striking?