This past weekend, the exhibition Patrick Kelly: Runway of Love opened at the Philadelphia Museum of Art. (Read WWD's coverage here.) The show is the second Patrick Kelly retrospective since the designer's death from AIDS in 1990. (The first was the Brooklyn Museum's Patrick Kelly: A Retrospective in 2004.)
Born in Vicksburg, Mississippi, Patrick Kelly (1954-1990) found success as an expatriate in Paris: he was the first American, and also the first black designer, to be elected to the Chambre syndicale du prêt-à-porter. Much of Kelly's work references his southern, African-American heritage through the use of vibrant colour, buttons and bows, and reappropriated black memorabilia motifs such as watermelons and golliwogs. (Patrick Kelly shopping bags emblazoned with his golliwog logo, as seen in the above photo, were deemed too controversial to be used in the United States.)
Between 1988 and 1991, Vogue Patterns licensed Patrick Kelly designs, first in the Individualist line and later as Paris Originals. Here is a selection of Patrick Kelly sewing patterns, grouped by collection.
1. Patrick Kelly Spring/Summer 1988 prêt-à-porter
Vogue Patterns' licensing began with Kelly's Spring/Summer 1988 collection, his first under contract with Warnaco. This collection played with the culture and racial stereotypes of the American south. (Watch a YouTube video of the collection starting here.) Vogue 2077, the first of several Patrick Kelly patterns featuring African-American model Gail O'Neill, is a flamboyant peplum suit with back bow:
The suit seems to have made the cover of Vogue Patterns magazine:
Vogue 2078 is a tiered, off-the-shoulder dress for stretch knits:
More knit dresses from this collection can be seen in this photo by Oliviero Toscani, the photographer best known for his controversial Benetton ads:
2. Patrick Kelly Fall/Winter 1988-89 prêt-à-porter
Variations on the heart motif characterized Kelly's Fall 1988 collection, entitled More Love; the collection was later included in "Heart Strings," a touring fundraiser for the Design Industries Foundation Fighting AIDS (DIFFA). Vogue 2165 is a long-sleeved, colour-blocked dress with heart-shaped bodice:
A version with red contrast can be seen in Toscani's ad campaign; the red bodice also appeared in the bridal look that closed the collection. Given the 'love' theme, it's surprising that the red version was not photographed for the Vogue pattern:
Vogue 2304, a stretch-knit dress with Kelly's trademark buttons applied in a rainbow triangle, is visible in the Toscani photo at the top of this post:
3. Patrick Kelly Spring/Summer 1989 prêt-à-porter
Having just been elected to the Chambre syndicale in June 1988, Kelly showed a Mona Lisa-themed collection for Spring 1989 in the courtyard of the Louvre. Vogue 2286 is a pattern for a full skirt, wide-legged pants, and a double-breasted top with notched shawl collar:
The red version of the top can be seen in this campaign photo by Oliviero Toscani:
4. Patrick Kelly Fall/Winter 1989 prêt-à-porter
Presented the year of the bicentenary of French Revolution, Kelly's final collection was conceived as a celebration of France and America. Vogue 2385 is a shawl-effect dress designed for stretch knits; the contrast front inset extends into a shoulder drape. The illustration's red drape version may be seen in Runway of Love:
The grey stripe version was featured in the Fall/Winter 1989 ad campaign:
Vogue 2556 is a button-studded ensemble consisting of jacket, skirt, and coat. The design requires forty-one buttons for the jacket alone: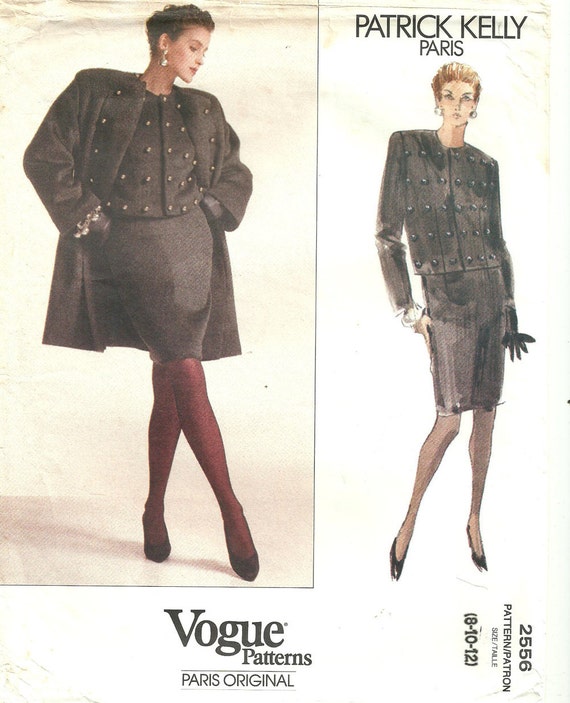 The Vogue 2556 jacket and skirt were photographed for this Apollo Landing-themed campaign image:
A hot pink version, included in the Philadelphia exhibit, has a matching hat and cape, and rainbow buttons:
Despite covering only two years, the sewing patterns are an excellent sample of Kelly's bold and playful work.
Patrick Kelly: Runway of Love runs through November 30th, 2014. Update: show extended to December 7th, 2014.