Happy Chinese new year! In honour of the Year of the Horse, here's a selection of equestrian sewing patterns from the 1920s to the 1990s.
Like tennis wear, modern equestrian wear begins in the 1920s. Before the First World War, women generally rode sidesaddle; equestriennes wore fashionably voluminous riding skirts designed to fall flatteringly on horseback, with breeches underneath. In addition to 19th-century Harper's Bazaar patterns for riding habits, the Commercial Pattern Archive's "Riding" category reveals a 1909 pattern for ladies' riding breeches (Butterick 3313), and two divided equestrian skirts from the early teens (Butterick 5792 and Pictorial Review 5003).
By 1920 the major American pattern companies were producing commercial patterns for women's jodhpurs—often called riding breeches. As the illustration at the top of this post shows, some women continued to ride sidesaddle, even into the 1930s, but I haven't found any modern patterns for sidesaddle riding habits.
1920s
Butterick 2255, circa 1920, is a pattern for a riding coat and breeches worthy of Lady Mary. The envelope specifies that the design is for cross saddle riding:
This 1920 McCall pattern for riding breeches shows the pattern diagram and instructions on the envelope (click to enlarge):
I have this 1923 jodhpurs pattern in my collection—for when I learn to ride, of course:
This McCall's illustration of a riding coat and breeches is from the same year, but it shows a different breeches pattern, as well as a more streamlined riding coat than a few years previous:
For more on 1920s equestrian wear see Unsung Sewing Patterns' posts on Butterick 4147, a pair of riding knickers, and Pictorial Review 1435 and 1438, a riding jacket and breeches.
1930s
Jodhpurs were not just for equestrian sports: they were the "trousers of adventure," worn for activities like driving, hiking and camping, safaris, and aviation. This early '30s illustration from Pictorial Review shows the latest sports styles, including beach pajamas and clothes for tennis and golf. The riding habit includes a sleeveless jacket or waistcoat (click to enlarge):
Butterick 5647 is a pattern for cuffed, fall-front jodhpurs with notched back waist and side and back pockets. Nabby at This Old Life made these for her vintage aviatrix costume (click image for post):
McCall 9412, from September 1937, looks to be a rare early pattern for western-style riding pants, with reinforced seat and inner leg. I'd love to see a better-quality image; this one was found in a lot on eBay:
Also from the late 1930s, Pictorial Review 9337 is a pattern for a tailored shirt and sleek pair of riding trousers:
1970s
Apart from children's equestrian patterns, I couldn't find any patterns from the major pattern companies that were specifically for riding until the 1970s, when western-style riding wear was in fashion. McCall's 4870 includes riding pants and a shirt-jacket with contrast, embroidered yoke and cuffs. The model is Angeleen Gagliano, who was a horsewoman in real life:
This Butterick pattern by Jane Tise shows the vogue for western shirts:
Vogue even had a his-and-hers western shirt pattern, Vogue 8973/8976 (the '70s-averse are advised not to click the links).
The influence of the western shirt is evident in this Halston dress with scalloped yoke:
1980s
Many of you will remember the 1980s jodhpurs trend, when you could dress for English-style riding far from any stable. Exhibit A is New Look 6013:
There were also faux jodhpurs—pleated, tapered pants like those in Burda 5332 or McCall's 2077.
Gianni Versace and Claude Montana both showed jodhpurs in the '80s, but unfortunately Vogue Patterns doesn't seem to have released any patterns for them. Just for fun, here's a Lord Snowdon photo of aristocrat Angela Rawlinson in a jacket and tweed jodhpurs by John McIntyre:
1990s
Little Vogue 7876, with its young model leaning on a stone balustrade, is interesting for showing the social ambition associated with horseback riding. The jodhpurs are a little loose for actual riding (the similarly styled Vogue 7842 also has a looser fit):
With the advent of stretch fabrics, riding pants no longer needed lots of room in the upper leg. These jodhpurs by Calvin Klein have a sleeker fit that's more in line with late 20th-century equestrian wear. They come with detachable stirrups, and may be made in synthetic suede: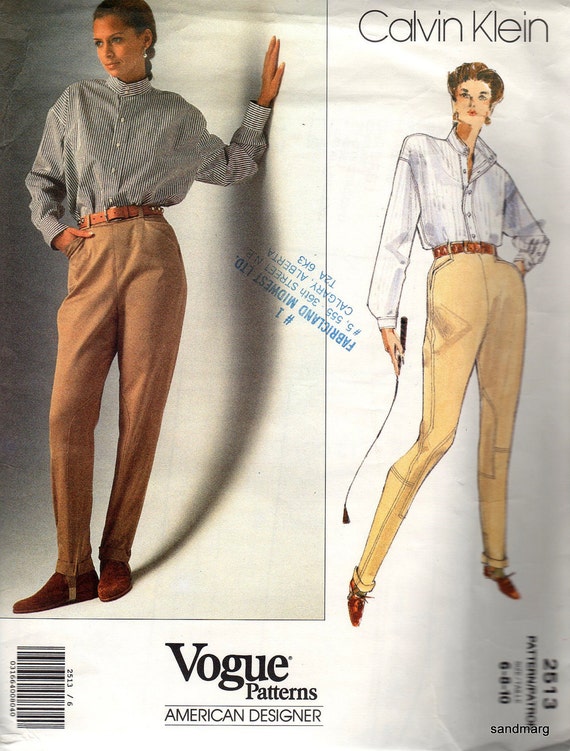 McCall's 6737's riding pants are for stretch fabrics, reinforced with leather or ultrasuede in the seat and inner leg. The pattern also marks a return to the waistcoat:
Vogue 1655 by DKNY brings us full circle: the riding-style jacket was photographed in traditional scarlet at a country estate: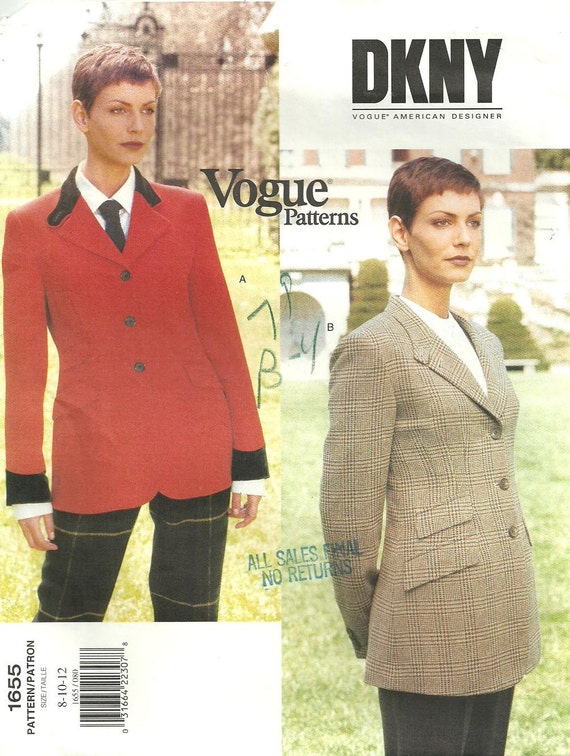 For more on the history of women's equestrian wear see Mackay-Smith, Druesedow, and Ryder's Man and the Horse: An Illustrated History of Equestrian Apparel (Simon and Schuster, 1984), which was published to accompany the Polo/Ralph Lauren-sponsored Costume Institute exhibit held from December, 1984 to September, 1985.
If you'd like to sew your own sidesaddle riding habit, reproductions of early French magazine patterns for costumes d'amazone (women's riding habits) are available from eBay shop Au fil du temps. For a modern equestrian look, Folkwear's Equestriennes pattern, Folkwear 506, includes a riding jacket, waistcoat, and jodhpurs based on garments in the collection of the Costume Institute.
Special thanks to Naomi for acting as my in-house equestrianism consultant.