Wimbledon kicks off today. In honour of the world's oldest tennis tournament, here's a selection of patterns for playing the most fashionable sport.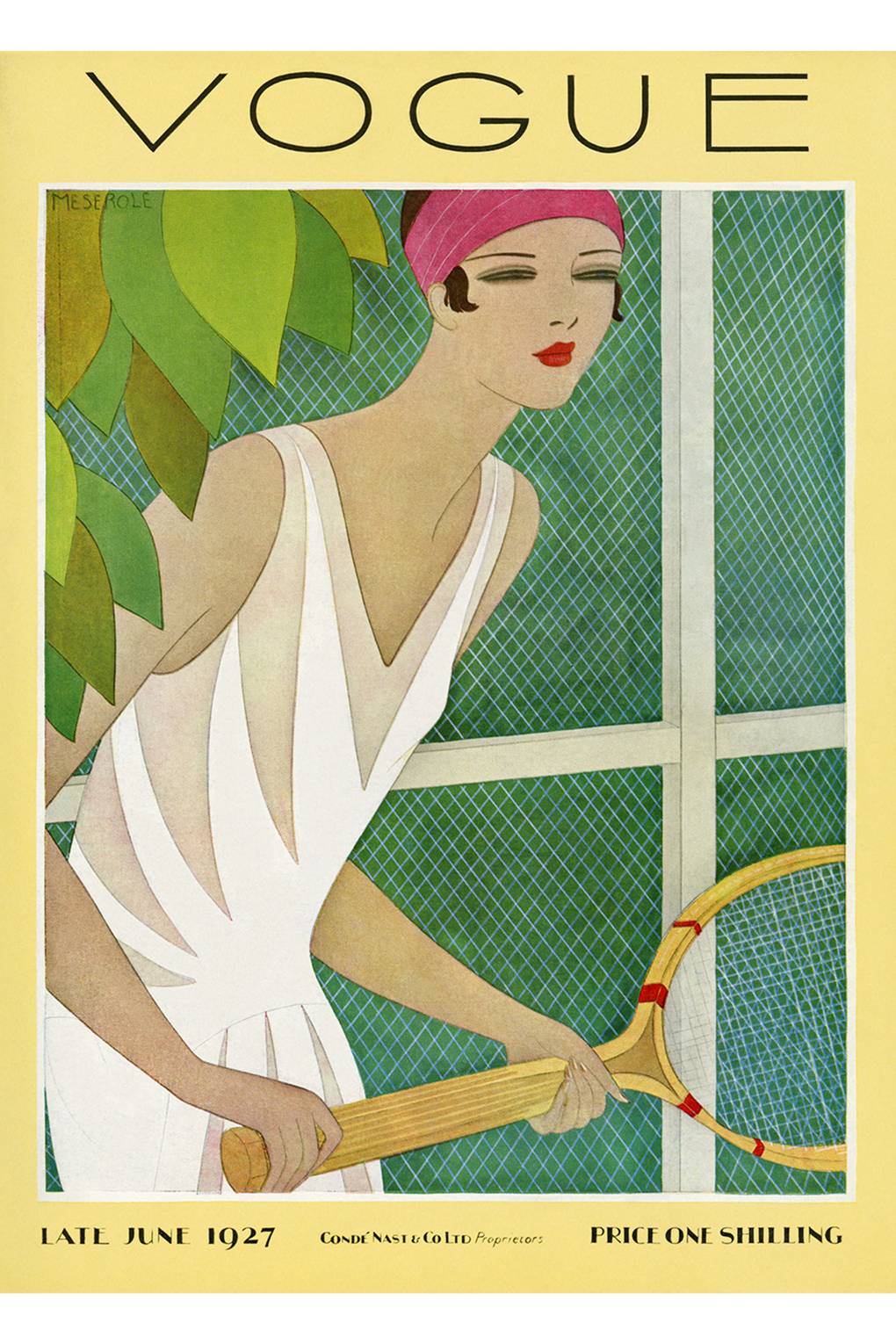 Modern tennis fashion really got underway in the 1920s, when tennis became a popular leisure activity and couturiers like Chanel, Patou, and Vionnet designed tennis wear to meet the demand for fashionable luxury sportswear. (For more on '20s tennis fashion see the Voguepedia article Tennis Dressing.)
Typically, sewing patterns for tennis outfits show a woman holding a tennis racquet. The Deco cover of the McCall Style News shown at the top of this post portrays McCall 5277 as a dress for tennis, but the pattern envelope doesn't advertise its suitability for sports. The illustration simply shows a day dress with the skirt pleated in front; the handkerchief collar and scarf girdle are optional:
In the early 1930s, sports dresses had lower hemlines, but could be worn unbuttoned in the back, like this McCall's sports dress from 1933:
This pattern was illustrated on the cover of the Spring 1934 McCall Fashion Book:
Playsuits and shorts became fashionable tennis wear after American tennis champion Alice Marble wore shorts to a professional match in 1932. These McCall's sports separates include a tennis outfit with high-waisted shorts:
Lauren of Wearing History has made the McCall 9180 trousers; you can see a photo by clicking the pattern image.
The 'masculine' shorts trend continued into wartime, which also saw a return to the sports dress. This Advance tennis dress has a front zipper and inverted pleat, and includes panties for underneath: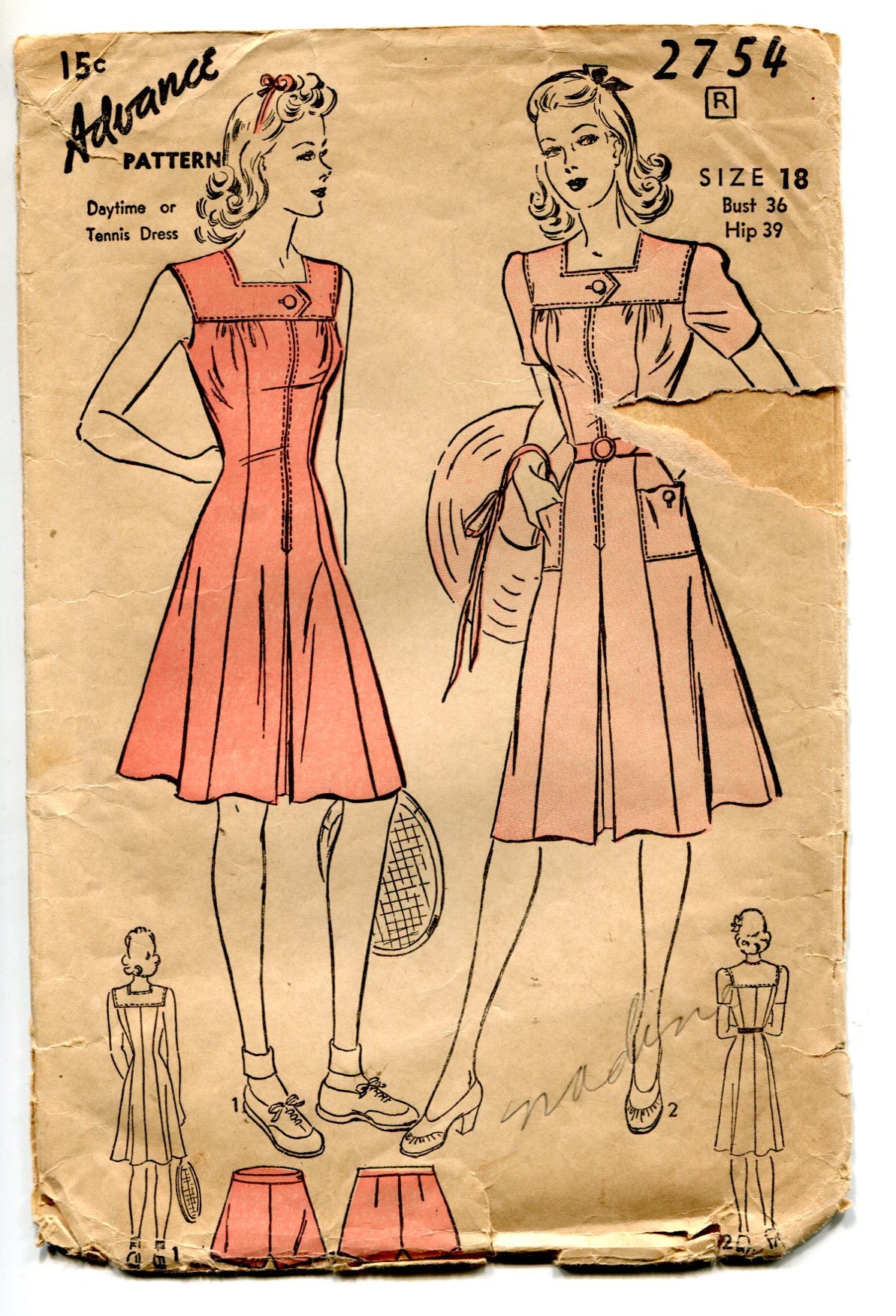 In the postwar period tennis dresses or skirts, pleated or plain, became the standard tennis wear. The silhouettes reflected current trends, but with higher hemlines, as with this tennis dress with pleated skirt and cinched waist:
This Vogue tennis dress is a shorter version of the day dress also included in the pattern (check out the vintage camera):
Tennis hemlines are rising with these Vogue sports separates, which include a sleeveless blouse, shorts, and tennis skirt:
More perky pleats on this early 1960s tennis dress from McCall's:
The popularity of tennis in the 1970s prompted the release of a wide variety of tennis patterns, for dresses, visors, and even racquet covers and other accessories. Vogue Patterns licensed tennis wear from Anne Klein, Penfold, and Anne Klein for Penfold (illustrated on the June 1976 news cover here). These Vogue Patterns magazine covers show an Anne Klein tennis outfit in action and Regine Jaffrey modelling a Vogue tennis shirt and visor:
Butterick licensed designs by women's tennis champion Chris Evert, including this pattern for a tennis dress, briefs, and visor:
Karen Bjornson models this Penfold set consisting of a sleeveless tennis dress, t-shirt, shorts, and wrap miniskirt:
It's interesting how the history of women's tennis wear is a history of female athletes pushing the envelope: from May Sutton Bundy's rolled-up sleeves, in 1905, and Suzanne Lenglen's higher hemlines, to Alice Marble's shorts and Serena Williams' recent subversion (with hot pink briefs) of the rule of Wimbledon whites. (See a Guardian Wimbledon slideshow here and Vogue's tennis slideshow here.) Women's tennis fashions insist on femininity while offering an escape from modesty.