Today is Byron Lars' birthday. In lieu of cake, here's a look at his work with Vogue Patterns.
Born in California, Byron Lars (b. 1965) studied at the Brooks Fashion Institute and New York's Fashion Institute of Technology before dropping out to pursue freelance work; he was already an award-winning fashion illustrator when he launched his own label in 1991. His playful yet beautifully cut designs were an instant success—twists on American sportswear shown with cheeky accessories like duck-decoy purses. In a 1993 interview, Lars cites Patrick Kelly and Jean Paul Gaultier as inspirations for his approach. (See Greg Tate, "Byron Large.")
In the mid-1990s, Vogue Patterns licensed a number of Byron Lars designs in the Vogue Attitudes line. Lars was introduced to readers in the July/August 1994 issue of Vogue Patterns magazine:
The first two patterns, Vogue 1419 and 1420, were modelled by Louise Vyent and photographed by Torkil Gudnason (click to enlarge):
Vogue 1419 is a pattern for a skirt, high-waisted pants, and a jacket with exposed zippers and Lars' signature, waist-defining tie-front:
Vogue 1420 presents three versions of Lars' take on the traditional men's shirt: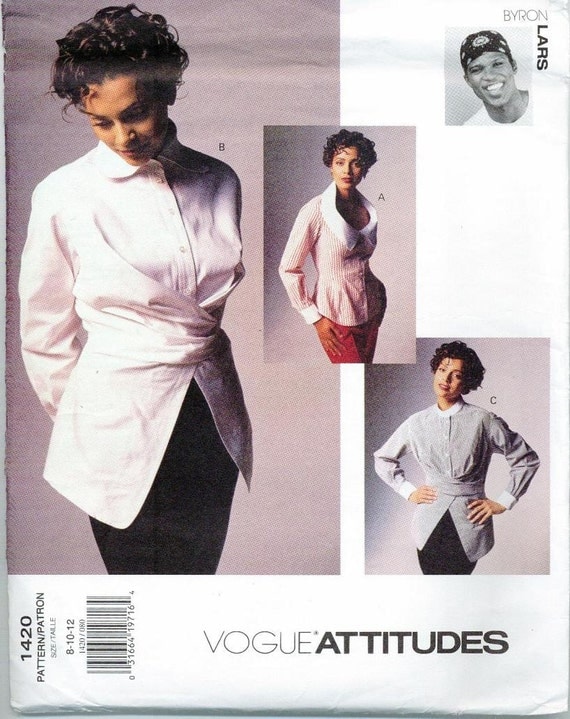 Here the twist becomes an asymmetrical, pleated drape on a tailored dress:
From 1995, Vogue 1529 includes leggings and a flared shirtdress with bustline tie detail. The silhouette is similar to that seen in the Ruven Afanador photo that opens this post: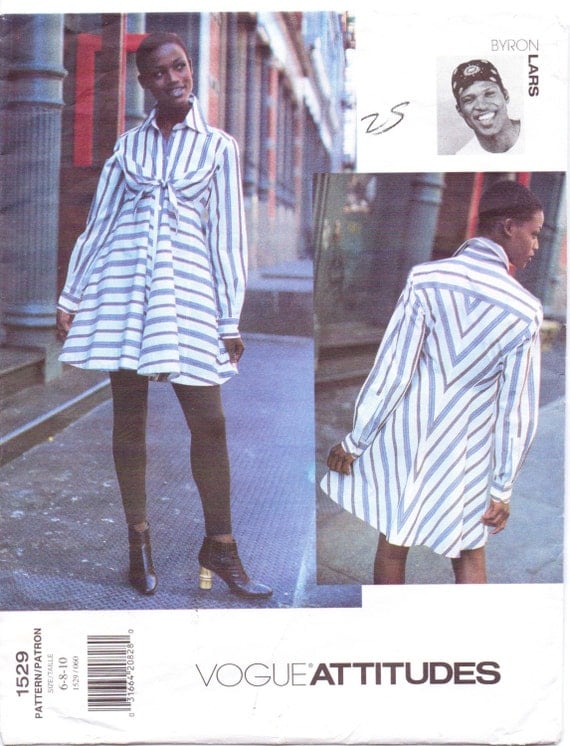 Vogue 1620 provides three more variations on the Byron Lars shirt: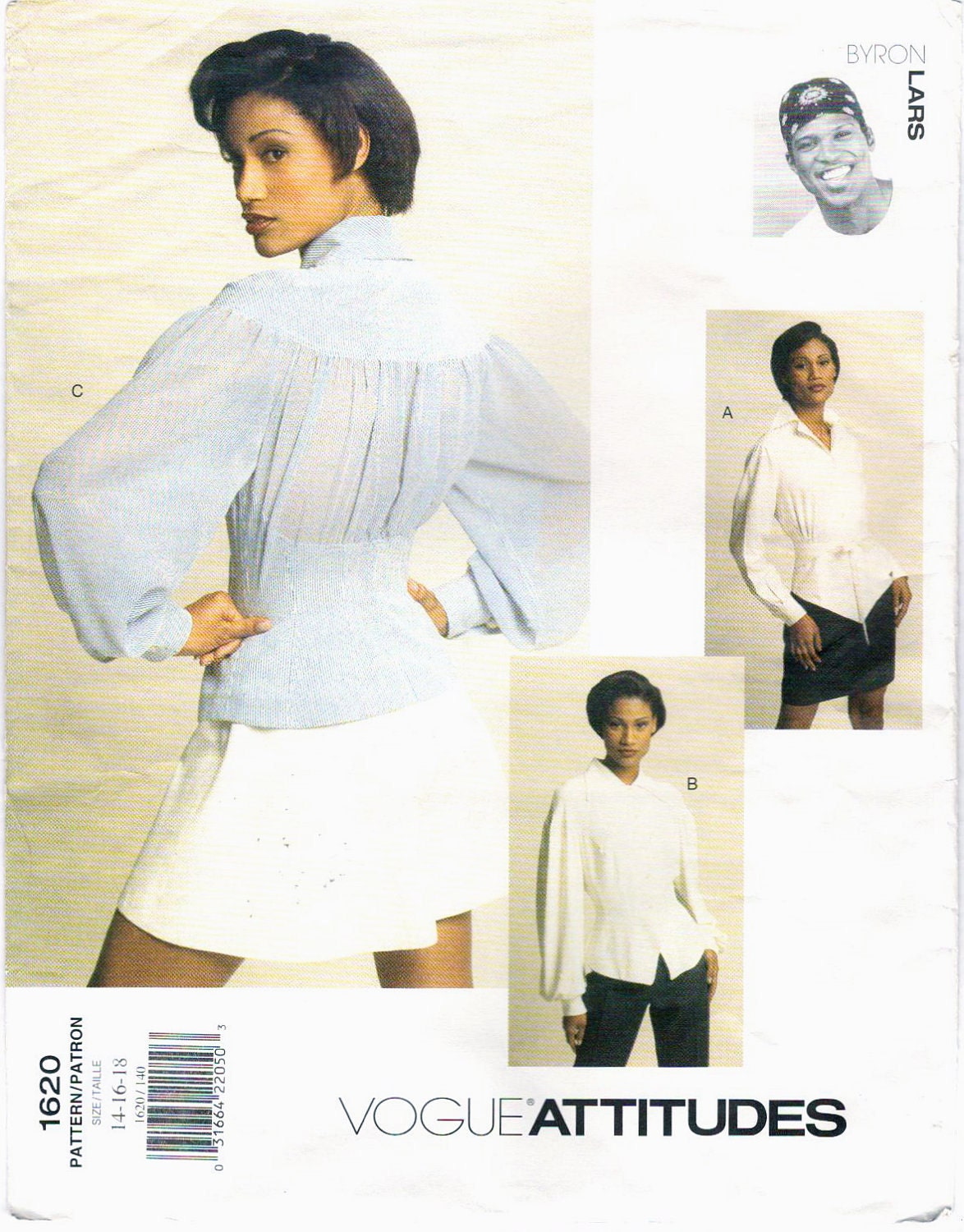 Vogue 1621 includes two tie-front shirtdresses and a top for lightweight, dressier fabrics, as well as high-waisted pants: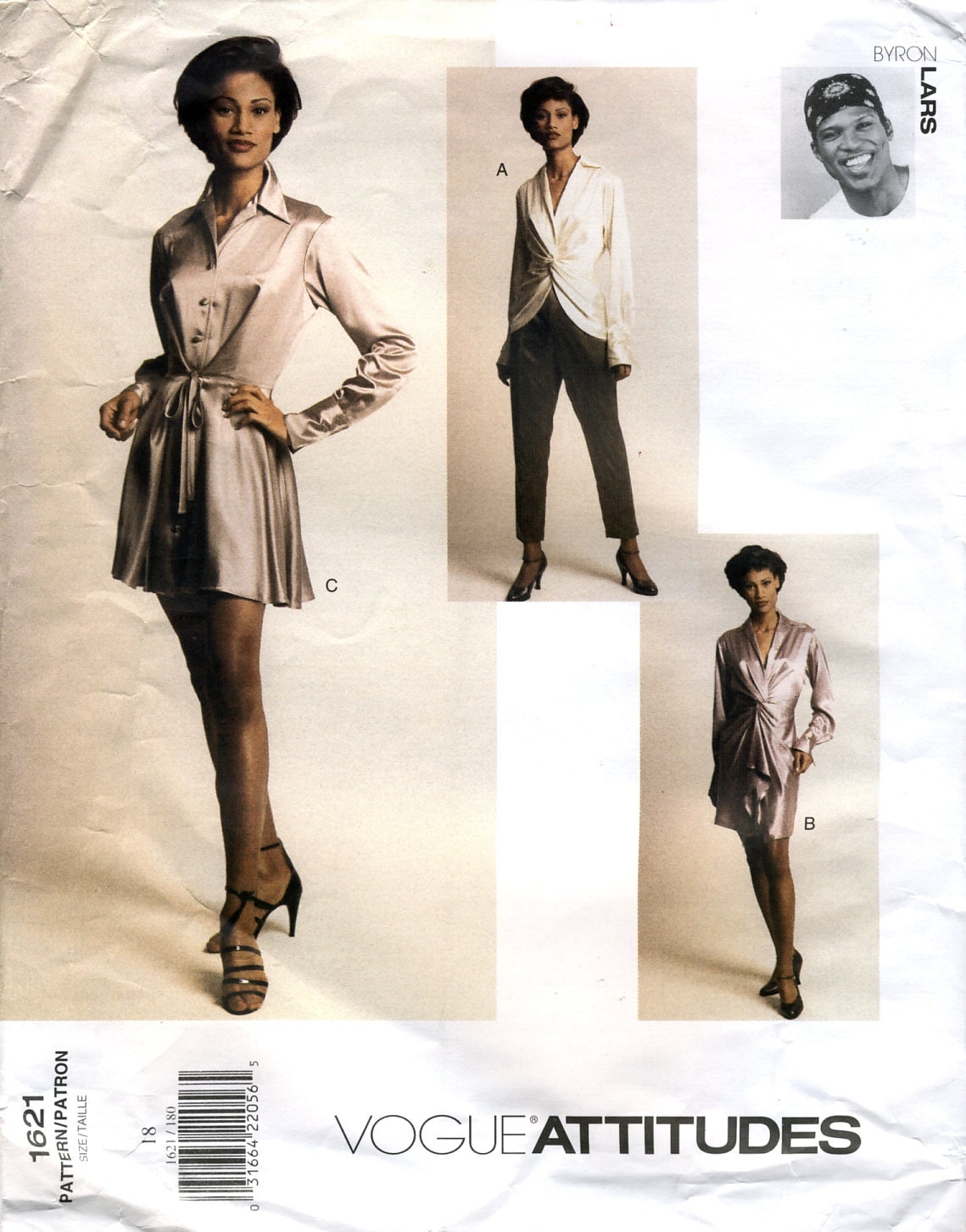 In Vogue 1653, Lars pairs tapered pants with a fitted jacket with built-up neckline, exposed zippers, and dramatic back drape: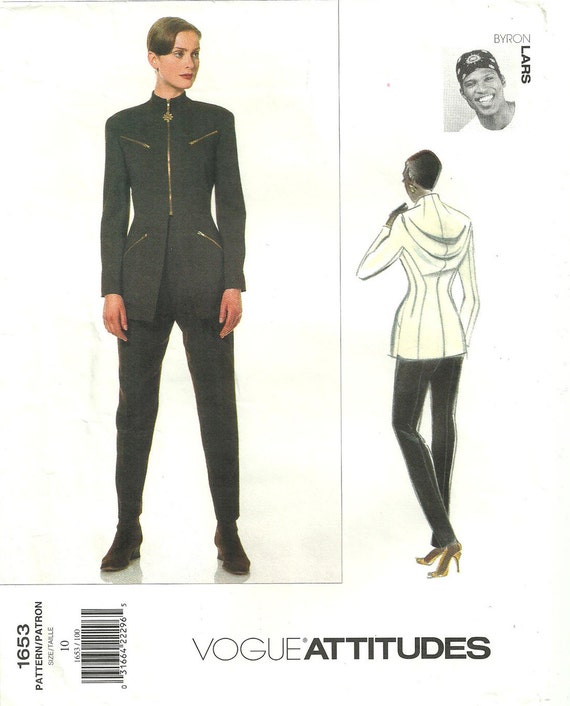 Vogue 1701's fitted dress for stretch knits was photographed at the Strand's Central Park kiosk. The pattern includes the contrast belt, which is angled to pass through the skirt's front drape: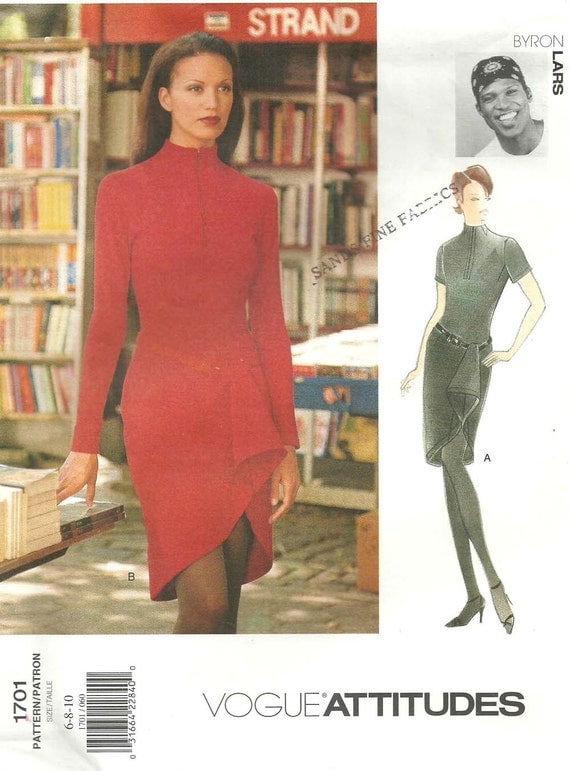 The jacket of this skirt suit has a surprise contrast back in synthetic suede or leather:
You may have seen Erica Bunker's version of Vogue 1846. This shirt can be made as a wrap-front with optional contrast cuffs and collar, or with a contrast dirndl bodice:
Finally, two more fashion photos: the closing shot from Ruven Afanador's Byron Lars portfolio in the premiere issue of Vibe magazine, and a runway image from Lars' Fall 1994 collection.
By request of Clare Nightingale.