Can you believe the early-nineties revival in fashion right now? We remember Marc Jacobs' 'grunge' collection for Perry Ellis as a turning point in '90s fashion. It's easy to forget that Jacobs had been designing for Perry Ellis since the late 1980s. It was Perry Ellis who persuaded Jacobs to enrol at Parsons and, before his death, Ellis had said he wanted Jacobs and his business partner, Robert Duffy, to join his company. Jacobs and Duffy were hired in 1988, and Jacobs presented his first collection for Perry Ellis, for Fall 1989, at the Puck Building in Soho.
Vogue Patterns' licensing agreement with Perry Ellis lasted into the 1990s: the company's Perry Ellis patterns from the 1990s represent some of Marc Jacobs' earlier work. Here's a selection of Perry Ellis patterns by Marc Jacobs from the early '90s.
A dress from Marc Jacobs' 1989 Resort collection for Perry Ellis made the cover of Vogue magazine (see above). Vogue 2475 has the same yellow and white stripes (is that Carla Bruni?):
The March/April 1990 issue of Vogue Patterns magazine included an interview introducing Marc Jacobs, accompanied by an editorial shoot showing two Perry Ellis patterns, Vogue 2474 and 2475:
Update: the young Marc Jacobs could also be seen in the counter catalogue:
These two patterns from 1991 also have a 'resort' feel: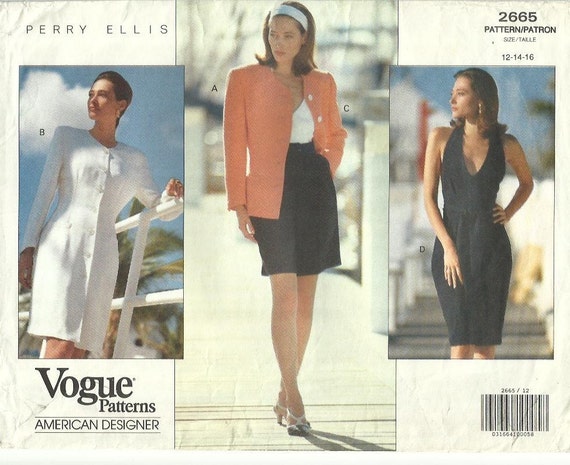 Update: As seen on the cover of the retail catalogue:
Vogue 2475's yellow stripes were also seen in the Spring 1991 collection, and stripes made a reappearance the following spring. Here are collection images for Marc Jacobs' Spring 1991 and 1992 collections for Perry Ellis (presented in 1990 and 1991):
This pattern for daywear separates with colour blocking looks more like a Fall/Winter design (the companion pattern was Vogue 2759):
Here's the collection image for Marc Jacobs' Fall 1990 collection for Perry Ellis:
(A free knitting pattern is available for the New York skyline sweater at VogueKnitting.com.)
In retrospect, the headline for Vogue Patterns' 1990 interview—"Marc Jacobs: Doing it his way"—is ironic considering the circumstances of the designer's firing after his Spring 1993 collection for Perry Ellis. You can see more early Marc Jacobs designs for Perry Ellis in L'Officiel 1000 modèles' 2012 hors-série issue devoted to Marc Jacobs.