In celebration of Royal Ascot, which begins today, this post is devoted to millinery designer Patricia Underwood.
Patricia Underwood (b. 1947) was born near Ascot in Maidenhead, England. After moving to New York City in the late 1960s, she took a millinery course at FIT on a whim; by 1976 she had founded her own company. Underwood is known for minimalist, updated versions of traditional hat styles.
As well as designing for her own label, Underwood has designed hats for major American designers such as Bill Blass, Perry Ellis, Marc Jacobs, Donna Karan, Calvin Klein, Ralph Lauren, and Oscar de la Renta. The milliner has also designed for film and theatre. Her career is the subject of a new book, Patricia Underwood: The Way You Wear Your Hat (Rizzoli, 2015).
Patricia Underwood has had a licensing agreement with Vogue Patterns since the mid-1990s. The earliest Patricia Underwood pattern I've seen is Vogue 9082, a pattern for five lined hats and two ascots. View A has a contrast under-brim in faux fur: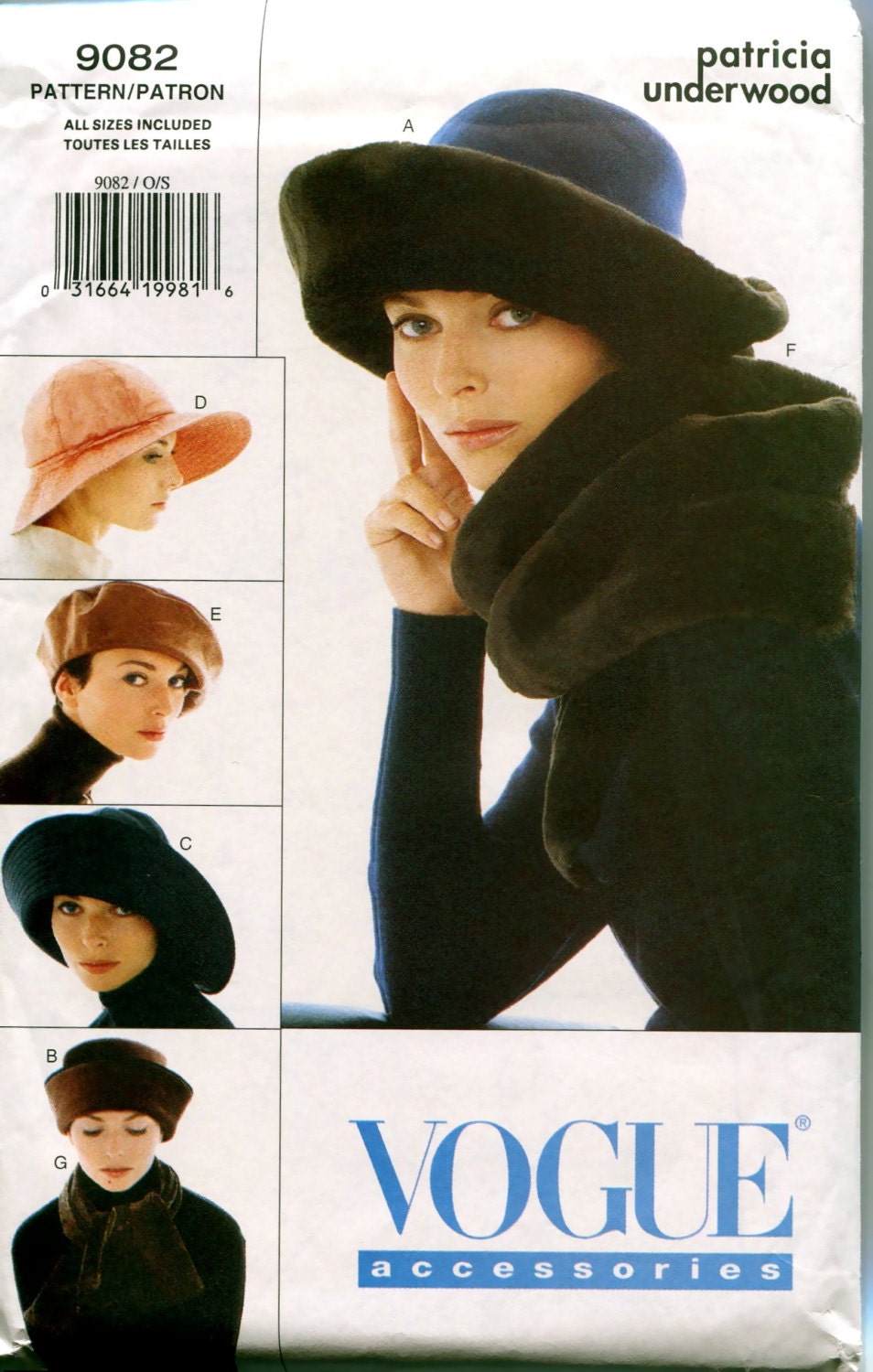 Vogue 9207 includes five hats and a shawl. Views A and B have Underwood's signature broad brim, while view E is a turban for stretch knits:
Bridal millinery pattern Vogue 7242 has a variety of headpiece and veil combinations, as well as a headband, hair ornament, and floral wreath:
Vogue 8844 includes four day styles of hat; View A can be worn like a trilby, with upturned back brim. The recommended fabrics are nylon, ripstop, velvet/velveteen, tweed, wool/wool blends and synthetic suede:
Recent pattern Vogue 8891 includes five more formal styles, all lined in tulle: a cloche, wide and smaller brim hats, and a fascinator (view C) like a miniature pork pie hat. This pattern is still in print:
For more on millinery patterns, see my previous Ascot posts on Frederick Fox and Stephen Jones.