Yves Saint Laurent's Fall/Winter 1965 collection, inspired by the abstract paintings of Piet Mondrian and Serge Poliakoff, included one of the most iconic garments of the twentieth century: the 'Mondrian' dress. David Bailey photographed the multicolour Mondrian dress for the cover of Vogue Paris' 1965 September issue, and Saint Laurent's Mondrian designs spawned countless knockoffs, including sewing patterns and knitting patterns. Today, Yves Saint Laurent Mondrian dresses may be viewed in museum collections such as those of New York's Metropolitan Museum of Art, the Victoria and Albert Museum, and the Los Angeles County Museum of Art. (On the construction of the Mondrian dress and on fashion inspired by modern art, see the posts by Couture Allure and oh mighty!)
In early 1966, Vogue Patterns introduced Yves Saint Laurent with five pieces from the "Mondrian et Poliakoff" collection. The designs were photographed in mid-century splendour at Knoll International, Paris by Richard Dormer. The first page of the Vogue Pattern Book editorial shows model Merle Lynn standing before a 1954 Florence Knoll lounge chair:
Vogue Patterns chose a simple, red-accented Mondrian dress for the highly sought-after Vogue 1557:
The photos of Vogue 1567, a dress and coat, show a 1955 Tulip Chair by Eero Saarinen (hair by Alexandre of Paris):
And the last page of the editorial shows what looks like one of Knoll's signature textile wall panels:
The pattern envelopes show different, colour images from Dormer's shoot. Here are Vogue 1556 and Vogue 1557 (see Paco Peralta's blog posts here and here for more images):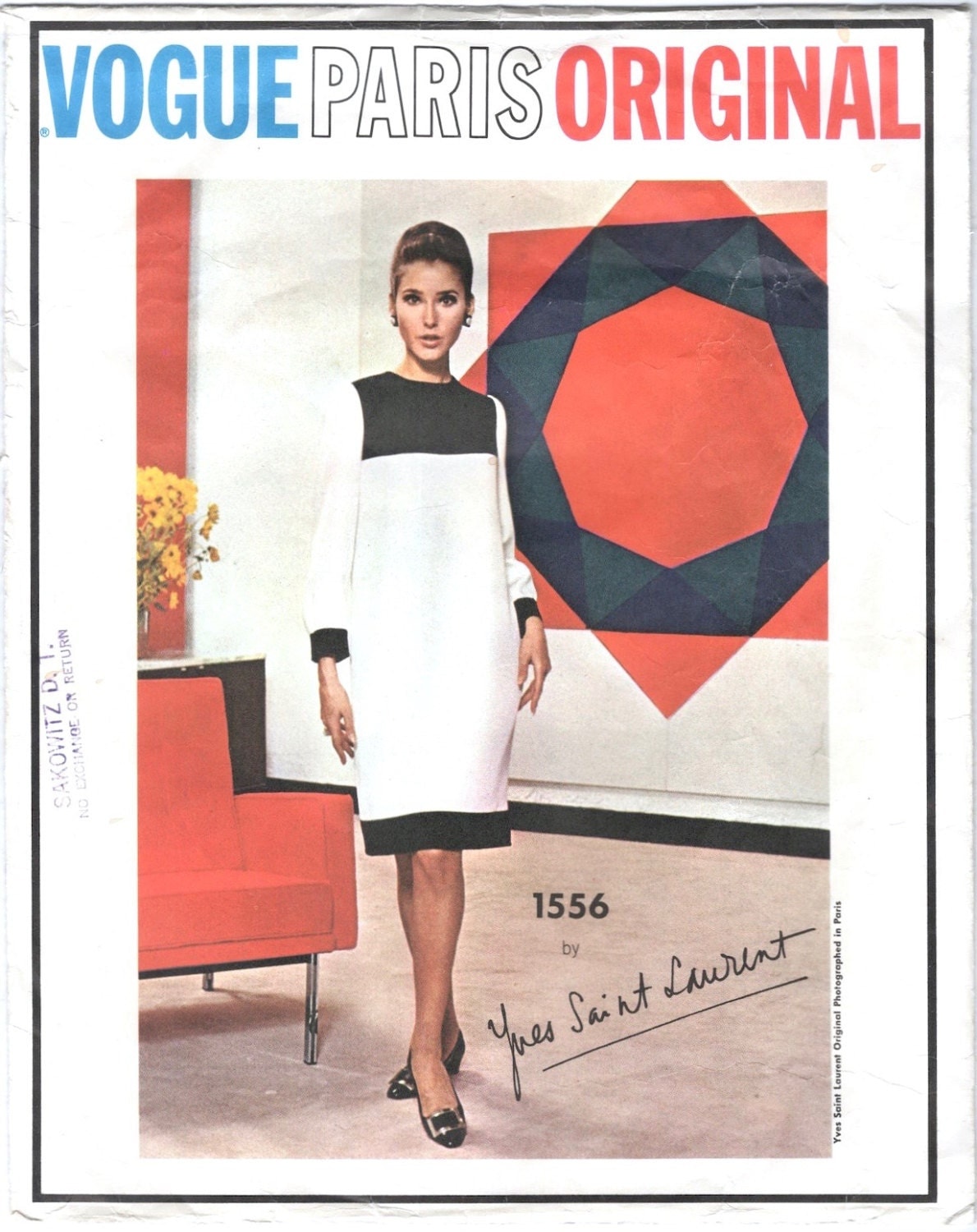 The description reads: One-piece dress. Sleeveless shift has narrow, contrasting inserts around the hem, down center back, and crossing high in front to create a yoke.
Richard Avedon photographed Jean Shrimpton in this Mondrian dress for his final issue at Harper's Bazaar:
Irving Penn photographed Veruschka in the same dress for British Vogue (via Magdorable; see her recent post for more photos):
You can see a photo of Veronica Hamel in the same dress here. (Thanks to Paco Peralta for alerting me to these last two images.)
The Vogue 1567 envelope gives a better view of the Tulip Chair:
Here's the description: One-Piece Dress and Coat. High-waisted dress has contrasting bodice with high band collar, a button-trimmed inset, and sleeve banding to match gathered skirt. Self belt. Long sleeved, double-breasted coat with yoke seam has wide, button-trimmed belt and pockets in seams. Trim stitching.
And the bold teal of the wall panel may be seen on Vogue 1569 (I haven't been able to find a pattern image for the fifth pattern, Vogue 1571):
The description reads: Suit and Blouse. Long sleeved, slightly fitted jacket has wide hem band and optional purchased or self belt. Trim stitching. Tuck-in blouse has high shaped neckline, squared-off armholes, and welt pockets. Gathered skirt has pockets in seams and optional purchased or self belt.
Vogue 1557 and 1569 were both featured on the cover of the Vogue Patterns counter catalogue:
Illustrations of Vogue 1557 were also commissioned for the monthly Vogue Pattern Fashion News (more illustration scans posted by Damn Good Vintage—click the image for the post):
Although Yves Saint Laurent's Mondrian collection was inspired by modern art, Vogue Pattern Book's editorial at Knoll situates pieces from the collection in the context of modern design. The editorial is interesting, both for how it frames the designer's garments and how it ignores his celebrity. The designer's name is prominent on the news booklet and first counter catalogue—arguably more overtly promotional publications. But the name Yves Saint Laurent is not included on the magazine's cover or even mentioned in the Editor's letter; there's no photo, no bio like those we see in later decades. The emphasis is firmly on the designs and their place in contemporary visual culture.
Next: My version of Vogue 1556.