Happy Walpurgisnacht! On the eve of the feast of St. Walpurga, here's a look at gothic sewing patterns.
Recent fashion exhibits have placed the gothic under increasing scrutiny. In 2008, the Museum at FIT presented Gothic: Dark Glamour. In 2014, the Costume Institute had Death Becomes Her: A Century of Mourning Attire. Now there's Gothic to Goth: Romantic Era Fashion and Its Legacy, an exhibition at the Wadsworth Atheneum Museum of Art in Hartford, Connecticut, accompanied by a catalogue by curator Lynne Z. Bassett and a talk by Valerie Steele. For more on the show, see Susan Hodara, "The (Forever) New Romantics."
1980s
With the advent of goth—or the New Romantics—in the late 1970s, fashion in a gothic mode began to show the influence of both romanticism and contemporary subculture. Nina Ricci's romanticism turned dark in the early 1980s. I like to picture Vogue 2582 with granny boots and Siouxsie Sioux hair: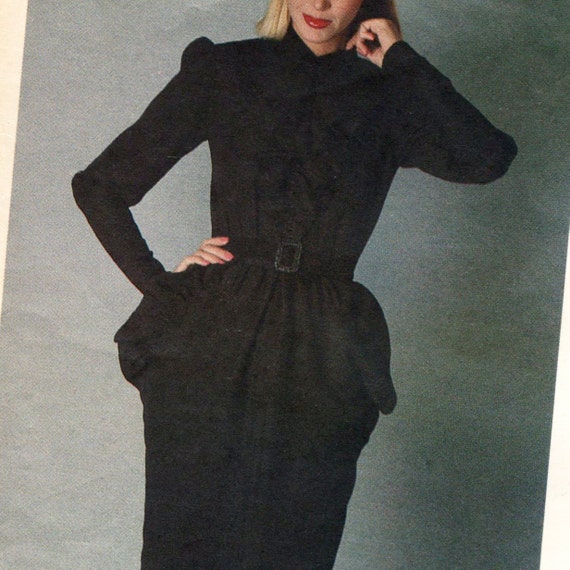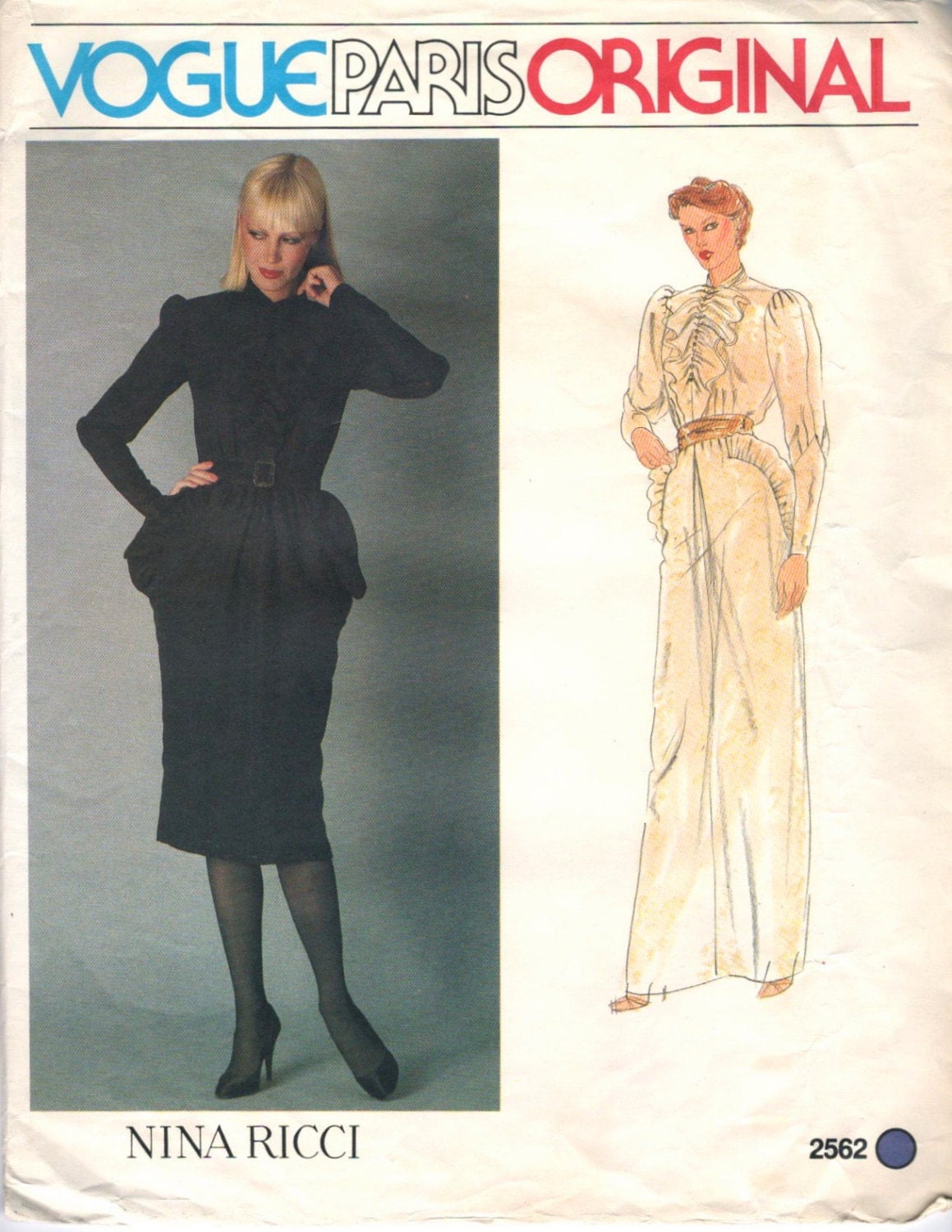 Vogue 2604, a floor-length strapless gown with attached sleeves, has a more Countess Bathory feel. The ruffle-trimmed version of Vogue 2604 was featured on the cover of Vogue Patterns' holiday issue:
These early '80s editorial photos convey the dark romantic mood:
Later in the decade, the fashionable oversized silhouette and low hemlines could express a moody romanticism. From Esprit, Simplicity 6978 is a loose jacket and long, full skirt. Shown in black, the ensemble is very Lydia from Beetlejuice:
1990s
Judging from Vogue's September issues for 1993, Fall '93 marked a return to the lusher side of romanticism.
Donna Karan's Fall collection (presented just days after Eiko Ishioka won the costume design Oscar for Bram Stoker's Dracula) featured lace accents, choker and cross accessories, and lots of black. Vogue 1293 is a long dress consisting of a body with attached, high-waisted skirt:
Similar Donna Karan dresses opened a British Vogue editorial shot by Mario Testino at Bolton Abbey, Derbyshire (headpieces by Slim Barrett):
This cold-shoulder gown must be from the same collection:
In the later 1990s, Anna Sui showed a fall collection inspired by goth subculture. From Fall 1997, Vogue 2072 combines a historicizing, Vivienne Westwood-style mini-crini with club-kid accessories. The dress was worn by the young Sofia Coppola (previously seen in my Anna Sui series and '90s goth post):
Another element in the romantic/gothic repertoire is tzigane or 'gypsy' looks. From Yves Saint Laurent Rive Gauche for Spring 1999, Vogue 2330 is a long, flowing, off-the-shoulder dress. The envelope shows a mourning-appropriate mauve, but it was also shown in sheer black:
Spring 1999 was Yves Saint Laurent's last collection for Rive Gauche, and Mario Sorrenti's valedictory advertising campaign for that season references great European paintings. Here the archetypically enigmatic Mona Lisa, dressed in black Rive Gauche, poses with a male model with Asian tattoos:
Finally, in the late 1990s, Simplicity licensed designs from Begotten, a historically-inspired clothing line designed by Dilek Atasu. The patterns included a cape (S8987) and men's poet shirt (S8615). Simplicity 8619, an empire gown with optional lower sleeve flounce, channels Mary Shelley:
In the 2000s, gothic sewing patterns shift away from mainstream fashion toward subcultural costume for "our own Romantic Revivals: Goth, that pas de deux with death, and Steampunk, a mating of Queen Victoria and Thomas Edison."* Hammer Horror fans have "gothic costumes" McCall's 3372 and McCall's 3380; cybergoths can make dusters based on the costumes in The Matrix (1999) (Simplicity 5386, etc.); and Arkivestry and its offshoots cover everything from old-school gothic heroine to Loli to Steampunk.
Meanwhile, a gothic trend is predicted for Fall 2016. Are you ready?
* Laura Jacobs, Gothic to Goth exhibition review.