This year marks the centennial of the beginning of World War 1. In honour of Armistice Day, this post looks at commercial sewing patterns associated with the First World War.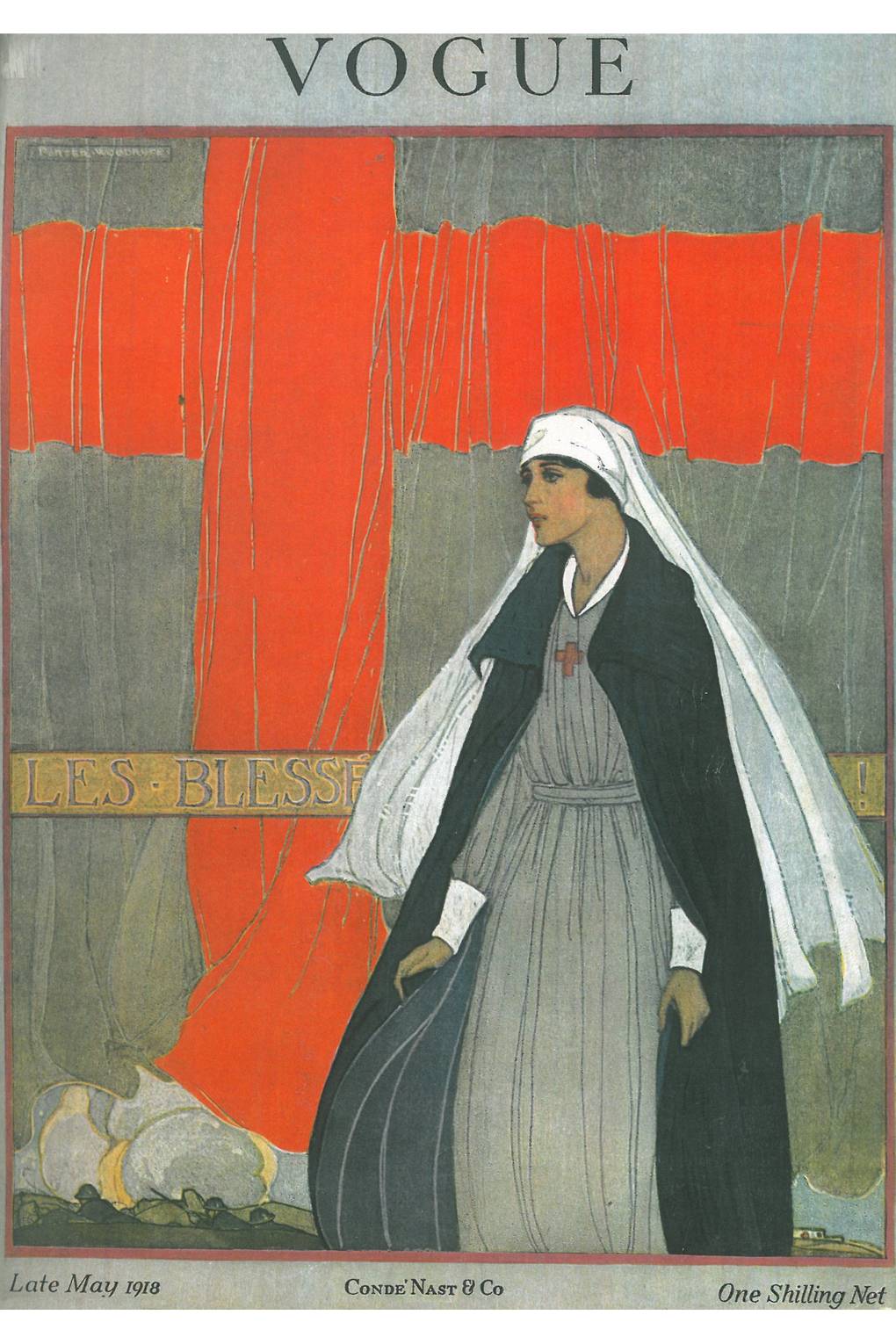 This illustration from the July 1917 issue of McCall's magazine shows McCall patterns suitable for war work: a nurse's uniform, apron, and cap, and outdoor workwear including women's overalls (patent pending):
Official Red Cross patterns exemplify the volunteer production of clothing and medical supplies that formed part of the war effort. American Red Cross patterns were published by multiple American pattern companies, while in the U.K., British Red Cross sewing and knitting instructions were available in several books by Emily Peek.* In Canada, volunteers sewing for the Canadian Red Cross may have used both British and American resources.
The McCall Fashions for February 1918 gives a list of American Red Cross patterns for garments to be used in hospitals and refugee camps; the cover illustration shows three women dressed "For the visit to the camp":
The inside front cover lists two types of official American Red Cross pattern: "for the relief of refugees and repatriates in the war-stricken countries, particularly in France and Belgium" and for hospital garments. The illustrations show an infant's layette, unisex children's cape, reversible bed jacket, and trench foot slipper (click to enlarge):
Update: Weldons, the British pattern company, had similar patterns "for our troops":
A news article from June, 1918 discusses the most needed hospital garments and supplies corrections for two refugee garment patterns. It seems the "helpless case shirt" (for patients with arm injuries) was available in two versions:
(Full archived version here.)
Andrea of Unsung Sewing Patterns has a copy of the "helpless case shirt," Red Cross 35—more sensitively called a taped hospital bed shirt:
(See Unsung Sewing Patterns for more Red Cross refugee patterns.)
A 1917 article in McCall's magazine describes the Red Cross relief effort and seven new patterns for hospital work. It presents sewing as an alternative to nursing, for which fewer women were qualified, arguing that "[s]ewing may not seem to many as romantic as nursing the wounded upon the battlefield, but without it the nursing might be useless." Interestingly, official American Red Cross patterns were at first distributed through the organization's national headquarters, but later became available directly to the public (click to enlarge):
On the right, readers found descriptions of the new patterns, accompanied by photographs showing Red Cross officials Jane A. Delano and Clara D. Noyes, and women in a Red Cross chapter at work:
The illustrations of the new patterns seek to include the Red Cross sewing effort in the romance of nursing. Here a nurse serves a meal to a patient who is wearing McCall Special C, a hospital bed shirt:
McCall Special P is a pair of pajamas:
To be made from one or two blankets, McCall Special O is a bathrobe or convalescent gown:
McCall Special R is a Red Cross Surgeon's and Nurse's operating gown—a unisex medical uniform available in two sizes:
The illustration of the Red Cross nurse also shows the McCall Special S operating helmet:
The Commercial Pattern Archive has both sizes of McCall Special R its collection. The larger is reproduced in Joy Emery's new book:
Do you have any World War I patterns in your collection?
* Seligman, Cutting for All! (Southern Illinois UP, 1996), pp. 123-24, cited in Emery, A History of the Paper Pattern Industry (Bloomsbury, 2014), p. 91. A digitized version of Emily Peek, Practical Instruction in Cutting Out and Making Up Hospital Garments for Sick and Wounded: Approved by the Red Cross Society (British Red Cross Society, 1914), is available through the University of Southampton.