In celebration of Canada Day, this post is dedicated to the late Arnold Scaasi.
Arnold Scaasi (1930-2015) was born in Montreal as Arnold Isaacs. (Scaasi is Isaacs backwards—depending who you ask, the designer changed his name either to sound more Italian or less Jewish.) His father was a furrier, his mother had studied opera, and his glamorous, Schiaparelli-loving Aunt Ida was an early inspiration. He studied in Montreal and Paris, at the Cotnoir-Capponi school and the Chambre Syndicale, then worked at Paquin and Charles James in New York before launching his own business in 1956.
Scaasi was best known for his opulent evening wear, custom-made for society and celebrity clients who appreciated the drama of his sculptural silhouettes, luxurious materials, and flamboyant use of colour. In 2002, the Museum at FIT mounted the retrospective Scaasi: Exuberant Fashion and, following his retirement in 2010, the Museum of Fine Arts, Boston hosted Scaasi: American Couturier, an exhibition structured around his couture clients.
Scaasi lost no time in pursuing pattern licensing. These Scaasi Spadea patterns date to 1956:
A few decades later, Claire Shaeffer covered Scaasi's couture techniques for Threads magazine:
It was only in the early 1990s that Scaasi licensed his work with Vogue Patterns. The designer was introduced in the November/December 1993 issue of Vogue Patterns with three patterns. The first, Vogue 1285, is a low-backed cocktail or evening dress with sheer contrast:
This formal ensemble includes two-layer palazzo pants for chiffon or georgette and a top for scalloped lace: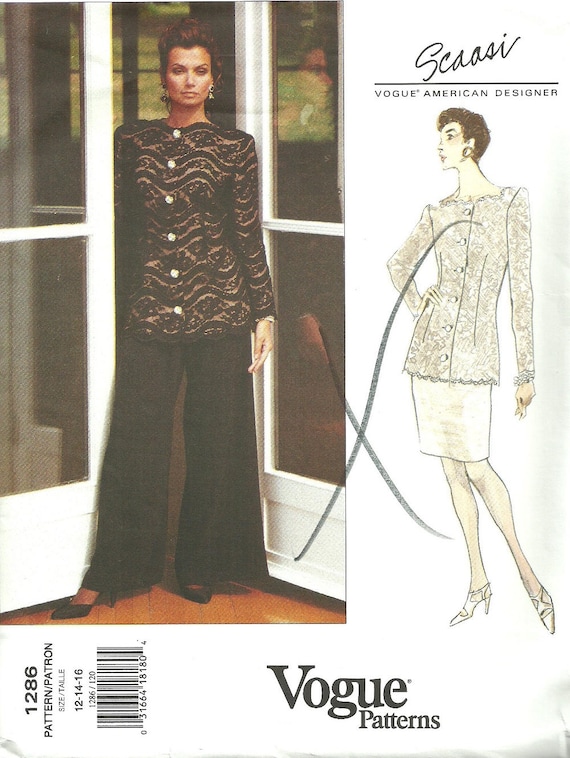 Vogue 1287 is a collarless skirt suit with caftan-style side slits:
From spring, 1994, this dress is shaped by long darts in front and back and trimmed with a flounce:
Finally, Vogue 1377's dress has a boned bodice and slightly off-the-shoulder neckline. The original's striped fabric was cut on a creative layout:
(Seldom seen, but there is a copy at Sew Exciting Needleworks.)
In 1991, Scaasi told The Canadian Press, "When I left Canada some 30 years ago, there was no room for creative talent in dress design. At that time, the only way to really make it was to go to the United States." A New Yorker from 1951, he met his partner, Parker Ladd, on Central Park South in the early 1960s; they married in 2011.
For more on Scaasi, see the obituaries in The New York Times, the Montreal Gazette, and WWD.
Opening image Scaasi ID thanks to Kickshaw Productions.