Marc Jacobs' Spring/Summer 1993 'grunge' collection for Perry Ellis was a succès de scandale, a landmark collection that got him fired and continues to provoke debate. (See my earlier Marc Jacobs for Perry Ellis post here.) Shown in November 1992, the collection was inspired by the music of Seattle bands like Nirvana and the layered, mismatched, thrift-store vintage look associated with the grunge scene in the Pacific Northwest.
At the time, Jacobs described his interpretation of grunge as "a hippied romantic version of punk." The collection referenced grunge style with mixed floral and tartan prints and thermal layers, but translated them for the runway through play with luxurious materials: the flannels and thermals were sand-washed Italian silk and cashmere, worn with Doc Martens and specially-made duchesse satin Converse and Birkenstocks.
Update: Vogue Runway has posted this collection in its entirety here.
In December 1992, Vogue magazine published "Grunge & Glory," a Steven Meisel editorial styled by Grace Coddington and accompanied by an essay by Jonathan Poneman, cofounder of Sub Pop (the label that released Nirvana's first album). The shoot included pieces by Anna Sui, Ralph Lauren, and several from Marc Jacobs' grunge collection for Perry Ellis:
And in case you thought the flow of influence between fashion and alternative culture was unidirectional, Sonic Youth's video for "Sugar Kane" (dir. Nick Egan) was shot in the Perry Ellis showroom during the making of the grunge collection:
In early 1994, Vogue Patterns released two patterns for designs from Marc Jacobs' grunge collection for Perry Ellis. Vogue 1335 is a pattern for bell bottoms and a jacket and cropped vest with butterfly appliqués:
Here's the envelope description: Misses' jacket, vest & pants. Semi-fitted, lined, below hip jacket has notched collar, shoulder pads, flaps, upper and lower welt pockets, side back seams and long, two-piece sleeves with mock vent and button trim. Semi-fitted, lined, above waist vest has side panels, no side seams and welts. Both have purchased appliques. Bell-bottom pants have contour waistband and back zipper.
The ensemble was worn on the runway by Nadja Auermann:
The Vogue 1335 ensemble was also photographed for this 1993 press photo:
The second pattern, Vogue 1304, is for a pair of long, lightweight dresses—a princess-seamed slip dress and an ankle-length, retro style with flounces and flutter sleeves: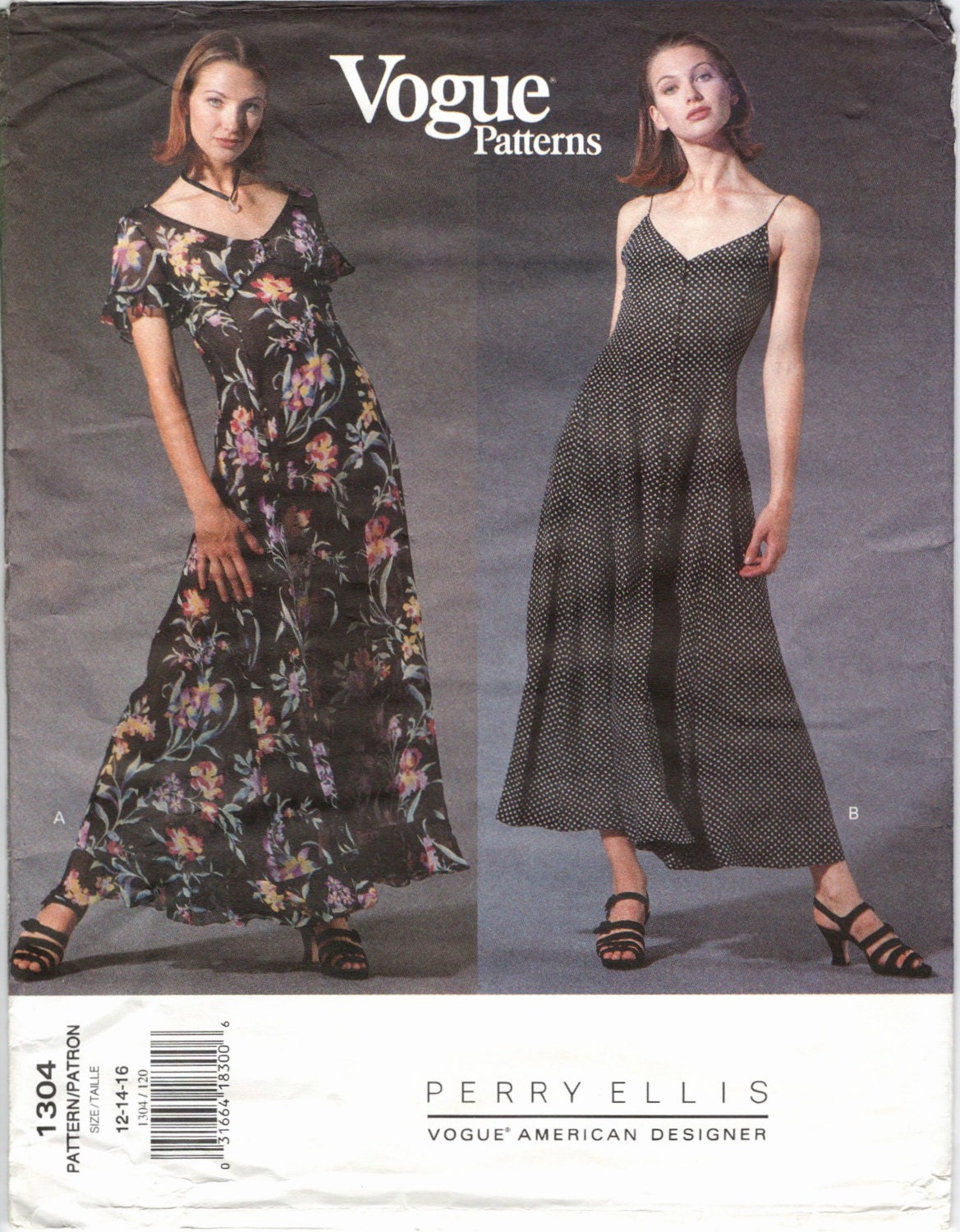 The envelope description reads: Misses' dress. Loose fitting, flared, pullover dress A, ankle length has front button trim, side front and back seams, sleeve and hem flounces and above elbow sleeves. Fitted and flared dress B, above ankle, has shoulder straps, princess seams, side pockets and front button/loop closing. (Recommended fabrics include chiffon, georgette, and crepe de chine.)
Helena Christensen modelled the floral print on the runway:
The Vogue 1304 floral print dress was photographed with another dress in the same print by Patrick Demarchelier for Harper's Bazaar. The models are Shalom Harlow and Susan Holmes:
(Click the image for the full editorial. For Vogue Patterns magazine, the Vogue 1304 Perry Ellis grunge dresses were photographed with the similarly on-trend Vogue 1293 by Donna Karan.)
Shalom Harlow was also photographed by Bruce Weber in a similar, vintage-style Perry Ellis dress, in a cherry-and-butterfly print chiffon—this time with Flea, the bassist for the Red Hot Chili Peppers. Vogue called the dress "this season's signature":
The same black floral print was also used for a silk bikini top and shorts, as seen in a Vogue summer editorial photographed by Ellen von Unwerth:
Years later, Jacobs spoke of being inspired by the energy of grunge after hearing Nirvana on the radio in Berlin, saying:
"I liked the idea of making some visual noise through clothing. I found a two-dollar flannel shirt on St. Mark's Place and I sent it off to Italy and had it made into a $300-a-yard plaid silk. It was like the Elsa Perretti crystal tumbler at Tiffany that was inspired by a paper Dixie Cup. I love to take things that are everyday and comforting and make them into the most luxurious things in the world."
(Source: Mary Clarke's interview for Index magazine.)
It's this effect of visual noise, of dissonance, achieved by Jacob's high fashion take on street style that makes the Perry Ellis grunge collection so influential. There's also something very '90s-postmodern about reverse-faux—luxury materials mimicking their more affordable counterparts. Yet, according to Voguepedia, the grunge collection was never produced, making Vogue's Perry Ellis patterns all the more interesting to lovers of '90s fashion.